Heading east along Virgil Road, one might notice a stream of black smoke emitting from a stack on top of a relatively large shack behind a house. That's the sign that Branwell McClory has the forge up and running, and is taking a piece of metal to task on the anvil.
A London native, McClory moved to Dryden in August 2020 after spending the past 30 years roughly in Middleburg, VA, crafting kitchen knives and an assortment of other types of blades. However, that is not what he spent doing for the majority of the time back then.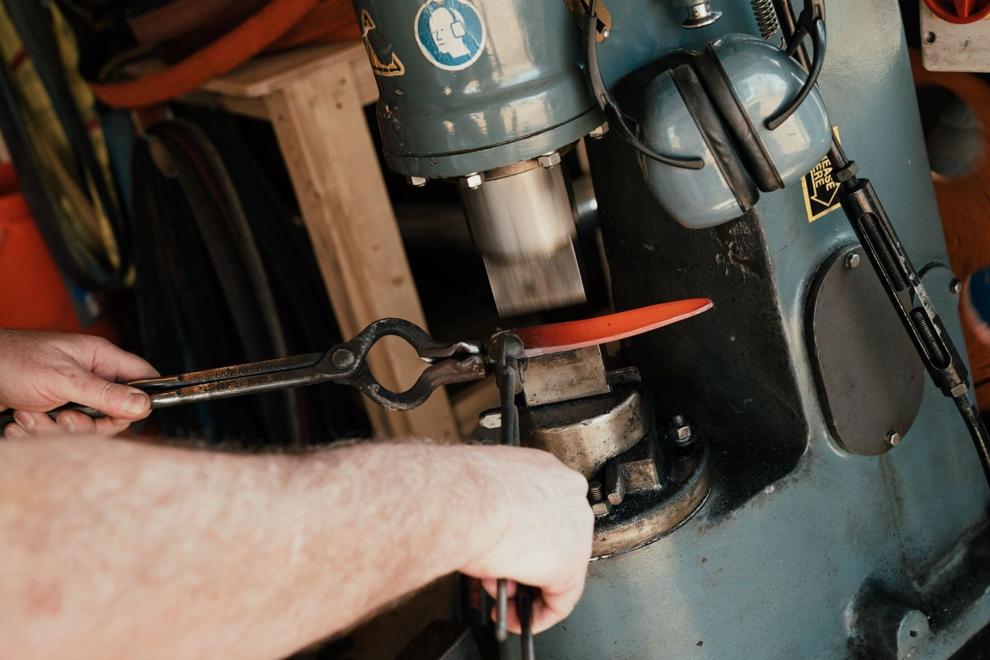 When he first arrived in Virginia, McClory took up a job in restoring wooden floors and historic buildings. Realizing the lack of profitability in that line of work, he decided to teach himself computer programming and attend community college part-time, which eventually led to a job at Phillips Media developing children's educational games and early mapping programs.
Over time, though, McClory grew tired of the one-to-two hour commute to and from work, which was based in places like Tysons Corner and Washington, DC, and eventually decided to retire.
"I was just really burned out, and I've always been into knives, so that sort of was where it started," McClory said. "I needed something to do with myself."
Initially, his interest was strictly knives, not forging. In his early days, McClory took up Japanese bladesmithing, which involved forging two pieces of steel to a carbon-steel core. However, he chose to make his blades with high-tech manufacturing instead of using a forge, laminating a piece of carbon steel between two pieces of carbon fiber. He was successful in making a knife through this method, though the quality was lacking and the knife performed poorly.
His interest in forging began about 12 years ago when he traveled to Oregon to take a class taught by Murray Carter, a master of Japanese bladesmithing.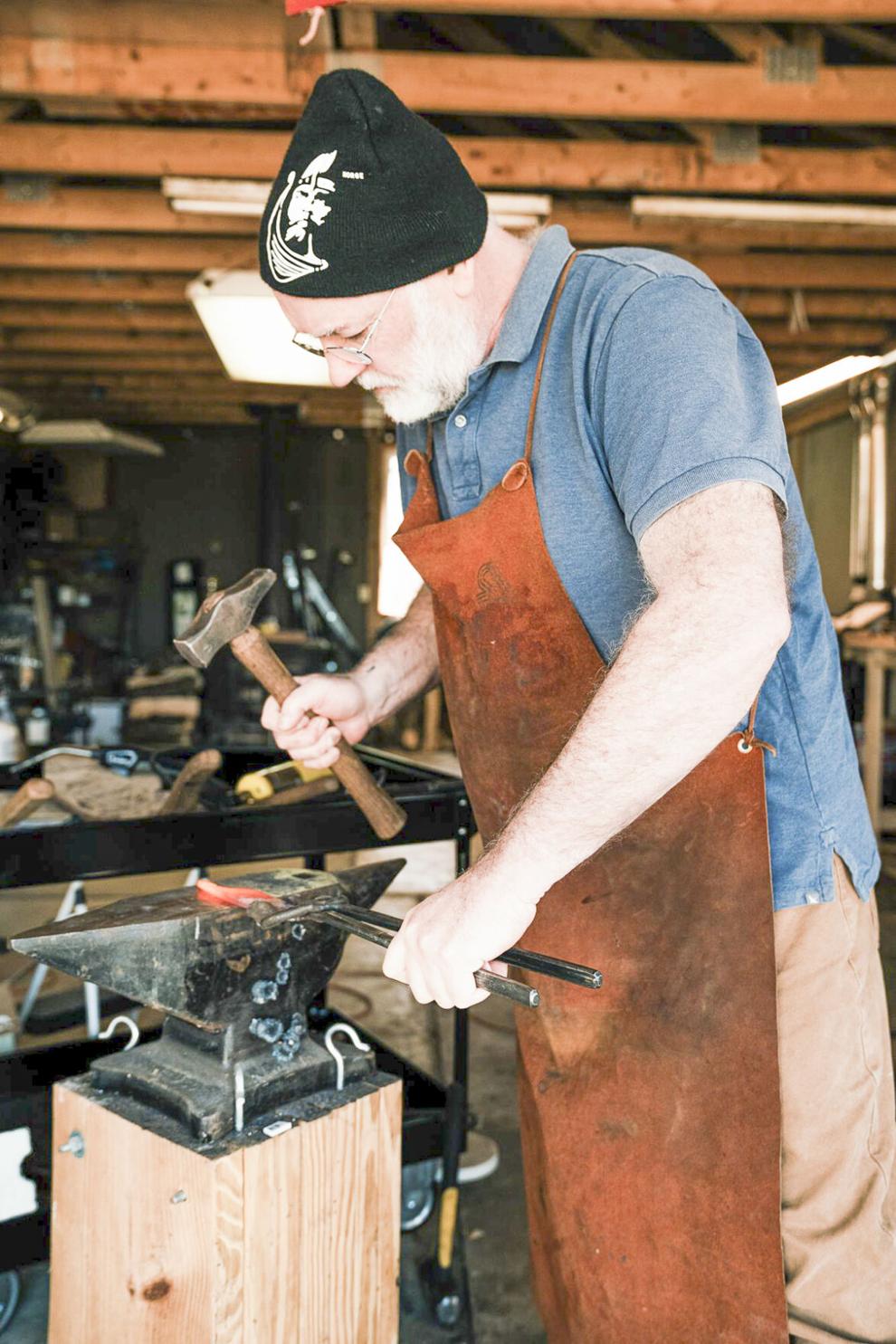 "It just turned out that the old ways were actually more apart from just being more interesting as a journey to learn and to do for me because it's a sort of heritage and history and stuff, though incredibly effective," McClory said.
McClory took a three-and-a-half year break from bladesmithing to tend to his ill wife. Following her passing, he felt the need to do something else with his time and decided to move to Dryden and reopen his forge, "Straffan Forge."
He primarily makes and sells kitchen knives, which are made out of either carbon or stainless steel, for cooking, though he does forge and sell tactical/hunting knives as display pieces.
There are two forms of knife making: (1) Western-school, German style of "thicker" and "chunkier" knives with more "obtuse" edges and a bigger "belly" for a rocking motion when cutting; or (2) Japanese style of very flat, thin knives that are excellent for quick chopping, though more fragile. McClory said he tends to forge knives of the latter style.
"I sort of tend to follow the Japanese philosophies on that, which is the right blade for the right job, but they do tend to be as thin as needed," he said.
When it comes to forging, McClory said controlling the temperature of the steel is important.
"What temperatures you're hitting it and how hard you hit it, and all of this sort of matters," he said. "It ends up being like golf in that the concept is really easy — just here's a ball, we'll throw it on the lawn and now knock it into the hole down there. Very easy concept, but there are people who spend a lifetime mastering that and it's the same thing with working with steel and making knives, is there's always more to learn. You never finish learning."
"Every day I learn something new. Every day I get humbled in some way. Every day I have a great success in some way. It's a real give-and-take."
He describes forging as a mindfulness tool.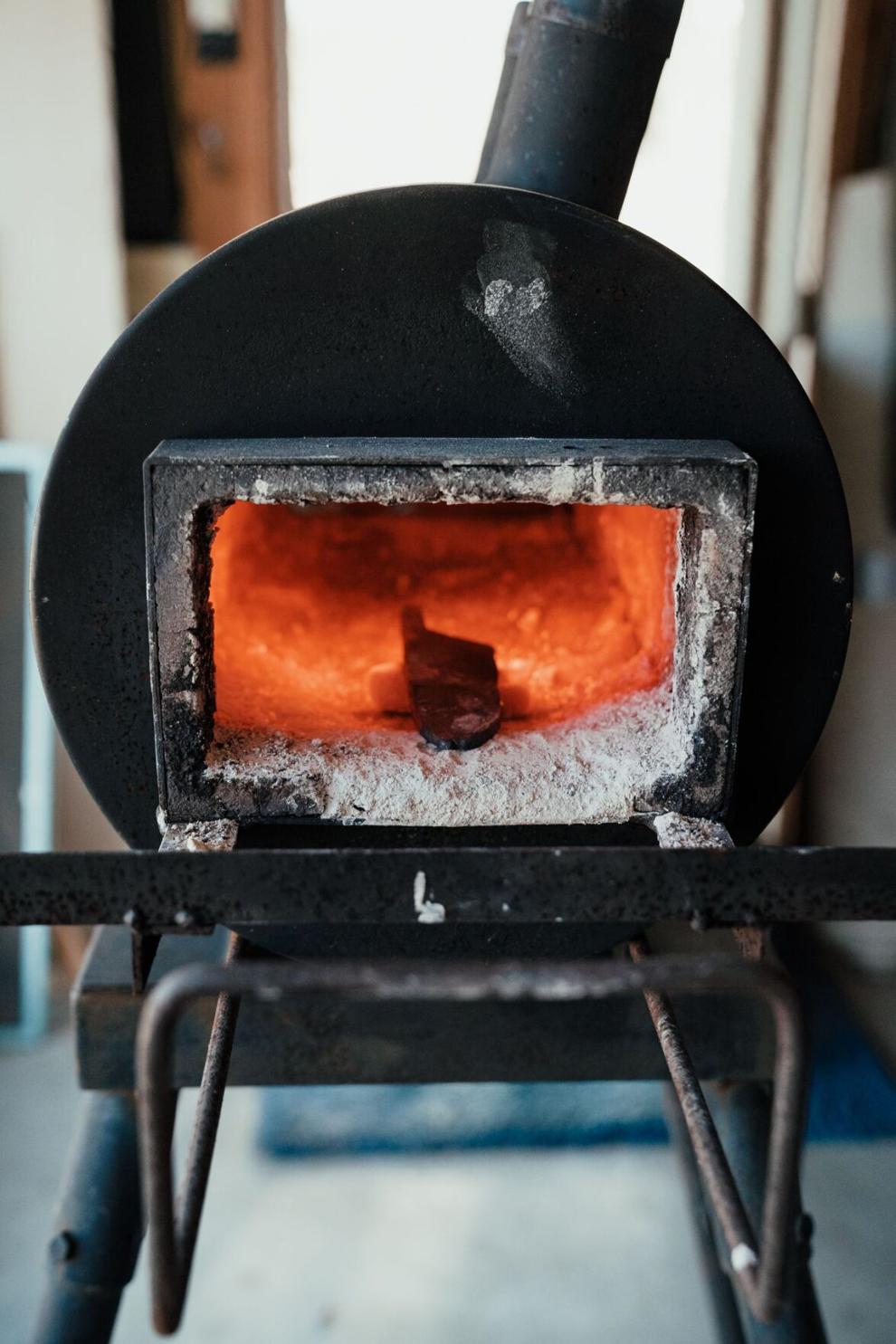 "I tend not to plan stuff out too well with my knives prior," he said. "I tend to sort of let the steel guide a little bit itself and then as a shape starts to form I sort of follow those. So it makes it quite fun for me because you make something and [at] the end of the day you're like, 'Wow, that's pretty amazing.' I only did part of it and the rest was inspiration and stuff."
 McClory plans on offering bladesmithing courses to the public this summer, and hopes to in the later future to sell his knives and sharpen other people's knives at the local farmers markets.
He does not have a website for the forge at the moment, though for those interested in viewing and purchasing McClory's work can visit Instagram account (@straffanforge).