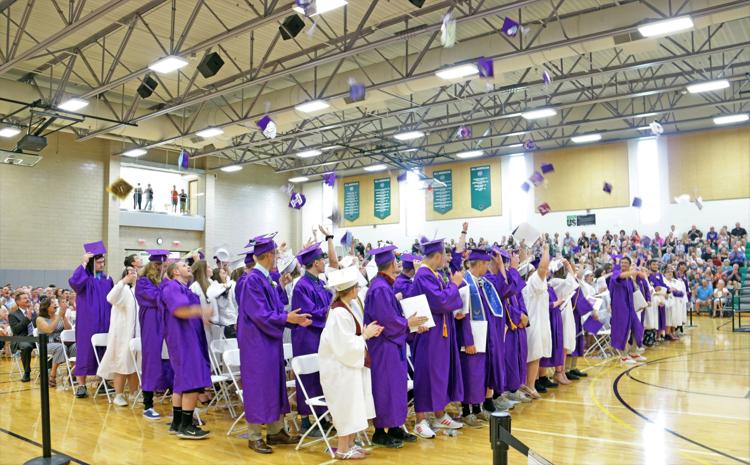 Clad in the school's colors of purple and white, Dryden High School's Class of 2019 said their farewells on Friday evening as the school celebrated the graduation of its latest senior class. 
Students and families filled the gymnasium at Tompkins-Cortland Community College in Dryden, with happy parents and siblings looking on from the stands and, only occasionally, yelling out to their loved ones and holding up signs of congratulations. 
Two graduating seniors delivered remarks to the students, who humorously punched a beach ball into the air a few times throughout the ceremony. Both student speakers gave similar speeches, with valedictorian Alexandria Scotti, who will head to SUNY-Geneseo in the fall to study pre-med, talking about her fond memories of the school yet congratulating her fellow classmates who could finally see the fruits of their years of work.
"We did it, we are finally graduating," Scotti began after a loud round of applause. "These four years have been both the shortest and the longest years of my life."
Scotti continued by telling the story of her mother dragging her to school on her first day of kindergarten, only to be terrified on her last day of eighth grade, knowing she only had four years left. Scotti graduated with a 100.07 grade average. 
Former teacher Bill Finerty had been invited back to deliver an address to the students after spending the last year teaching at a different school. Finerty had been nominated last year as High School Teacher of the Year in the Dryden Central School District by interim superintendent William Locke.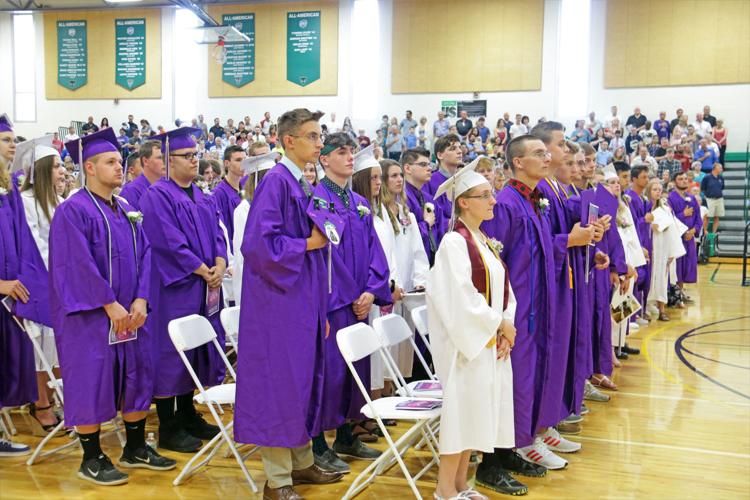 "I've always been able to be real with you, to be honest and genuine," Finerty said. "I think that you've always appreciated that, and I've always appreciated that I've been able to do that."
Finerty went on to try to impart some wisdom unto the gathered students, having lived through the first few years of "#adulting," as he called it. Be kind and respect one another, he told them, particularly as the students enter the professional world. His remarks revolved around a theme of accepting and being comfortable with themselves, regardless of the expectations soon to be heaped upon them either by work or in higher education. 
"Some people in this world need what you bring to the table," Finerty said. "Do it right. If you stay, if you leave, if you go to college, get a job, do it right. Use your resources and everything those opportunities have to offer you. If you positively give back to your community, I promise you, that community will forever give back to you."