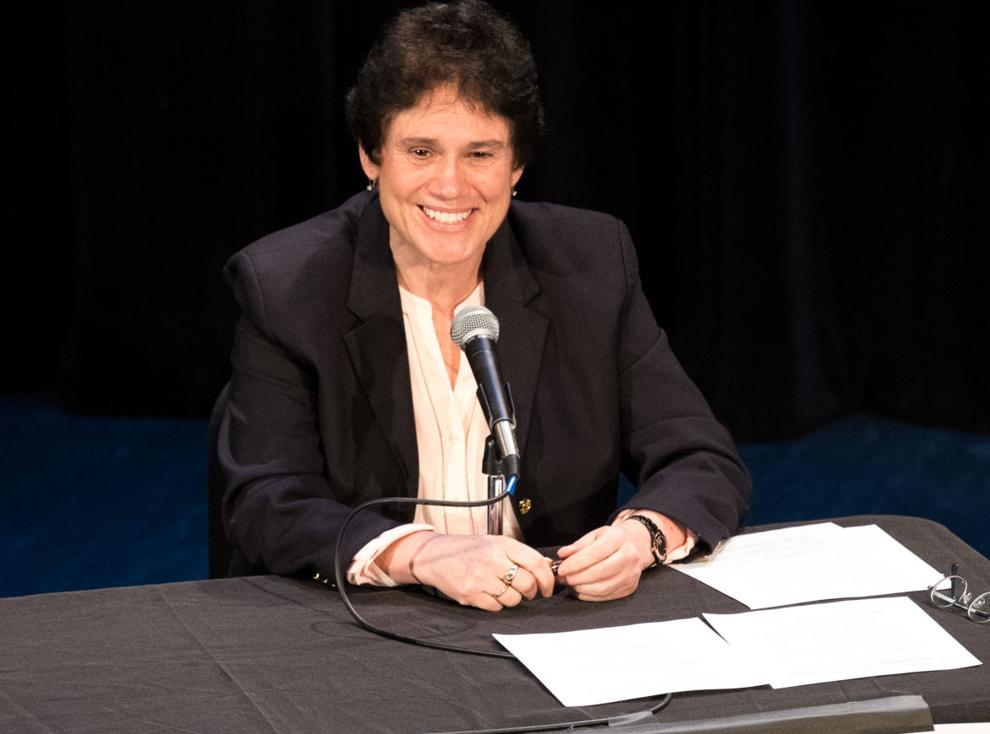 A prominent Democratic leader in New York's 23rd District doesn't believe Tracy Mitrano – described by some as the presumptive frontrunner in the lead-up to the June 26th Democratic Primaries – has the right stuff to win a race against incumbent Congressman Tom Reed in November.
And he seems to want everyone to know it.
Late Wednesday evening, Frank Puglisi, the Chairman of the Cattaraugus County Democratic Committee, distributed a letter claiming Mitrano, based on various inconsistencies displayed on the campaign trail, was not equipped to win a race against Reed, adding that she had "already made critical errors that will erase any chance of her beating Tom Reed in the fall."
In the letter, Puglisi questions her stances on outsourcing, the method of payment for her staff, and even her motivations for running as a Democrat as key concerns, adding that various missteps along the way, including allegedly filing an incorrect income for her time as an instructor at UMass-Amherst and allegedly misfiling her financial disclosure reports with the Federal Elections Commission, would make it impossible to mount a serious challenge against Reed in November.
"I am the county chairman who's been with these candidates the most," Puglisi, who's attended campaign events in eight different counties, told the Ithaca Times in an interview Thursday morning. "I've criss-crossed the district with them, been to countless forums listening to them. This is what I've heard sitting in the room, listening to what she has said. I truly believe it is our responsibility to call out Tom Reed, but it is also our responsibility to call out our own party when they make mistakes or when they lie. This is not an attack – this is calling out the truth."
"This is a right or wrong issue," he added. "We need an honest primary, we need people to make an honest decision. I would urge Democrats to go out on June 26th and support any of the other candidates, because I think they stand a better chance to go against Tom Reed in November than she does. The truth is, Tom Reed already has all of the ammunition he needs to destroy her on Day One. She has no chance of winning in November."
Puglisi, whose committee has already endorsed Mitrano's opponent, Jamestown attorney Eddie Sundquist, said that the release had "nothing to do" with any of the lobbying the committee has done on behalf of the Sundquist campaign, though he did acknowledge in the release there was the possibility one could perceive competing interests contributed to the letter's release.
"For full disclosure, my committee and I have endorsed Eddie Sundquist - but I urge voters to support any of the other four candidates. If we want to call out Tom Reed for his abusive tactics, then we as Democrats must be willing to call out our own for what they have done.," Puglisi wrote. "If the truth coming out is something that hurts Ms. Mitrano - even if she is a Democrat - that doesn't make it any less the truth. She has created this situation by giving misleading information time and time again."
Mitrano's campaign, responding to an emailed request from the Ithaca Times for comment on some of the specific allegations in the letter, clarified a number of the allegations made by Puglisi. On the campaign's method of payment, Mitrano's team stated that the original Mitrano for Congress campaign staffers specifically requested this contracted procedure for their payment, and that it is "standard practice for some campaigns in New York state to pay campaign staff in this manner." The campaign also stated the "$169" income report referenced by Puglisi was the result of a clerical error, and that they have since amended it, adding Mitrano received $169,000 last year for her work at UMass – not the $172,181 referenced, as she did not complete a full year of employment.
They also responded to the question on outsourcing, which Puglisi said was out of line with what was of concern to the economy of the Southern Tier:
"The question posed in the video on outsourcing did not deserve a simple yes or no answer given the complexities of our global economy," the campaign said. "The reality is, we have companies in this region that are foundational to our local economy with workers in other parts of the world. It would be irresponsible and disingenuous for a Democratic front-runner to blindly pledge without specifics. Tracy understands the complexities our local economy and knows what it takes to bring jobs to NY-23."
They also issued this statement mid-Thursday afternoon:
This morning, a local Democratic committee chair who is publicly supporting another candidate, issued a politically-motivated attack against Democratic Candidate Tracy Mitrano's campaign.  It is unfortunate that a Democratic chair would go so far as to use antiquated language in dismissing a woman frontrunner with Tracy's experience and background as "disqualified" to run for Congress.
Unfortunately, it is a sad and frequent reality in politics that, in last-ditch moments, candidates' surrogates often resort to attacks against the front-runner in an attempt to score extra votes.
Tracy Mitrano has been on the campaign trail with her fellow candidates for many months now. We can say with certainty that every single candidate is driven by their love for NY-23. We urge all candidates, their surrogates, and their supporters to remember that we are all running to bring a better future to NY-23, not to tear down the Democratic Party.   
Attempts to divide NY-23 voters is one of Tom Reed's most well-used tactics. We must be better than that. From the beginning of our campaign, Tracy has consistently pushed a positive message of unity and putting people first. Tom Reed does neither. We believe more than ever before that uniting NY-23 and working together, regardless of political affiliation, is the only way we will be able to address the enormous challenges we're facing. Tracy is running for seniors who are worried about their Medicare and Social Security being cut. She's running for farmers and small business owners who are struggling to make ends meet. She's running for young people who are paralyzed by overwhelming student loan debt.  Tracy is running for the people of NY-23, not against her fellow candidates.
Democrats, Republicans, and unaffiliated voters alike are tired of mean-spirited politics. We must instead fight for the future of NY-23 together.
Mitrano's campaign was challenged by the Reed Campaign itself on Thursday morning, when Reed's campaign manager accused two Mitrano supporters of stealing yard signs emblazoned with the phrase "Extreme Ithaca Liberal," a phrase employed in campaigns by Reed since 2014 to juxtapose the stances of his Democratic opponents with the political stances of voters in the district's most liberal city.
The election is on Tuesday, June 26th.