ITHACA, NY -- There's a lot of fear, skepticism and misinformation going around about the COVID-19 vaccine. Despite scientists and experts assuring the public that the vaccine is safe and effective, many people are exposed to information online saying the exact opposite. One person trying to fight this is Cornell University junior Jordan Tralins.
"Early in the vaccine rollout I noticed, first on my TikTok and eventually on Instagram as well, that I was not seeing any factual information circulating around the COVID vaccine. In fact, I was seeing the opposite," she said.
Tralins said that got her thinking about the fact most young people don't typically spend their free time sifting through scientific literature to figure out how they feel about scientific matters, they look at their social media pages.
"So I founded the Covid Campus Coalition," she said.
It began over winter break as a Cornell-specific coalition where Tralins would read through the latest scientific information and hand it off to now-senior Olivia Pawlowski, who has a background in graphic design, to create colorful infographics. The graphics would go up on the Cornell Covid Campus Coalition (@covid_campus_coalition) Instagram page, and Tralins would make an accompanying TikTok video with the same information.
Recent Instagram graphics show the latest information about the delta variant including facts about breakthrough infections and the vaccine's effectiveness. The last slide of each post includes a "Sources Cited & Further Reading" page with citations.
"It seemed to be a really effective model," Tralins said. "A lot of my peers were sharing that and posting it on their own accounts."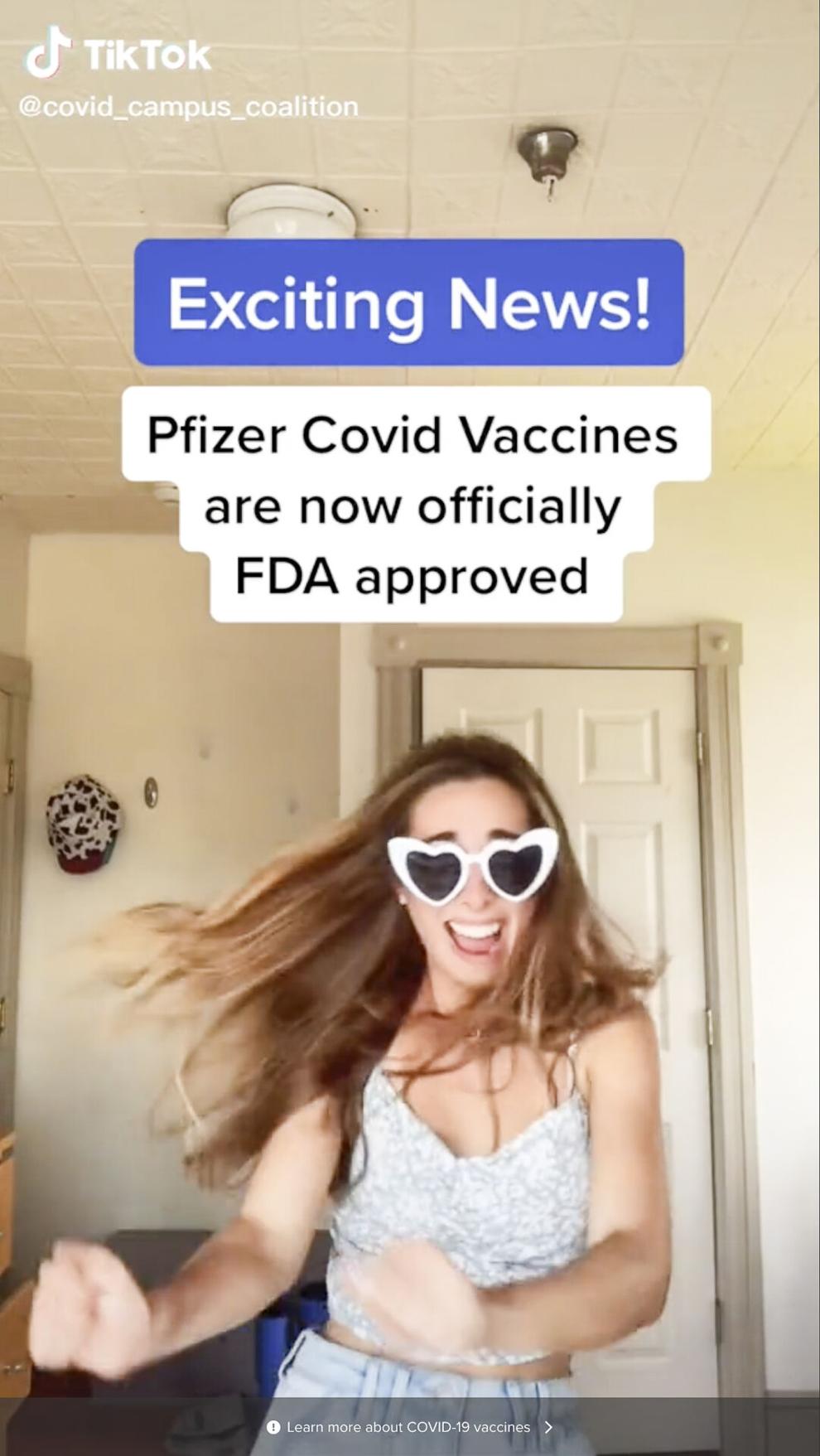 After seeing the success she had among her classmates at Cornell, Tralins thought there might be a need for the same type of information at other universities. So she set up an application for other schools so people could apply to become ambassadors. There are almost 45 chapters nationwide now, including schools like Texas A&M, Brown University, The Ohio State University and even Uganda Christian University Mukono in Uganda.
"They run their own pages and we provide them with graphics customized with their school colors and they post them," Tralins said. "We meet with them a few times a month."
Tralins said the Covid Campus Coalition has also started working with outside organizations such as the Kaiser Family Foundation and the Biden Administration, as well as other grassroot organizations.
If this all sounds like a lot of work for someone who is also a college student — it is.
"I've always really thrived in busy settings where I'm doing lots of different things," Tralins said. "When the pandemic struck a lot of my activities got postponed and canceled […] so I had an empty place in my life. Even before coming up with the idea I was thinking, what's something I could do that would be effective and impactful during this time? I could have been frustrated but instead decided to channel it into something creative."
Tralins is a Human Biology, Health and Society major, with a minor in inequality studies with a health equality track. She plans on attending medical school and is particularly interested in becoming a practicing physician with involvement in public health, so her work with the coalition makes a lot of sense.
She said during the summer the coalition was essentially a full-time job for her as she spent hours delving into resources for information, but said she will be handing some of the responsibility over as school starts back up. Tralins said her partnerships are especially useful as she now has the added support from outside professionals who can give her the most recent and relevant information.
"It really hasn't been a problem for me balancing being a student," she said. "From a career standpoint, I get to learn more about public health and public speaking, and I get to connect with leaders across the country. It doesn't feel like work to me. I know I'm doing my part to make an impact."
And she has made a difference. Tralins said it was one thing to launch the coalition at Cornell where the response to COVID was swift and strong, but it's much different to share the same information at schools across the country where there's much more vaccine hesitancy.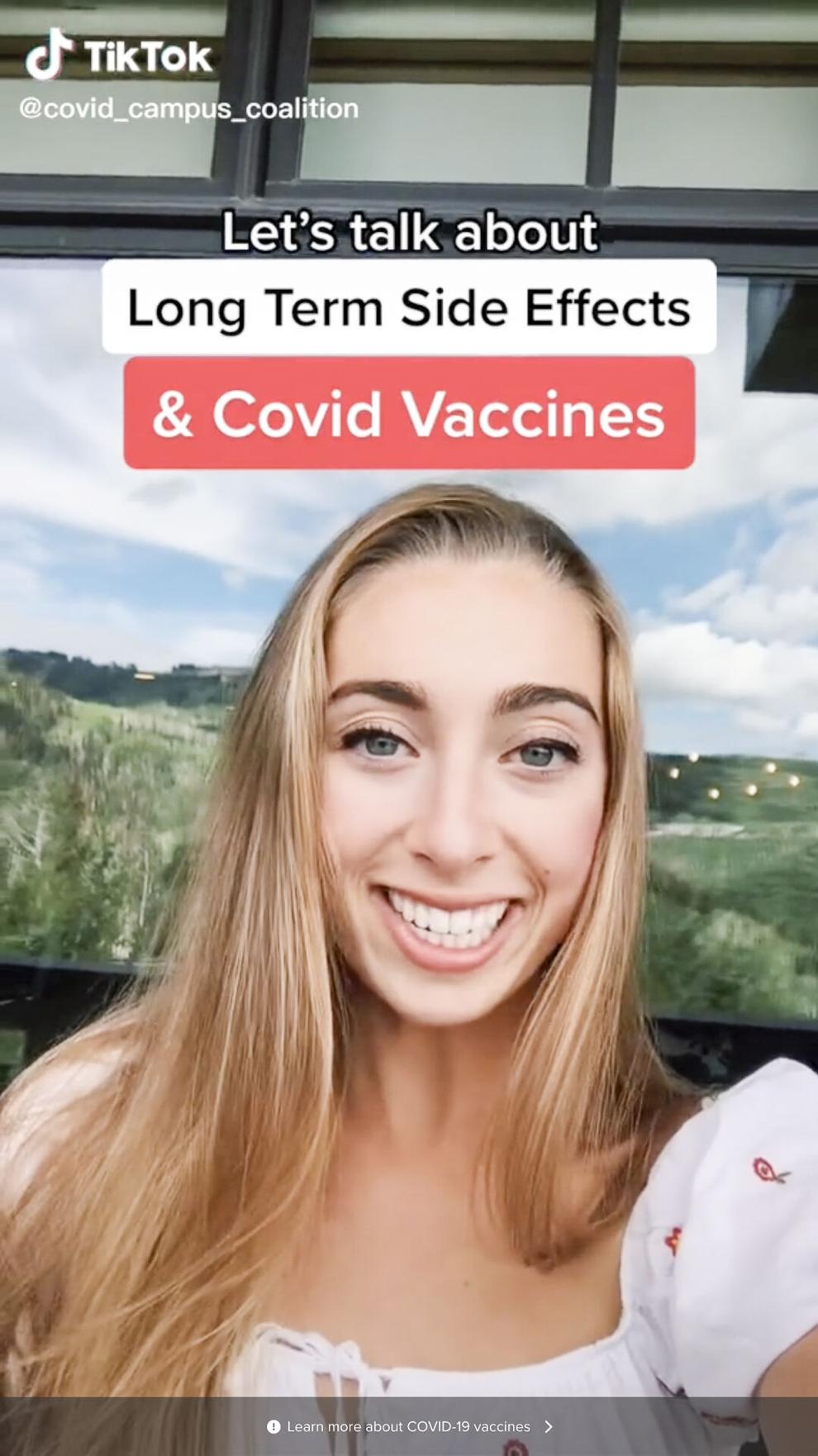 "For these students to post these facts, these are acts of bravery," she said. "Cornell did an amazing job with the COVID response in general with weekly testing and protocols, and on other campuses that was not universally practiced."
She said they all get pushback online from people who disagree with the facts they're posting, and said it's been interesting to see how vaccine hesitancy varies from state to state and campus to campus.
"We need to step in more where there's more hesitancy," she said. "Those ambassadors on those campuses have been our most involved students. They take their efforts beyond what I provide. They'll use platforms to provide information about vaccine clinics, they'll partner with university leaders for specific information, they'll partner with outside organizations. It's been so empowering to see that while we do have more hesitancy in some areas, with that comes an even greater desire to help spread the facts and help them understand."
Tralins said one of her favorite stories comes from an ambassador at Texas A&M. She said one of his best friends was incredibly vaccine hesitant, but once the ambassador started sharing the information Tralins was sharing, the friend changed his mind and decided to get vaccinated.
"It does make me feel like we're creating a change," she said. "I think peer to peer connection is one of the best ways to help people feel inclined to get vaccinated."
As far as the pushback online, Tralins said it's something she's learned to deal with over time. TikTok was particularly rough since she is featured in the videos.
"I was receiving such brutal comments from strangers at first, it really did discourage me," she said. "I took a break from TikTok for a few months, but especially with the delta variant, I took took a step back and realized I was going to have pushback and going to have negative comments but if my videos reach that demographic and those people, that can be very beneficial."
The TikTok videos are generally short and sweet and feature videos like Tralins dancing around in heart-shaped sunglasses to "Let's Groove" by Earth, Wind & Fire while text above her head reads "Pfizer Covid Vaccines are now officially FDA approved" and "Covid vaccines are safe and effective." Many link to academic resources about the vaccines and never take the easy shot by mocking or attacking those hesitant to get the vaccine.
"I think it's important if someone sees my video and is confused because they heard something different I provide them with the actual resource I have with the facts and evidence and then they can share what they're seeing," she said. "I've done my best to turn negativity or confusion into something positive to learn from. It's a good experience for me as well to learn how to engage in impactful discussion without inappropriate engagement." 
Tralins was quick to note that she had gotten plenty of positive feedback too from people sharing their posts.
"I've gotten tons of comments back saying they're grateful to have graphics to share," she said. "The TikToks are short and have been shared thousands of times. It's nice to know the information is out there and getting shared and that people have something that resonates better with young people if they're hesitant. Anecdotally we've had tons of positive responses, and going to our meetings is so exciting to see what people are working on at their campuses."
Since launching the Covid Campus Coalition, Tralins and the organization have been featured on CNN, NPR, the New York Times, the Washington Post, USA Today and Bloomberg. For more information on the coalition, you can visithttps://covidcampuscoalition.weebly.com/. Follow them on Instagram and TikTok at @covid_campus_coalition.