Seeking a carbon neutral solution to heat its campus, Cornell – a university with a storied history of digging giant holes – recently presented its proposal for what, by volume, is likely to be the largest hole dug in the university's history; one, they say, could lay the groundwork for a revolution in district heating in the Northeastern United States.
At a session Thursday evening attended by dozens of members of the community and faculty, a group of Cornell researchers presented a preliminary outline of their proposal for a massive geothermal heating system they hope to build beneath Cornell's campus. The ambitious project, first proposed as part of the campus' climate action plan drafted in 2009, aims to heat Cornell's campus by digging a hole nearly three miles down, encasing it in concrete and pumping a solution of water and anti-corrosive deep into the earth, where it will be heated and recirculated 15,000 feet above through a system of pipes throughout the campus.
Inspired by systems already in use in countries like Iceland, where 90 percent of all homes are powered by earth source heating systems, the proposal is unprecedented in that it will be constructed in an area less conducive to effective, similarly-scaled geothermal systems around the world, potentially giving birth to a new industry in climate-conscious utility design while also serving as a "living laboratory" for students looking to gain field experience with the technology.
At Thursday's forum, the team heading the research and overseeing a process anticipated to take several years before digging begins were available to answer questions as well as give brief presentations on their individual areas of expertise around the project, each offering details on the project's safety measures and research as well as explaining, once the system is operational, how it will work.
This will not be the first geothermal installation constructed by Cornell; a geothermal field, which traps convection from water sources underground, is used to heat the Bloomberg Center on its Roosevelt Island campus in New York City. However, the scope of this project – and the unknown nature of what the project team will be facing – is what is raising the most eyebrows. Where most successful large-scale geothermal facilities are located in areas near fault lines or high volcanic activity, Cornell's campus, where the facility will be based, is not. What will make the project work is its location along the northern Appalachian mountain range and its unique siting along a "hotspot" in the rock mass offers the university the opportunity to show the ideal option is not the only option for earth source heat.
"We could potentially be starting a new industry," said Lance Collins, the Joseph Silbert Dean of Engineering at Cornell. "What we're doing here isn't very different than what they're doing on the west coast or Iceland, however the environment here isn't as favorable. By doing this here, we can show that this is possible to replicate in other places."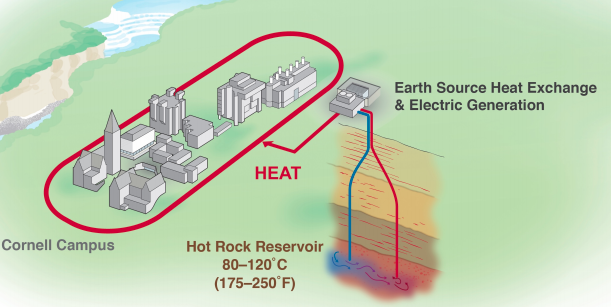 Financing the project will be a challenge. A long ways out from its anticipated completion date, the project is estimated to cost $4 million for preparatory phase work to conduct seismic research and various tests before digging a 2-4-mile deep test well at a cost of $15 million; after which, the cost of digging the actual wells – roughly three feet in diameter at the top and 12 inches wide at its lowest point – will run approximately $40-$50 million. The project, Collins said, likely won't be funded by Cornell on its own and, to get the project off the ground, the university will rely on private donors (they've already received a combined $700,000 from two private sources) and potentially, the State of New York for early funding. Once off the ground and after they "de-riskify" the technology, Collins said he thinks the university could attract some additional private investment, including business partners and various foundations committed to the economy of renewable energy.
Though there are numerous anticipated risks – including the faint possibility of small earthquakes or simply getting something wrong, requiring the university to pull out of the project and start over – the project team says the margin for error is fairly small and, with no time crunch involved, the group said they have ample time to be thorough and conduct all the necessary preventative and research measures to mitigate any and all risks. Through the use of advanced seismic profiling technology, the team will look for fractures and faults beneath the campus to find out where the wells should be dug and conduct their own research to build an accurate picture of the ground beneath the campus.
The group, early on,  is confident and noted just because something has no precedent doesn't mean something similar hasn't been done. They noted that there have been other wells dug in excess of three miles deep in this region for oil and gas exploration, naming one example – an 11,000 foot well with temperatures monitored at 125 degrees celsius in Waverly – as the closest. Though hydrofracking – the fracturing of rock through pressurized liquid – has often been employed to dig similar wells in natural gas collection, the project team said that such a process would likely not be necessary assuming all goes well and even then, the wells will be dug an estimated 9,000 feet below the water table and filled with water pumped and provided by Cornell. For further water protection, the team has emphasized they will be employing that all best practices will be employed to prevent any possibility of groundwater contamination, and detailed their proposals at-length in an FAQ section on the project's website.
According to a spokesperson for the university, while the project will go through an internal environmental review typical of what would be conducted by the New York State Department of Environmental Conservation, however it is unclear what the extent of the permitting process will be required of the project via New York State.
"We will be required to do an environmental review prior to building a test well. To do a test well, we'll need a drill permit through the DEC Division of Mining Resource, which includes an environmental assessment process," said Rick Burgess, Vice President, Facilities and Campus Services. "A location for the well has not yet been identified. Other municipal or state permits may also be needed; as the process unfolds, we will have additional conversations with the surrounding municipalities and regulatory agencies about permitting needs."
The team emphasized that their review and management of the project would be thorough.
"We want to do this in a thoughtful manner, recognizing there are many unknowns at this point," said Burgess.
Working in three phases, the project team said it is expected to take about six years to complete all three phases and if successful, a full-scale project could then be implemented over the next decade.