At least a hundred or so people packed themselves into and around the Bernie Milton Pavilion on Friday to not only celebrate Juneteenth – a national commemoration of the end of when slaves in Texas learned of their freedom two years after the Emancipation Proclamation – but to also continue the discussion of the continued plight and fight to end the systematic oppression of people of color.
In between the DJ's playing of music and the crowd's call-and-response chants were several community members giving speeches on the struggle of people of color, and specifically the Black community, and the changes that need to be made to end the struggle. The event, hosted by Decarcerate Tompkins County, was titled "Decriminalize, Demilitarize, Decarcerate Tompkins."
Community activist Phoebe Brown – who also works for Alliance of Families for Justice, a local organization that supports families affected by the criminal justice system – spoke during the event, urging folks to harness the energy from rallies like this one and challenge the racial biases of establishments and systems. 
"If you walk in any place, and you don't see a person of color walking in there, ask them why," Brown said. "If you work in a system that you don't see people of color, trans, LGBTQ, ask them why."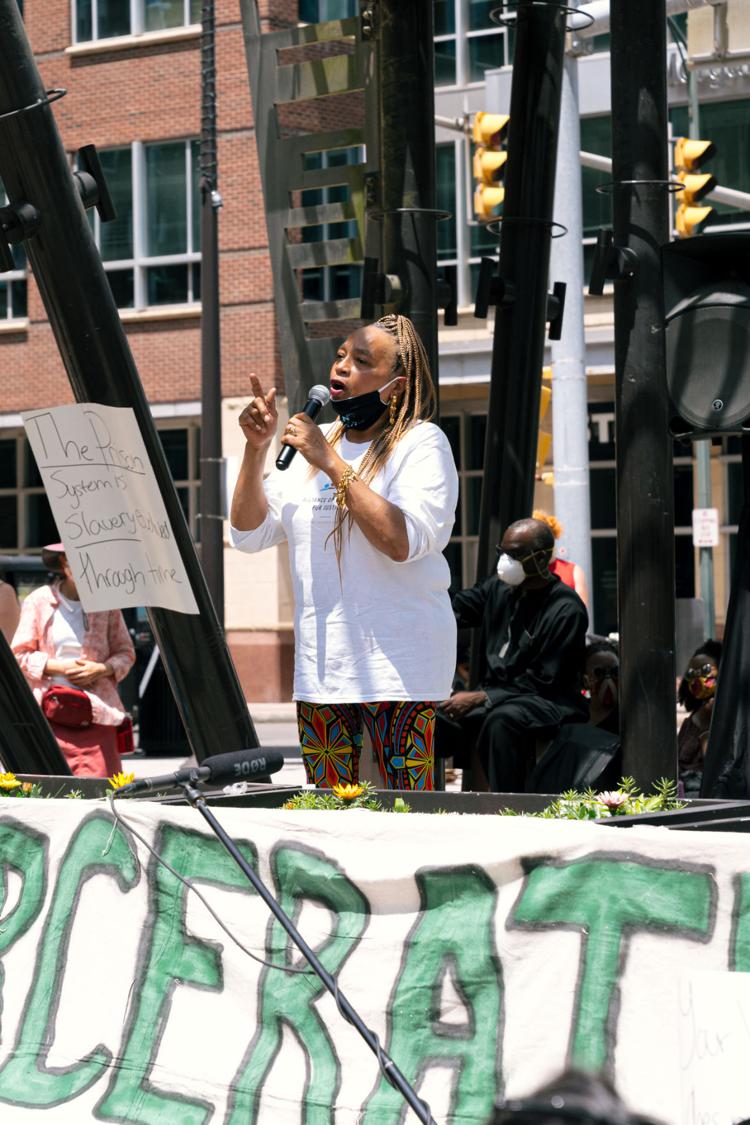 Patricia Rodriguez of the Tompkins County Immigrant Rights Coalition (TCIRC) spoke in front of the crowd about the issues immigrants face when placed in detention centers.
"Much of what this whole process reveals is that it's so difficult, so impossible, such inhuman treatment in their home countries and here at these prisons," Rodriguez said. "It's very difficult to comprehend. What's even more difficult is that the people that get to decide whether they stay or they go, most of what's decided is that they need to stay inside those detention centers, incarcerated, for a longer time." 
"There are few judges with records of negative cases that are so high that it's almost 95 percent, 98 percent of the cases are decided as a 'no,' which means eventual deportation," she added. "This has to change, and I think opening up our homes to them is so important. Thanks to those in this community, and you know who you are, that have already opened their home. These are people that have suffered so much already, who face racism, who face discrimination, who face abuse, and we will never really know what they have gone through. … We can, though, begin to think together how to end this unjust, abusive system that affects Black, Brown, indigenous, Asian people, and so many more."
Dr. Aloja Airewele, a program leader for the Energy Warriors Career Pathways program, which provides youth with career avenues into the green energy field, also spoke at the rally, recounting a tale involving a farmer, a mousetrap and a collection of animals.
The story goes as follows: one night, the farmer sets up a mousetrap on his and his family's farm. Some of the mice saw the trap, ran over to the other animals on the farm – pigs, sheep and chicken – and said to them, "There's a mousetrap in the farm," to which the pigs, sheep and chicken respond with, "What is that to me?"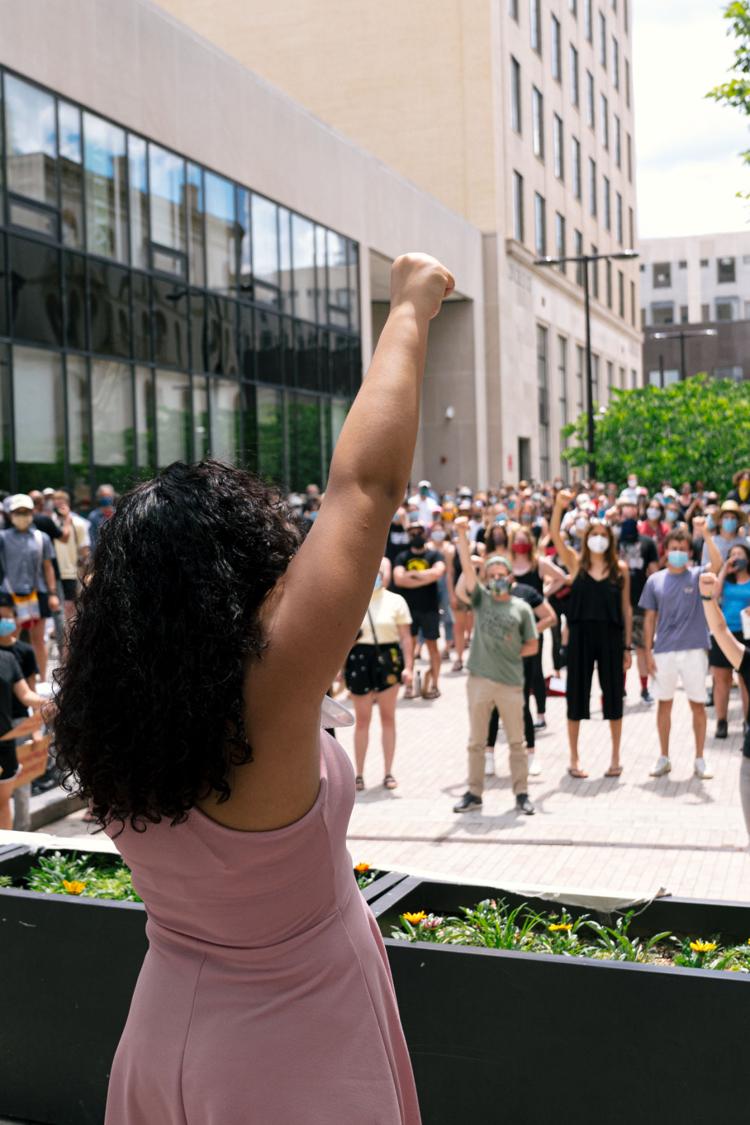 "Well, come morning, the trap actually caught a … snake, and it had not died," Airewele said. "The farmer's wife went to check and was stunned by the snake. So they rushed out to the hospital, and when people came with the farmer, he got some lamb chops, and where do you get them? From the sheep. So he got some sheep and he killed them. What does the mousetrap have to do with the sheep? When the bill came, the farmer needed to sell some chicken that you find in the grocery store."
Airewele said the message he was trying to convey with the tale was that "all our children are simply our children."
"For years, I've been working with our young people who are in detention centers, who are incarcerated, and coming out from them," he said. "What we have discovered is that because of our negligence of taking care of the most basic human genes, the things that humanize all of us. Wouldn't you be pained if you knew that a child had broken into a car just to get money to buy hotdogs for his siblings, and that that child ends up in a detention center, and we are going to spend four times the amount we would've spent for that child to be in school and the child is still going to come out not being able to use a calculator?"
"When we close our eyes and say, 'What is that to me; what does a mousetrap have to do with me; what does the incarceration of a child from the West Village have to do with someone that lives in Cayuga Heights,' that is the most stupid attitude to have if you are a human being," he added.
Airewele also discussed the importance of prioritizing the well-beings of children in the country.
"How can you spend trillions of dollars to go look for a Taliban in Afghanistan, and you will not spend billions to give food to your children right here," he said. "If there is any prayer which you pray, 'Please God, give America wisdom and common sense.'"