Community members came together on Aug. 22 to paint a Black Lives Matter mural on N. Plain St. between Green St. and Seneca St. Painting began at 7 a.m. and continued until nearly 9 p.m. that evening. 
The Ithaca mural, which follows a string of Black Lives Matter street murals being erected across the country, was conceived by West End local Harry Smith, known better as Harry O. Harry is founder and head of the Black Hands Universal, a local organization that teaches financial literacy, support mental health needs, effectively address the needs of people struggling with addiction and works to provide educational and nutritional opportunities to those who need them. Together with Southside Community Center, GIAC and community artists, the mural was realized. 
Harry said that he wanted to see Ithaca get a mural for itself. "Everybody had the ability to be proud of having one in their community, and I wanted our community to be proud of having one as well," he said. "It symbolizes that things could always be better in Ithaca. There's a mythology that systemic injustices don't go on in Ithaca, but it's impossible for it not to exist when we operate under the same system as everywhere else, and we've been doing a lot of protesting and a lot of marching, hopefully we can connect and this can be the start of healing."
His thoughts were echoed by Ms. Phoebe Brown, a recognized Ithaca elder and special guest at the event. "This is really really nice. I love that we're doing this all over the country, but I want to see some significant equity changes. What I'm looking for this to do is remind people that Black Lives Matter.  I want to see it inspire people to do more, to be more, to want to break bread and understand each other's fight and oppression because what I want to see is changes."

The mural was loosely designed by Caleb Thomas, founder of Ithaca Murals and Jay Stokes, a popular local muralist whose work can be seen at Southside Community Center. Stokes said the design was meant to ensure that anyone could add what they wanted so long as it was embracing Black positivity. 
The group outlined the design on Friday night after the street was closed off. Stokes said they received some negative talk as people passed by the night before the big day, but added that the majority of chatter has been positive and supportive. He said that the mural also has a quality of inviting ownership which he said was intentional. 
"Basically, I just came up with a broad design that anyone could work on if it was laid out. The colors could be red, black [pink, red, yellow, brown, blue] and green; and people can put messages inside the letters," Stokes. "I like that everyone is able to come in and add their own community flair to it. I want people to come by and take ownership of the mural."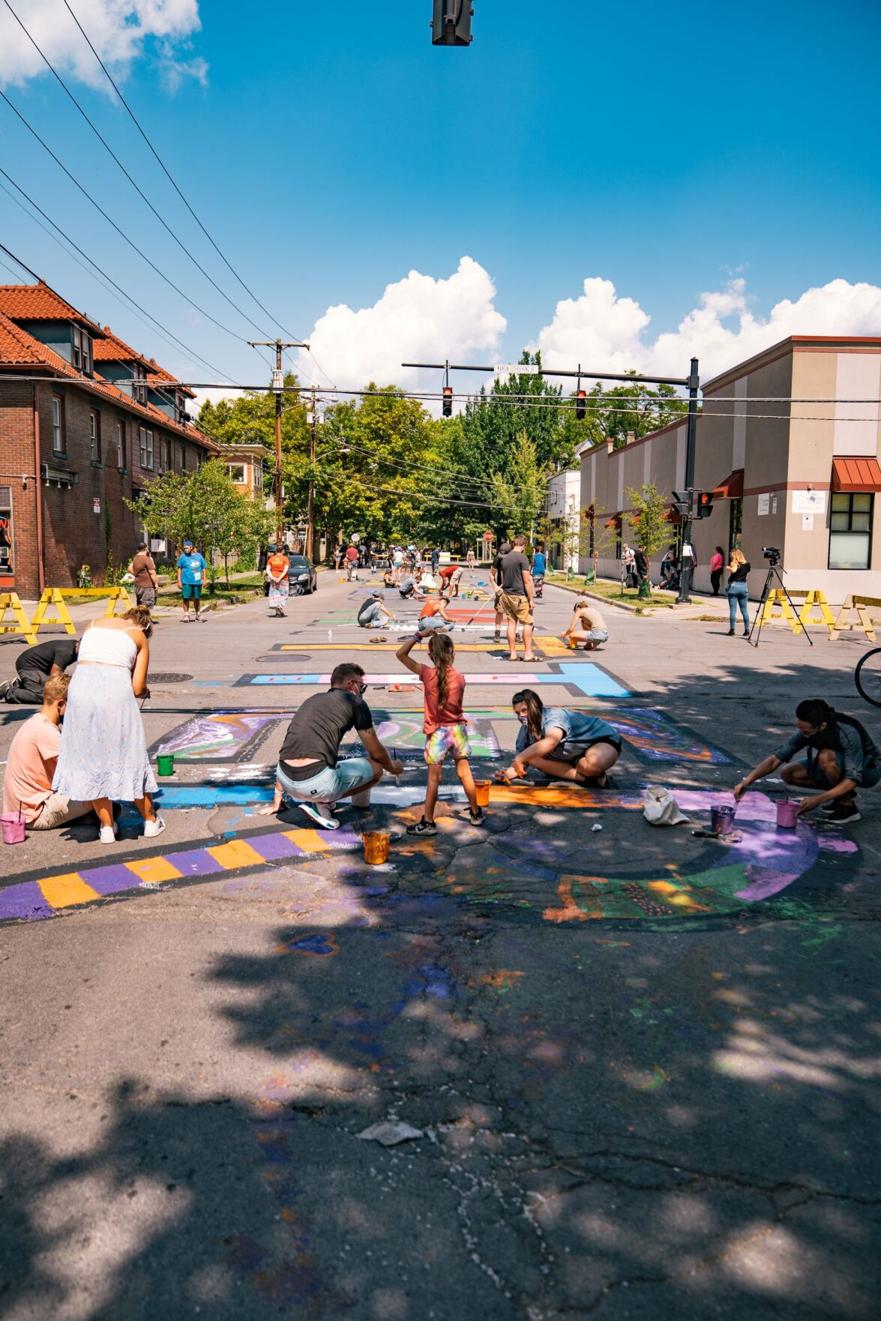 The mural is the first official Black Lives Mural in Ithaca, and certainly the first one to be constructed via community effort. The location of this mural is also significant as it marks the demarcation between Downtown, West End and Southside. 
Each letter of the popularized phrase was designed by local community members on the spot. Originally the mural wasn't intended to have artwork outside of the individual letters but in true Ithaca fashion, drawing outside the lines became not just for toddlers. 
People who walking by said that the mural, as different as it is from others around the country, truly embodies the Ithaca spirit. However, the message more than that needs to be highlighted— it's all these voices coming together to say Black Lives Matter, don't forget it. 
Harolyn Hoard, who recently moved from Pennsylvania to Ithaca to be closer to her family, said she was blown away by the mural. Hoard said she originally interpreted the invitation to "put your… handprint on the street" literally, she never imagined that she would be able to participate to the level she was able to. Hoard brought her brother, niece and grandchild to the mural where they painted the "K" as a family. 
 "I think it's a good thing you can do with your family. I'm definitely liking [the mural] and I like that I'm participating instead of sitting on the sidelines." She said she was glad she got to role model community participation for her granddaughter, who she said wouldn't have involved herself if she hadn't seen Hoard do it first. 
"As long as I sat on the curb, she'd [her granddaughter] sit there with me.…Participation is everything and this is her community. You want to be able to do something that's positive and being able to ride down the road and to see this today, tomorrow will make you proud. It'll definitely make you take care of your own neighborhood."