The Owego Kiwanis held a ceremony at the Owego VFW honoring Candor and Owego Apalachin's Key Club graduating seniors.  
Candor High School student Camille Brock, class of 2020, was recently elected to be the district governor of all the New York State Key Club divisions. To become governor, Brock had to run a campaign and deliver speeches. She will attend training in San Francisco, CA, soon.  
At Candor High School, Brock has been a member of chorus and band and participated in school musicals, as well as being a member of Amigos, where she works with mentally challenged students. She also works with Candor Public Relations and Culture Club, traveling to Peru on spring break.  
Key Club International, founded in 1925, is the oldest service program for high school students, and Candor High School currently has about 45 members. Worldwide, there are about 270,000 Key Clubs in 38 countries.  
The ceremony started with a luncheon for the Key Club members and advisors as well as the Kiwanis members. Next was a drone presentation by Isaiah Bishop, who is a member of the Key Club in Owego. He is using the drone in a photography business he has started.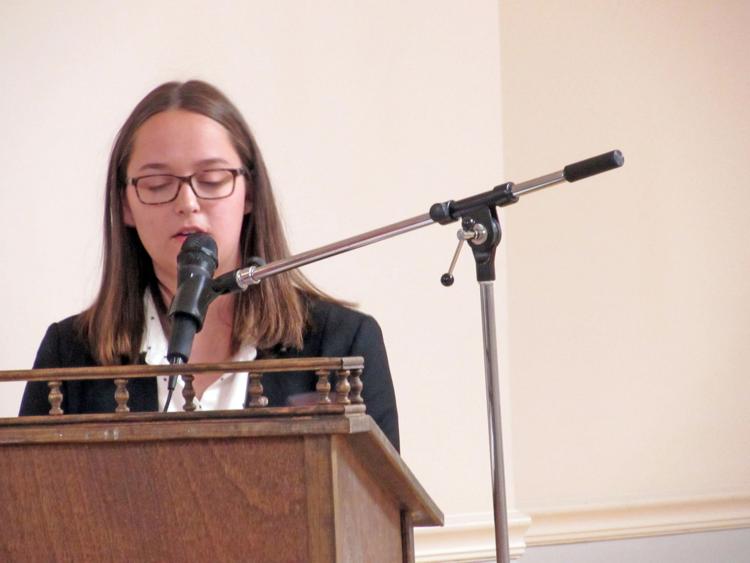 Brock gave a short speech, telling about future plans she is hoping to put into practice by the Key Club, and there was a report on all the community activities the two Key Clubs have done this past year. Candor's Key Club members were involved in a Thanksgiving food drive, adopted families for Christmas, hosted a winter outerwear drive, helped with the Easter Bunny breakfast and an Easter Egg hunt for the children in the community, and more. 
   The Owego Key Club helped opening day at the Little League concession, placed stickers on alcohol with warnings about drinking and driving for "Project Sticker Shock," served hot chocolate during Lights on the River, joined with Tioga Rural Ministry to help clean up yards of the elderly and disabled, and more. 
Before a presentation of four scholarships by the Kiwanis for four graduating seniors in Candor, the audience heard from members of the Candor High School chorus.  
All four scholarship members of Candor Key Club have been members of the Key Club all four years of high school. Leah O'Connell received an English scholarship, and she plans to attend Houghton College.  
Jenna Huizinga, also an English scholarship recipient, plans to pursue her passion for writing at SUNY Geneseo. Two Candor students received scholarships for Community Service through Key Club: Searra Allen, who will be attending SUNY Oneonta to pursue a degree in Sport Psychology, and Corey Whatley, who will be attending Eastern Nazarene College in Massachusetts to pursue a degree in social work.