May 11 in the Candor High School Gymnasium, a book signing for "Goodbye Sara Jane" was held. About 50 supporters were on hand to get a copy of the book and have it signed by guest author, Sequoya Griffin. 
"Goodbye, Sara Jane" is a memoir of a foster child who wrote letters to her biological mother while enduring the hardships of being taken, along with three siblings, from her home and family and being moved across the country, where she was mistreated by a new family. 
Griffin read several excerpts from her book, then took questions from those present.  
She first started reading from the day she was removed from her home at the age of 6.  After some other foster homes, she and her siblings would be moved to upstate New York to be adopted by a new, white family—a white family that knew nothing about taking care of African American children.  
Tears came to her eyes as Griffin talked about her 10th birthday being her favorite memory, not knowing then it would be the last time she would see her biological mother.  
In another excerpt she read, Griffin told about only being allowed one pad a day by her adopted mother when she was going through her menstrual cycle and the school nurse helping her out.  
After hearing some more of her life with this family, someone asked what it was like living with them. She spoke of being angry and feeling like God was punishing her, but she used writing and reading to save her, as well as watching out for her three younger siblings.  
When asked how teachers can be more aware of kids in need of help, she responded, "a lot of people need to get involved, not just keep out of each other's business. Children are defenseless and need adults. Teachers should get involved and keep records."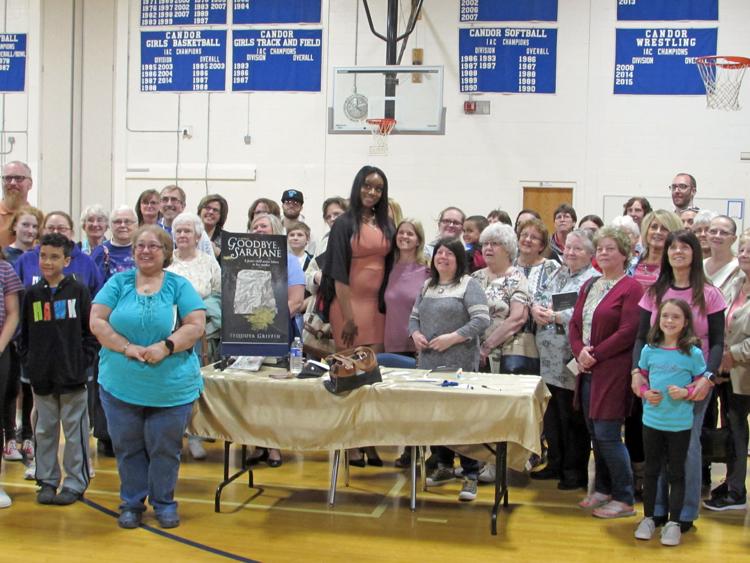 Griffin lived in Candor from fourth grade to ninth grade, and coming back to Candor she felt restored. "People need to be held accountable in all situations, and a community needs to get together and report if something is wrong." Many of those present spoke up about trying to report the family and getting their lives changed.  
Since the release of her book, Griffin said many have asked her about being angry with her mother, thinking it was all her fault. Griffin said she was neglected due to her mother's drug problem, but it was not her mother's fault that the foster parents in Candor were abusive.
She said many of the foster homes where she and her siblings resided seemed to look at it as a business, not as providing a stable home for the children. Her mother had seven children, and by 2007, Griffin had found them all. 
It was obvious that many of those who were present know who the abusive parents are and were on hand to show Griffin their support and joy that she has gone on and done so well.  
At the end of her talk, a line formed to get books signed and for many to give Griffin a hug.