ITHACA, NY -- With the opening of Botanist Coffeehouse, Matti Sgrecci accomplished a longtime dream. And all it took was a little help from a friend.
Sgrecci met Stacy Twigg, the owner of Ithaca Flower Shop a number of years ago. Twigg did the flowers for Sgrecci's wedding, and the two hit it off and stayed in touch. At the time, Sgrecci was working for Coffee Mania in Cortland, and Twigg was beginning to think about leaving her shop in Fall Creek and opening a storefront in Cortland instead.
"We were thinking about how cool it would be to put the things we love together in one place," Sgrecci said. "So it seemed like a perfect opportunity to take over the space her shop had been in. It was set up to be a good space for a café, with really nice light."
They decided to go for it, with Twigg opening up shop in Cortland and Sgrecci transforming the flower shop into her dream café.
"I had pipe dreams for a number of years of having a place with coffee and baked goods," she said. "I thought maybe I'd have a food truck someday, but there was nothing concrete. So it all just kind of came together that way."
Those conversations between the friends started early-to-mid 2019, and Sgrecci officially left her job in November of that year. They started renovations the next month and planned to open in spring 2020.
"We probably would have gotten there," Sgrecci said. "Our build-out was finished early April 2020."
However, COVID had other plans. Due to the pandemic, the health Department wasn't issuing any new operating permits at the time, and ultimately ended up pausing inspections for new facilities for nine months, Sgrecci said. 
"We were definitely bummed, but it was sort of better off we didn't open and then have to close and open again," she said.
Just before Christmas in 2020, Botanist Coffeehouse finally got its inspection and Sgrecci hurried to finish the final details to open in January of this year. Some of those finishing touches include a conspicuous number of plants — both an homage and a partnership with the café's former tenant.
"It's definitely part of the décor as well, I always wanted to have a jungle vibe, but we also have a ton of plants that are for sale," Sgrecci said. "And now the flower shop has its main location in Cortland and there's no coffee there, but if people want to place a special order there, they can pick it up at Botanist."
As for the coffee shop's menu, Sgrecci describes it as a traditional espresso menu with a personalized coffee blend roasted by Coffee Mania that they use for drip coffee and cold brew. She also keeps the shop stocked with fresh baked goods.
"Probably our cinnamon rolls and scones are our most popular," she said. 
Sgrecci didn't go to pastry school, but said she's always been a baker and has always loved to cook and bake.
"When I was younger I didn't understand that you could make that your career path," she laughed. "It was just kind of what I did for fun."
Sgrecci went to college for animal science and then got her master's degree in journalism. She eventually started working at a café called Dulce Delight, and stayed there for four years.
"I really liked working in a café and wanted to learn more about coffee and the barista side of things," she said. "That got me started working in the industry and after that I went to coffee mania and worked there for a year and a half, which was a more intensive coffee experience."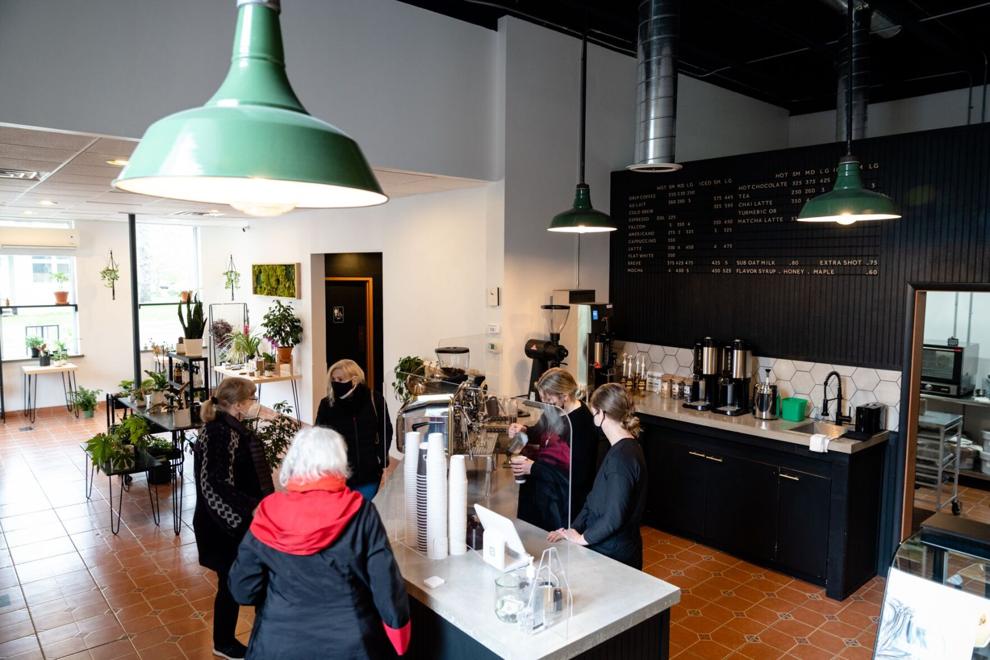 Since opening a few months ago, Sgrecci said the response has been "extremely encouraging and extremely nice."
"You worry people who were interested when you first announced would lose interest, but that's shown not to be the case," she said. "Fall Creek is a very walkable neighborhood so lots of people who live two blocks away are excited to have a place to walk to."