Officially released in October 2014, the "Economic Impact on New York State: Fiscal Year 2013" is a 22-page report that documents Cornell University's effect on the state economy. If you want to put a single number out there, the combined employment, purchasing, and construction at the Ithaca and Manhattan (Weill Cornell Medical Collage) campuses amounts to an economic impact of $3.2 billion.
Section II, "Cornell University in Tompkins County and Central New York State," will be of most interest to local readers. Some of the numbers here will not be surprises. A bar graph that quantifies the size of the payroll for the Ithaca and Geneva campuses shows it steadily rising from $451 million in 2000 to $814 million in 2009. The Great Recession took its bite out of Cornell's workforce at that point: 900 employees were let go or retired, and in 2010 the payroll stood at $762 million and dropped slightly again in 2011 to $759 million. Since then it has recovered, but not to the 2009 high-water mark.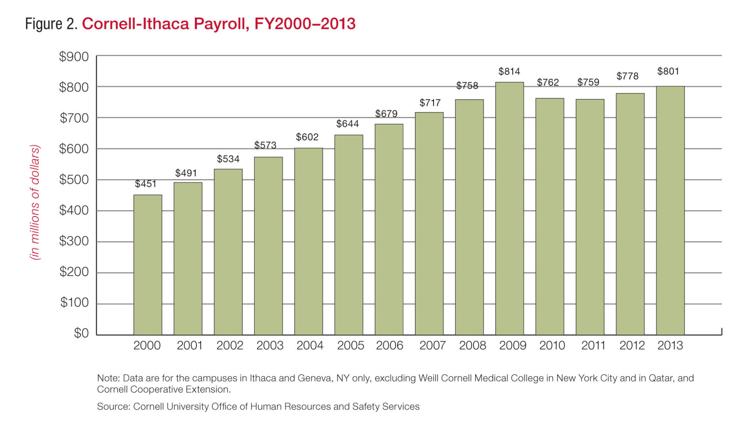 The recession hit Cornell hard. According to the report, the three biggest pinches were an abrupt decline in state support; cuts in federal funds in the form of grants, Medicare, and money to Cooperative Extension; and that suddenly many students needed much more financial support in order to pay their tuition, room, and board costs. According to the report, Cornell's financial aid spending has more than doubled since 2008.
In addition to reducing the size of its payroll, the university consolidated administrative processes through shared services, streamlined information technology support services, and put construction on hold.
Cornell has a policy of favoring local and in-state vendors. In spite of this policy, the majority of its vendors are located outside of New York State: $326.8 million of a total $585 million in purchasing (or 56 percent). Just 13 percent ($73.6 million) of its purchasing is from Tompkins County vendors. Nine percent ($54.4 million) is from counties near Ithaca. Eleven percent ($61.6 million) of purchasing was done in central New York. The remaining 11 percent of the purchasing is done elsewhere in New York. (Counties near Ithaca are all those sharing a border with Tompkins. The study defines "central New York" as consisting of 18 counties, but does not list them.)
The university's previous economic impact study was released in 2007, before the Great Recession. It was done by Appleseed, an economic consulting firm based in New York City that does impact studies for many universities around the country, including other Ivy League schools. 
The latest study is in-house and based on a "composite model" that "can help Cornell proactively seek out new opportunities for economic development and innovation, and determine how the university can best support each undertaking."
This approach is the brainchild of Vice President of Budget and Planning Elmira Mangum, who arrived at Cornell in 2010 and left last month to become president of Florida A&M University. In May 2012 she and Provost Kent Fuchs (who will become the next president of the University of Florida on Jan. 1) announced in the Cornell Chronicle the introduction of "an enduring and comprehensive financial budget model for the Cornell campus that is more streamlined, more consistent and transparent in the allocation of resources and expenses."
Mangum and Fuchs were determined to "reimagine" the university's approach to budgeting and planning and erase its $250 million deficit. The economic impact study details the expenses that Cornell incurred as a result of the 2008 financial crash, but does not mention that its endowment lost 27 percent of its value in the last six months of 2008. In the online journal Inside Higher Ed, Jim Wolfston characterizes the Cornell endowment as "heavily invested in private equity, real estate and hedged equity instruments." 
Wolfston noted that Cornell was far from alone: the value of university endowments in the U.S. declined 23 percent through five months of 2008 ending November 30. He cites Yale as typical; it lost 25 percent of the value of its endowment between June and December 2008, which entirely erased its growth during the previous four years.
In an Oct. 22 presentation of the study at Cornell Cooperative Extension, Vice President of University Relations Joel Malina said that in order to "continually assess impact" and to look for trends in the economy the university would publish these impact studies regularly. Malina suggested that with this improved yardstick the university could even be "a mechanism for recovering from recession."
Mangum engaged Kieran Donaghy, a Cornell professor of planning and regional science, and Yuri Mansury, a visiting associate professor in the department, to construct the composite model. "We need a better framework," said Donaghy of Mangum's intentions, "to enable us to look ahead and do thought experiments."
Donaghy's first challenge was to collect better data. After 2008 the university made an effort to introduce standardized record-keeping practices through various important departments. He spoke with the "data stewards" to take into account privacy issues associated with human resources information and data from Cooperative Extension and Weill Cornell Medical Center. 
"We had spreadsheets from multiple entities," said Donaghy. "There were three different accounting systems on campus." Members of his team had to use "spaghetti code" to get uniform information from the heterogenous database. "We figured out how to use a shared data structure," he said, "and found defendable practices that allowed us to compare apples to apples."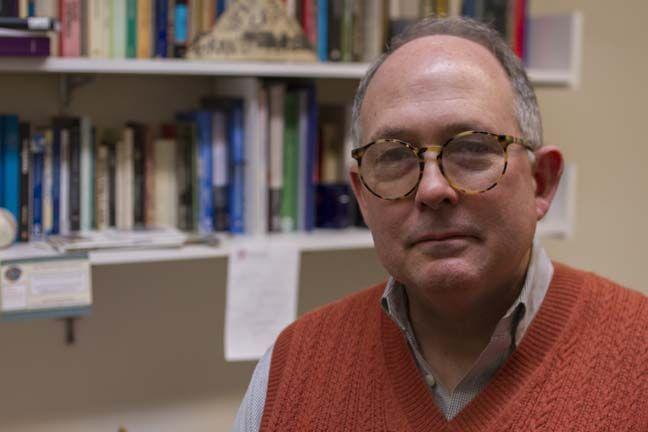 Earlier studies had used a social accounting matrix (SAM), which documents all economic transactions among producers and intermediate and final consumers, but Donaghy's composite model added a structural path analysis (SPA) to follow the "ripple" of spending through the community. That is, he was interested not only in the effect Cornell employees spending their paychecks, but also the effect of vendor to vendor spending and spending by the employees of vendors.
This "indirect and induced impact" was also measured for student and visitor spending in Tompkins County, adjacent counties, and central New York. For example, in the fiscal year 2013 students spent $203 million, but this led to an additional $72 million in spending by vendors and contractors who did business with students. The direct spending by visitors is substantial. Analysis shows that each visitor to Tompkins County spends an average of $213.55 per day on lodging, food and beverages, transportation, shopping, and entertainment. A study prepared for the Tompkins County Strategic Tourism Planning Board found that 42 percent of visitors to the county came to attend an event at Cornell.
For these calculations Donaghy and his team depended on economic data from IMPLAN (Impact Analysis for Planning), a North Carolina-based firm that produces economic data sets for local economies. The IMPLAN model and data was initially developed by the U.S. Forest Service in the 1970s to measure the impact of resource extraction industries on local communities. In the late 1990s it was adapted by the Minnesota IMPLAN group to be more useful to a wider audience. In an amusing note to a table in the report, the Cornell group expressed their impatience with imperfections in the IMPLAN data: "IMPLAN's direct effects may be less than Cornell's spending b/c, according to IMPLAN, Cornell purchased from industries that in 2010 did not exist." Such are the struggles of model makers.
Another part of the new approach to measuring Cornell's impact required that the university look at itself in a new way. It turns out it is the tenth largest economic entity in the state. "The model makes Cornell a sector unto itself," said Donaghy, "not a part of the rest of higher education. No other university has done this."
At Mangum's behest Donaghy has created a model that will give a more realistic picture of the university's economic impact. "With just an input/output matrix there are unrealistic assumptions," the planning professor said. "For example, it assumes that when you ask for something from someone, it will be delivered. The older model also didn't look at pricing as it was affected by demand. We need a model that reflects better what goes on in the real world."
The unrealistic situation in which no action can influence prices is called (among economists) "perfect competition." Donaghy's "computable general equilbrium" (CGE) component is, according to the Cornell report, widely used by municipal governments to document the effects of "supply shocks and supply constraints, price changes, fiscal policies, and development initiatives."
The "centrally isolated" geography of Ithaca affects its economy. Manufacturing as a source of well paid work has steadily declined. Ithaca Gun moved to King Ferry in 1987 (and Auburn in 2005). National Cash Register (NCR) shrank in the 1990s and became Axiohm in 1994, and then Cognitive TPG and outsourced most of its manufacturing. Emerson Power Transmission finally closed in 2009. The shrinkage in this sector of the local economy was complemented by the expansion of the Cornell payroll. The unemployment rate in Tompkins County is and has been consistently one of the lowest or the lowest in the state.
As a result Cornell University has become, in the context of the regional economy, a "monopsonist" or a single buyer with respect to local sellers of goods and services. This creates a dynamic that is analogous to what economists call "crowding out." Normally the monopsonist in the crowding-out equation is the government and the distorting force is government borrowing or spending. In a zero-sum situation the government uses resources that would otherwise be used by other economic actors.  In Ithaca and Tompkins County, Cornell plays the role of the monopsonist, not the government.
However, in the usual application of this model the monopsonist is actively trying to achieve and maintain its economic position. Donaghy noted the present example of the oil industry in North Dakota and Montana, which is actively crowding out competitors during the breakneck expansion of the hydraulic fracturing in the Bakken Shale. Cornell University has not crowded any business out of to the Tompkins County economy. Donaghy's model will allow the university to be more aware of what resources it is "monopsonizing" in the present.
Donaghy is a regional science specialist. He came to Cornell from the University of Illinois, Champaign-Urbana because Cornell is the only university in the country that maintains a separate regional science program within its city and regional planning department.
"Ithaca and Cornell have evolved together for 150 years," he said. "In the last 30 or 40 years the industrial base has changed. Cornell is not responsible for the loss of manufacturing or the hollowing out of the middle class." One need not look far to see an analogous economy: with the decline of Kodak and shrinking of Xerox and Bausch & Lomb in Rochester, the University of Rochester, according to the Democrat & Chronicle, has expanded its biotechnology and healthcare sectors enormously to become the new largest employer in Monroe County.
Donaghy's composite model for measuring economic impact will allow the university to measure the effects of its actions more accurately and more precisely. What they do with this information is not up to the model makers.
Suppose Cornell wanted to rebuild its infrastructure to accommodate "smart growth," Donaghy suggested. He also noted the President David Skorton has urged all parts of the university toward "carbon zero" status through use of district heating and cooling and other technologies. "We could get things like this off campus," he said, "when we get them to work on campus."
When, through use of the new model, the university can better document its effects on the local economy, said the academic, we can raise the level of the conversation between the town and gown. •