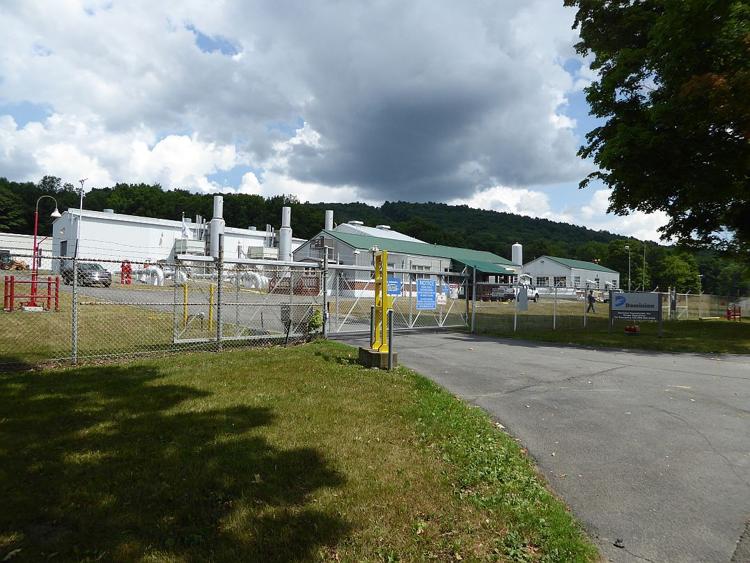 After a small victory for activists railing against upgrades to a natural gas compressor station in Ellis Hollow, it appears Dominion Energy – the national energy company whose New Market Project runs through the Town of Dryden – has found a way to continue building what activists now say is a pipeline to sell fracked gas from Pennsylvania to Canadian customers.
Though Dominion has already begun construction on the facility, the town as well as activists have been seeking a legal means to stop the project which, by some careful maneuvering by the company, has been allowed to continue through the state's permitting process, rather than the town's. According to activists and town officials, the company – attempting to circumvent a public utility moratorium implemented by the town last summer – applied for a building permit and stormwater pollution prevention plan, which are not subject to the conditions of Dryden's zoning law. The building permit was received one day before the moratorium went into effect and – because the SWPPP application sent to the state April 2016 was still being reviewed by the Department of Environmental Conservation – was not granted until January 12.
For months convinced the project was out of its oversight, Town of Dryden officials revealed last month the town had discovered it had the authority to subject Dominion to its special use permitting process due to several changes being made to the project, which would require the project to undergo extensive environmental review. In a letter to Dominion's State Policy Adviser, Don Houser last month, town officials told the company any changes to a project's site plan would, under the conditions of the town's moratorium, be subject to resubmission and site plan review despite the precedent of three "misapplied" special use permits approved for the substation in the early-1980s.
"There is a principle," the letter reads, "that there is no estoppel against the government, which means that even if a municipality misapplied its zoning law in the past, it is not estopped from applying it correctly in the future."
However, the letter fell on deaf ears: the following day, May 25, Houser emailed town officials to confirm a site visit to the facility and, despite the position of Dryden's legal representation, Dominion has carried on and no stop work order has been issued.
In a statement, Dominon said it had a "very productive meeting in late May with Town of Dryden officials," during which, the company reaffirmed it will not making any changes to the work area as it moves forward with its plans.
"We are continuing construction of the project as originally designed and as currently permitted," the company said in a statement. "We are moving forward and expect to be in-service later this year to help meet the growing need for natural gas for National Grid customers in both upstate and downstate New York."
The town has not issued a stop work order, to the dismay of local activists. Mothers Out Front has deferred to appealing to the company to improve the project on its own volition while environmentalist Walter Hang, president of local research group Toxics Targeting, has relied on a consistent email campaign calling on his subscribers to stop the project's construction, citing the legal language of the town's own moratorium and code.
However, there is no legal precedent for Dryden to rely on and, theoretically, enforcement of the town's utilities moratorium would be entry into uncharted waters: the closest legal example, which is still unresolved, involves the Town of Pendleton invoking its home rule status to challenge the provisions of the Natural Gas Act and the Northern Access Pipeline by denying National Fuel – the developer – its building permit. The town is now being sued by the company.
"I go to all these town board meetings and I listen to somebody who wants to build, say, 26 new apartments in Varna or something, and they have to jump through all these hoops to get through the special use permit process," said Katie Quinn-Jacobs, team coordinator for local activists Mothers Out Front, who with the town have been leading the brunt of the opposition efforts. "Meanwhile this giant industrial plant isn't doing that at all. We want the same protections the zoning – and the comprehensive plan – offered. We want that applied here."
Borger Station: A Small Part Of A Bigger Picture
Though the Borger Station in Ellis Hollow is just one small component of the pipeline's more than 200 miles, the fight at Borger – like the activist efforts to prevent expansion of similar stations in Brookman Corners and Utica – has been one of a greater effort: to stall the expansion of natural gas consumption in New York State in a region where nuclear power from the troubled Indian Point power plant once was its lifeblood.
But that expansion, now, may be much larger than activists initially thought.
At a meeting last month in Hartford, Connecticut, Iroquois Gas – a company of which Dominion holds controlling interest – revealed plans for a second New Market Project connecting its downstate markets to Canada. This project, according to a presentation given by the company, would – if ever proposed – involve a supply push from among three other pipelines, Dominion's existing New Market pipeline, to provide natural gas not only to the proposed 1,000 megawatt gas plant at Cricket Valley (Indian Point's replacement) but northward to the Canadian market, concurrent with a production push by U.S. markets to increase production at a time when American oil is selling at record lows.
Though this does not necessarily mean there will be a new pipeline constructed, if demand rises for natural gas, then so will the potential for a new project.
"In assessing potential future supply, we look at current projects that have the potential to be expanded,"  Ruth Parkins, Public Affairs Manager for Iroquois Pipeline Operating Company said in an email. "While Dominion's New Market Project is under construction and will be in service later this year, Iroquois' presentation was not meant to infer that there is a New Market II project proposed, but rather to speak conceptually about addressing future market needs."
Taking Matters Into Their Own Hands
The task, Mothers Out Front leadership says, is simply-stated, but not so simply executed: in their best case scenario, the group aims to convince Dominion to spend money on creating a cleaner compressor station in Ellis Hollow – which currently contributes an excess of 12,000 tons of pollutants per year, according to 2015 emissions data from the DEC – all without allowing the company to make money through the expansion of natural gas supply to the eastern end of the state.
A cleaner compressor station, its opponents say, is a simple objective: according to an analysis of the station's specifications, two of the three compressors at the Borger station are powered by very old Dresser Clark DC 990 turbines (one dating back to 1984) that produce nitrogen oxide emissions and other pollutants greatly exceeding that of the station's third turbine, a Taurus 70 turbine installed in 2010. Because of their higher levels of pollution (and difficulties of maintenance, activists requested that Dominion replace its old Dresser Clark turbines at Borger with modern equipment like at Horseheads, Sheds, and Brookman Corners not only because modern equipment would be cleaner, but ultimately save Dominion time and money in their upkeep.
But, despite the optimism, Dominion has no plans to change the project.
"Dominion Energy Transmission received, after 24 months of public review and comments, an Order from the Federal Energy Regulatory Commission to construct the New Market Project with the equipment that is now being installed," the company said in a statement. "As Dominion Energy publicly stated at the May 1 public forum held in the Town of Dryden, we are willing to discuss future needs at Borger Station after completing the current project."
In the immediate future, that plan does not include green compressors. So Mothers Out Front say they have a different idea: the group is working to implement an environmental health project to monitor the population within a two kilometer radius in order to compare their current health to whatever their health may be after several years of direct exposure to the emissions released by the compressor station.
This is not a new idea, as some counties on the pipeline's route, like in Madison County, have their health departments assisting to conduct these studies. Tompkins County though – for lack of resources to cover the estimated $18,000 cost – declined to participate, leaving the local activists to go it alone. Working on locking in grant funding, Mothers Out Front are trying to raise the funding themselves but, sadly, may have to wait to see if things go wrong.
"One of the things that is probably bound to happen – if it turns out we do have some serious problems here – is that they'll [the health department] suddenly get interested in this," said Elisa Evett, an activist. "They'll have to."
 Follow Nick Reynolds on Twitter @Nickthaca