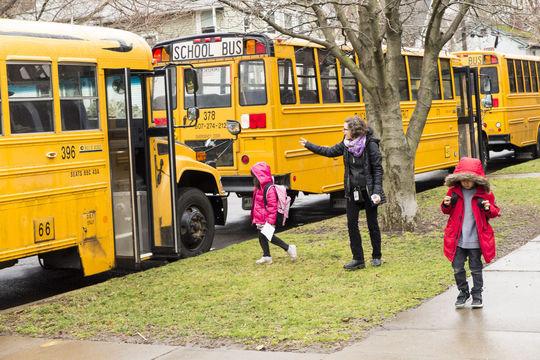 After a contentious school year, Enfield Elementary School's Principal is moving up to an administrative job with the Ithaca City School District.
Lisa Rieger, who has helmed the school for the past seven years, will be moving into a role as the district's Director Of Special Projects, beginning next school year. In a letter to the school community earlier this week, Rieger said she was leaving the role with a "mix of emotions," and thanked the Enfield community for helping her to grow as a person and a leader.
"Enfield's caring and complex community will continue to inform my head and heart as I work to forward the Ithaca City School District's mission of inclusion, culturally responsive practice and innovative teaching and learning on a broader level," she wrote. "I look forward to the challenges and opportunities this new work will bring and hope our paths cross often! Together we can and will prepare our young people to better our world."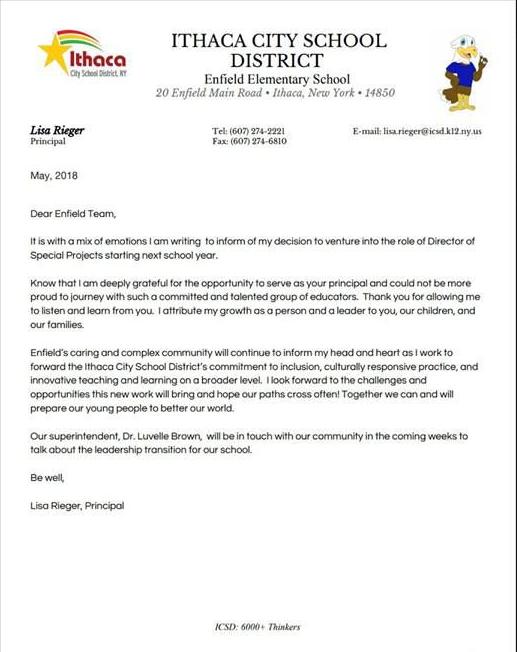 In an interview, ICSD Superintendent Luvelle Brown said that the newly-created, appointed role will involve work across the district, helping to administer a number of large grants the district has received in the past year, including various Title 1 and Title 2 grants (meant for low-income student success and professional development, respectively), various farm-to-table grants (including a summer meals program) and various My Brother's Keeper initiatives, an Obama-era mentorship program meant to close opportunity gaps for young men of color.
Touting her experience in school administration as well as her desire to pursue new opportunities, Brown said Rieger's boost to the position was well-timed, especially as the district has received funding for numerous initiatives over the past year that needed some additional coordination.
"Putting people in the right seats is always something we do," Brown said. "We make shifts every year."
He added that the search for a new principal will be initiated sometime in the next few weeks.
Rieger was the subject of some parental dissent this past year over perceived disciplinary issues and bullying at the school, prompting community outcry at a school board meeting and at least one person's candidacy for the ICSD Board of Education – an issue Brown said was "totally separate" from the decision to promote her.
In the past several months, numerous parents alleged issues of bullying at the school were prevalent at the school and oftentimes, went unpunished, a premise the district objected to. However, according to disciplinary figures obtained by the Ithaca Times, Enfield Elementary School averaged the most annual disciplinary instances – meaning anything from no action taken to behavioral plans or suspensions – of all elementary schools in the district, averaging 369.9 instances per year according to documents obtained by The Ithaca Times. The next highest was Caroline Elementary School, with 268.9, and Fall Creek Elementary School, with 175.3. The lowest rate reported was at Northeast Elementary School, which averaged 23.6.
The average for all elementary schools combined? 160.5 instances per year.
These numbers, however, have to be taken with a grain of salt: According to one district source speaking on background, actual numbers may be over or underreported based on each school's unique situation, an allegation corroborated by parents within the district earlier this year. Even then, discipline, Brown noted in March, is not always black and white.
"We're talking about young people with disabilities here," he said at the time. "We have to be careful to meet their needs to balance the safety of staff but also to respect the law as well. You have to think about what an appropriate consequence is for a student with an identified disability whose behavior is a manifestation of that."
"It's never a good thing when an adult or a young person is hit, but this is something we need to navigate carefully."