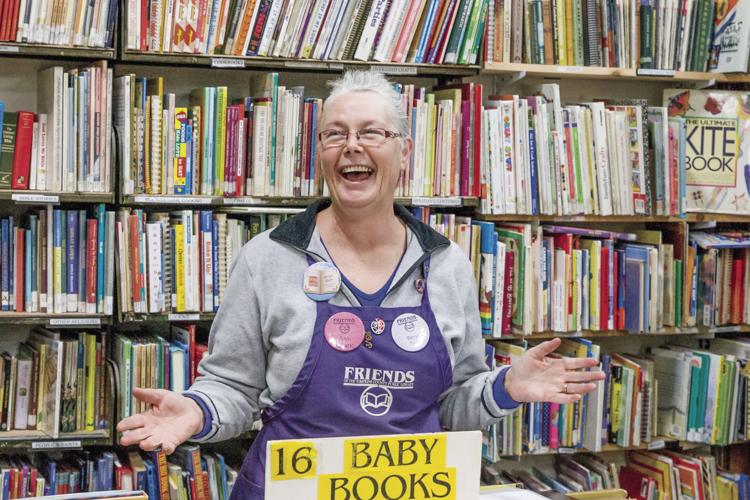 Beryl Barr's voice, with its distinctive New Zealand accent, has welcomed shoppers to the Friends of the Tompkins County Public Library (FOTL) book sale for the past dozen or so years. Book lovers will still hear her over the loudspeaker as the sale gets under way this weekend, but this time Barr will just be a very experienced volunteer for one of the largest library book sales in the nation.
"I've managed for seven of the past nine years, and co-managed before that," said Barr, who started with the sale as a volunteer when her youngest daughter entered high school and substitute teaching proved to not take up enough of her time. "But it's not healthy for one person to be in charge for too extended a period of time," Barr continued. "You want everyone involved to feel some empowerment. It's not that we are in a rut, but it's time for some new ideas. And it's been a rough year for me. My brother died, and my husband is going to retire in a few years, and we'll go back to New Zealand. I knew it was time to step down; I don't regret the decision."
Barr's husband is Dr. Steve Barr, professor of veterinary science at Cornell University. The Barrs and their two daughters came to Ithaca for Steve Barr's job in 1989 via Australia and Louisiana.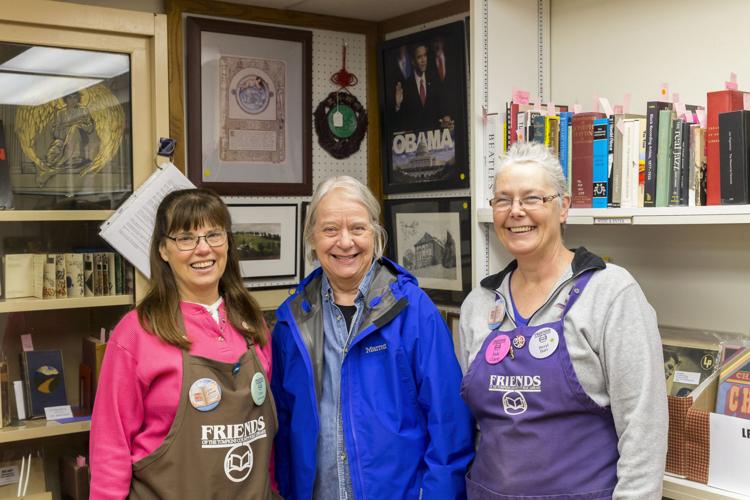 They were immediately delighted with the city. "It is 10 square miles of [perfection] surrounded by reality," Beryl Barr said of Ithaca. "It is a great place; it is intellectual and passionate. There is music and arts, the Museum of the Earth, the Hangar Theater, and, of course, the colleges. What is there not to like? And it's a great city to raise children."
The Pull of the Book Sale
Not to mention the pull of the book sale, which is held twice a year in the FOTL building on Esty Street between Fulton and Meadow streets. Barr said she and her family shopped it many times before she decided to volunteer. Held each May and October, the sale lasts the better part of three weeks, with prices decreasing each day until the bag sale, during which items sell for a dime or a quarter. On the very last day books are a dollar a bag. 
Nearly 300 volunteers work for months in the warehouse before each sale, sifting through hundreds of thousands of items—books of all types, CDs, DVDs, games, magazines, artwork, records, and VHS tapes—that are donated throughout the year. There is a book drop next to the front door, equipped with plastic bags to put your donations in before you push them through the slot.
"We have more items for sale this time than ever before," Barr said. "We have 317,929 items. Our last sale, we had 270,951." 
Of the 300 volunteers needed to prepare and run the sale, many of them have been there as long as or longer than Barr. Many of them are retired teachers and former librarians who enjoy working in their favorite sections: cookbooks, history, paperback and hardcover mysteries, and young adult and children's literature, to name a few. The materials are divided into 80 different categories before they are placed in the massive warehouse.
Others volunteers come from various community organizations. They sign up to work on specific days, mostly at the checkout during the sale.
Bibliophiles' Paradise
Some buyers arrive a few days before the sale starts, to get on line. It is not unusual to see tents pitched and lawn chairs set up. The Tompkins County sale is the eighth largest library book sale in the U.S., according to the blog Literary Tourist. Barr said people come from out of state and Canada to attend.
The first day, shoppers can only purchase up to 50 items at a time without having to go out and get back in line. It makes it fair, Barr said, since so many people want to get into the warehouse for the prime pick of science fiction titles, puzzles, and games, the best of which fly off the shelves the first day.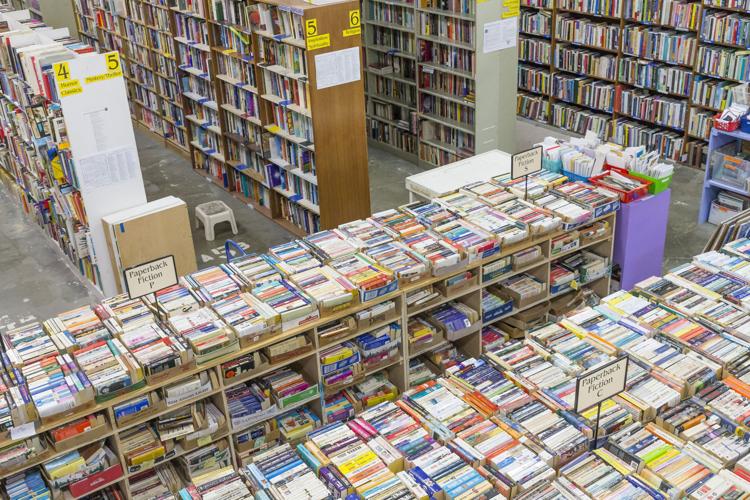 The event attracts ardent bibliophiles, young families, and students and faculty from nearby Cornell University and Ithaca College. It attracts those looking to fill out collections and just about anyone who loves a good book at a bargain price. Barr estimates that about 17,000 people come through the door for each sale. They are given floor maps so they will know exactly where to find what they are looking for. Volunteers constantly restock shelves as items are sold.
Neither the donations nor the shoppers seem to be affected by the growing popularity of e-readers. "We have seen fewer new books at some sales, but not consistently and not at this sale," Barr notes. "We have so many beautiful books that have been donated. People are still very happy to have books in their hands."
Under her watch, the sale's Collector's Corner, where some of the sale's most exciting offerings end up, has been remodeled and expanded. It is where book sale customers find rare and vintage books; first editions; signed copies; collectible records, ephemera, and toys; and valuable works of art.
"One year, someone donated a Jewish cookbook from the 1880s, really a book about how to set up and run a kosher household," Barr said. "We did a little research and found out it was the first book of its kind to be published in the United States."
They contacted Sotheby's, and in an auction of Judaica it sold for $7,000, astounding the book sale organizers.
"It was the only item we've ever sent to auction like that," Barr says. "Anything pre-1900 we usually check up on, and we have found valuable stuff. They usually end up in our Collector's Corner. But we don't catch everything."
The Purpose of the Book Sale 
The coming together of the community for the book sale has been a tradition since 1945. It originated to help raise funds to purchase books for the library. Now, nearly 70 years later, it and the Tompkins County Library Foundation cover the library's entire acquisition budget. The book sale's contribution is $250,000 annually. The money also benefits the entire Finger Lakes Library System, which receives $60,000 a year to distribute to libraries throughout the region. The FOTL group also offers competitive grants to libraries and nonprofits for programming, and opens up the sale itself on special days to seniors, students, and other groups.
"This year, there are people coming down from St. Lawrence County, from libraries up there," Barr said. "We want to connect as many people as possible to books. We try to recycle everything. We don't want to throw anything away if someone can use it. It's not even so much the idea of making money. There are people who come and can't afford to buy books any other way."
She said she loves to interact with the shoppers at the sale, to see what they are buying and to thank them for their patronage. She said she is pleased that many Mennonite and Amish school representatives use the sale to stock their schools, because they know they can find traditional literature and other books that are not easily accessible.
"It is absolutely the best place to go book shopping," wrote Ithacan Debbie Clover on the FOTL Facebook page. "I've built a whole personal library from the FOTL book sale. In fact, I go every weekend for both the spring and the fall sales. It's not to be missed. And they can always use volunteer helpers."
At the end of the sale, everything that is left over—after nonprofit organizations from Tompkins County and elsewhere have taken what they want and volunteers have exhausted all possibilities of giving the rest away—is picked up by Better World Books or other book recycling organizations.
 The warehouse is cleared from top to bottom, and preparations begin for a new sale. Barr said cleaning the warehouse was a tradition she started. Everything is dusted and swept, and none of the books are saved, so everything is new for the next sale—although it not unusual for items to be re-donated.
She said one of the most satisfying parts of the sale is the moment when everything is in place and the doors are getting ready to open. Up until then, she said, there are things everywhere; the aisles are full and people are hurrying to put items in their proper places. She said she is appreciative of the volunteers who make the sale possible.
"I want to spread [the gratitude] to the volunteers, because this is really a community project, and I want to thank Clare Greene, who is taking this over for me," Barr said. 
Changing of the Guard
Like her predecessor, the new coordinator is not an Ithaca native.
Clare Greene, who flew solo with the sale this time around—although Barr was not far away—moved to Ithaca from Santa Cruz, California 10 years ago. Greene retired as an administrator at the University of California at Santa Cruz, and she and her husband Stephen settled in Ithaca.
"My husband did his undergrad at Cornell, and we wanted to retire to a lake," Greene said. "[Cayuga] was the best lake we found."
The city's liberal atmosphere, beautiful scenery, friendly people, and the spring and fall weather attracted her, even if she is not so crazy about the winters, Greene said.
"We tried the snowbird thing and spent a winter in Florida, but we found that wasn't for us," said Greene. "So we decided to settle here permanently. Besides, that leaves me more time for the book sale."
In 2008, after meeting Barr at a library event, Greene started to volunteer for the book sale. Her first job was "rough sorting," or going through the hundreds of thousands of items that are donated to each book sale. The materials are sorted into categories, but much of the initial check weeds out items that book sale volunteers say are not fit to put on the shelves.
"It was like a baptism by fire for me," Greene said, noting that there were so many donations this time around—more than had ever been received before. "A lot of what was donated has already been recycled to make new books."
She does not know why donations were so heavy this year, but she wonders if it might have something to do with people divesting themselves of physical books in favor of electronic readers.
Fortunately, however, if previous sales are any indication, there are enough people who still want to own actual books to sustain the efforts of the FOTL group. There has not been a downturn in the demand.
"I keep waiting for the big scare, the big cliff," Greene said, indicating a drop-off in the demand for books. "But it hasn't come. If anything, the demand for books has gotten greater."  
She said as the sale goes forward, there may be some minor tweaks here and there in protocol, but she is satisfied with the way the sales are run and the camaraderie of the people who give their time.
"I hope [the sale] just continues forever," she said. •
Go to booksale.org for information.
Dates of the Sale:
This year's sale to benefit the Friends of the Tompkins County Public Library started on Saturday, May 7 at 8 a.m. and continued May 8 and 9. The final days are May 14 to 16, and May 21 to 24. There are other special dates for non-profits, seniors and students.