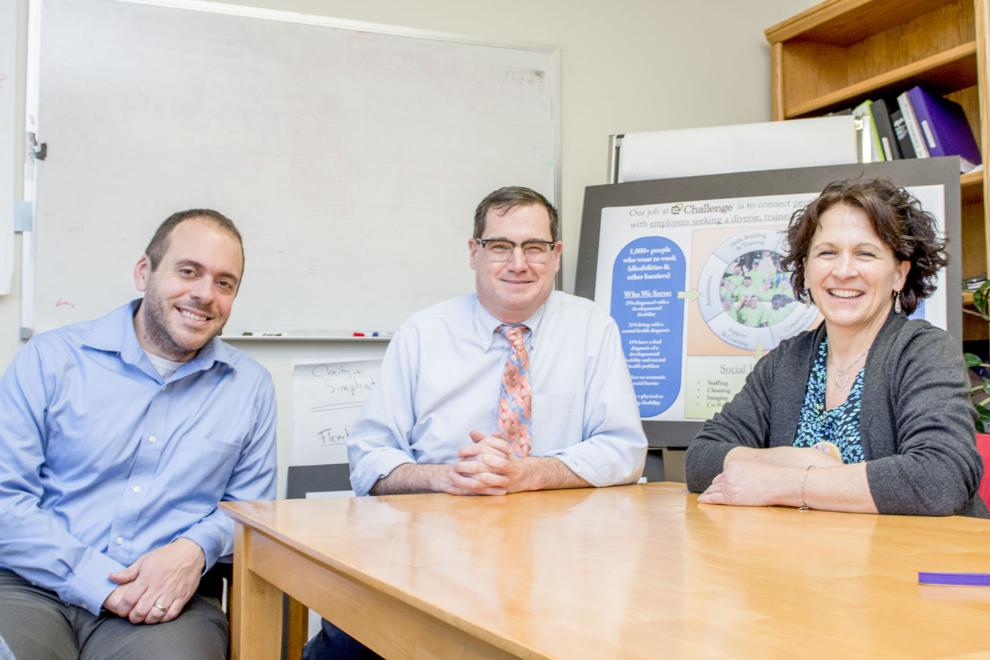 To witness a normal Friday afternoon at Challenge Workforce Solutions in the South Hill Business Campus is not to see an organization that was recently on the brink of peril. Workers bustle about the imaging and shredding stations, located downstairs, before heading upstairs to the staff offices for a conference room lunch.
Director of Marketing and Development Kim Pugliese's dog, Georgie, roams the office to the delight of Challenge workers, and staff members hover around the table in case someone needs assistance. It's a quick, happy pause before returning to a few more hours of work and then adjourning for the weekend.
Challenge is a nonprofit organization dedicated to helping people with employment barriers enter the workforce, either through jobs at Challenge itself or via contract services Challenge holds elsewhere. Those barriers can vary widely: around a third of their clients face some sort of economic or educational barrier to getting a job, about a quarter have a developmental disability, another 15 percent have a mental health issue along with a developmental disability, about five percent are dealing with a physical disability and the rest is a menagerie of people who face all types of different circumstances that have forced them out of gainful employment, according to Executive Director Joe Sammons.
Sammons said some workers use Challenge to re-establish themselves in the workforce, only joining for a few days or weeks before matriculating out to work elsewhere. Others have found a community within Challenge worthy of a decades-long mutual embrace. Helen A., who lives with a developmental disability and whose last name was withheld at Challenge's request, has been part of the Challenge workforce for 44 years, currently working as a paper shredder in the in-house facility.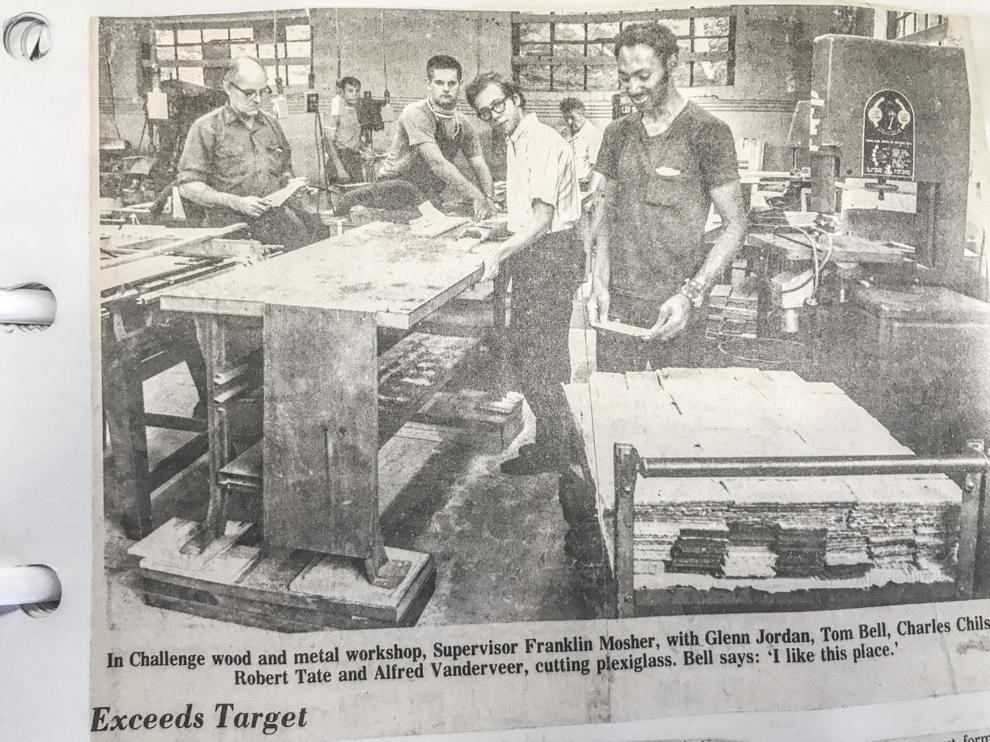 Helen's been nicknamed "Steam-Engine," she said, because of the speed at which she works, a claim bolstered by her receiving the Steam Engine Award last year at a company event. Working gives her a chance to get out of her living facility and allows her to interact with other people. Of course, the money doesn't hurt, either.
"I like working down on the shredders," Helen said. "I'm in my 60s, so I don't like to leave here to just stay home and lay around. I have lots of friends here [...] I like coming to work because you can make money and use it for lots of things."
Having been there for so long, Helen has seen the best and worst of Challenge. Peaks and valleys are an incumbent part of existence for all nonprofit organizations, with their fates routinely bending to exterior factors like national elections or state funding decisions— things the organizations themselves typically have no control over. It makes for a roller-coaster existence for most nonprofits, the highest of highs often followed by dips, repeated essentially into institutional tradition.
Pressure from outside makes self-inflicted problems all the more significant. As Challenge enters its 50th year, it is still trying to emerge from one of those many valleys, though this trough lasted two years and critically damaged the organization. In 2014, the previous Challenge administration spent millions to buy a building in Groton, intending to jumpstart another social enterprise with a Fresh Food Hub business which could employ Challenge workers, bring in additional revenue for the company and serve as a local resource for farmers.
But Challenge soon found itself in over its head. The nonprofit lost at least a million dollars to the failed business, and eventually abandoned the effort, selling the facility to Old Chatham Creamery in 2016. The organization is now working to place some of their participants in the creamery to satisfy its packing and cleaning needs.
During that same two-year span, New York State funding shifts led to budget cuts and a 16-month vacancy between the last Executive Director's departure and Sammons' entrance both contributed to a perfect storm that ended with $2 million in losses — around a third of the company's total value. Though of lesser impact, Pugliese also said that she believes Challenge's move from downtown, out of their iconic "Pink Building" on State Street, to the nondescript South Hill Business Campus caused some in the community to forget about the organization, or assume they had shut down.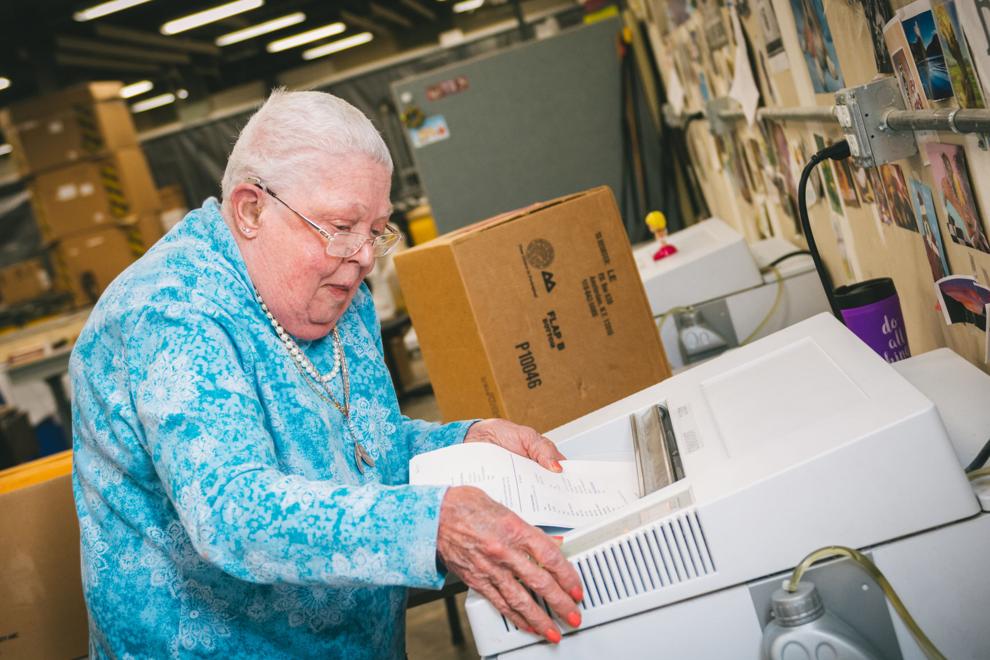 The food hub turned out to be a miscalculation, but a move that was well intentioned as the next step in the Challenge's ongoing quest to expand services and, with expansion, provide more opportunities for its clients. That overarching mission has been consistent since the organization was founded by Bob Sprole in 1968 with the goal of providing a space for programs aimed at helping people with disabilities gain education and job training. Initially, the workers were housed in a Challenge facility only, but the program quickly adapted to the desires of its workforce.
Much like the general population, Challenge participants don't want to be isolated from the rest of society, they want to feel as much a part of the local community as possible, Sammons said. Challenge quickly pivoted, and within two years of opening it was deploying its workers out into businesses and workplaces throughout Ithaca, while retaining its in-house programs to accommodate those who prefer that or may need more intense supervision or guidance.
"We had to create opportunities to get people out into workplaces, even if they had a disability or some other barrier," Sammons said. "You find that people who have a disability or face other barriers are not different from you and I, they still want to grow and show their skills and graduate to different jobs, just like all of us do."
Challenge now serves over 1,000 people and works with 150 employers across Tompkins County. Its own businesses, started in the 1970s but gaining more importance in the 1990s, have grown to include contracted services to businesses around the county such as janitorial cleaning workers, imaging, food co-packing and general staffing, known as social enterprises.
Hilton Garden Inn manager Teri Tarshus is one of Challenge's biggest supporters in Ithaca, contacting Challenge shortly after she became manager of the Hilton three years ago to build a working relationship between the two. These kinds of relationships are mutually beneficial and particularly valuable for Challenge. Its workers hone versatile skills that can be used in a variety of different positions and the organization can tout relationships with local economic pillars like the Hilton, Wegmans, Cornell University and Ithaca College to help extend their reach to other businesses.
"For us, it's an extremely positive relationship," Tarshus said. "The value is huge, it's something that you can't even measure. [...] It is so invaluable to this community that coming back and growing the relationship that I have for myself, but also for my business, it was a no-brainer."
Tarshus said she has four employees who have been hired by Hilton from Challenge, then another team of four workers from Challenge and two people who are being trained by Challenge supervisors at the Hilton to learn skills for work either at the hotel or elsewhere. It's a microcosm of Challenge's goals, which are built on providing five ingredients (skills building and training, work experience, community and employment placements, support and coaching, and assessment) to workers and employers, which can help both reach their goals. Officially, their mission statement is to "connect people who want to work with employers seeking a diverse, trained and reliable workforce."
"When people come in, we can take them into one of our businesses and give them some work experience and get them some training they've never had," Pugliese said.  "The idea isn't for people to be hired by our social enterprises and stay there forever. It's to get them there, get talent and skills and then move them out into other jobs in the community."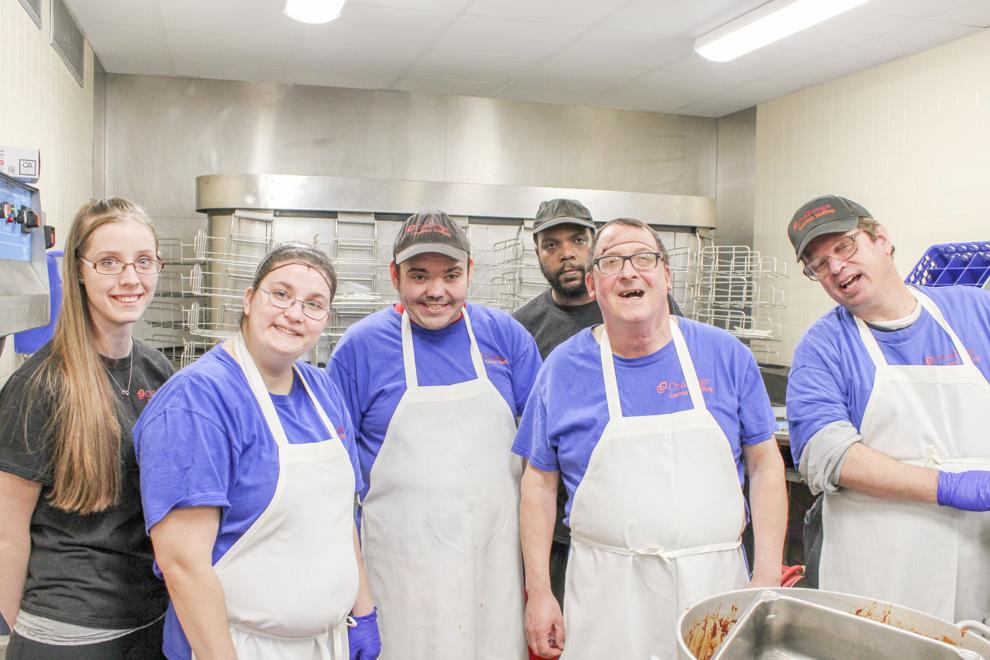 With that in mind, Sammons is looking to ensure Challenge stays stable enough to effectively pursue those primary goals. He freely admits that while Challenge is out of imminent danger, it is not quite "out of the woods," as acknowledging the flaws of the last several years is a long way from actually being able to fix the damage that was incurred.
"Challenge has been through its ups and downs, financially we've had some really tough years because business opportunities have either grown or shrank," Sammons said. "What we really have to do is build a really solid, sustainable infrastructure that can navigate the ups and downs of the economy, no different than any other employer in town."
The construction of that infrastructure is one of the more confounding parts of the organization, though they have settled on a set course of action. In October 2017, the organization's Board of Directors approved a five-year strategic plan, listing four imperatives that include keeping Challenge's commitment while evolving, growing more community-based and employment-focused social enterprise businesses, rehabilitating from the 2014-2016 nadir into a healthy organization and engaging the community. Accomplishing these goals would cost the company an estimated $800,000.
Complicating matters, Challenge is unable to rely on as much state assistance as some of its other nonprofit counterparts receive, with about half of its funding coming from New York State compared to far more for some other nonprofits. Challenge fills the resulting gaps in a myriad of other ways, from the revenue of their social enterprise businesses to regular fundraising like their annual Krispy Kreme doughnut selling campaign that has become popular around town, perhaps foremost with Mayor Svante Myrick ("That guy loves the doughnuts," Sammons said).
"People with disabilities don't necessarily rise to the top of the government priority list, we have to constantly remind state lawmakers and people running the budgets that money spent in this area makes for a stronger community," Sammons said. "This is a part of the population that's a little hidden [...] We have to fight for every dollar we get."
Even with all the obstacles Challenge has faced in the past and at present, it has found comfort in the bosom of a consistently supportive and loyal community. Sammons and Pugliese both say without that community, there's a decent chance Challenge would not still be standing today. There have been massive fundraising efforts in the past, and the list of employers willing to work with Challenge includes some of the biggest and smallest businesses around.
"I don't think the community would have let it happen, Challenge might have looked different but it would have still been here" Pugliese said. "As we push that boulder up the hill, it gets smaller and smaller."