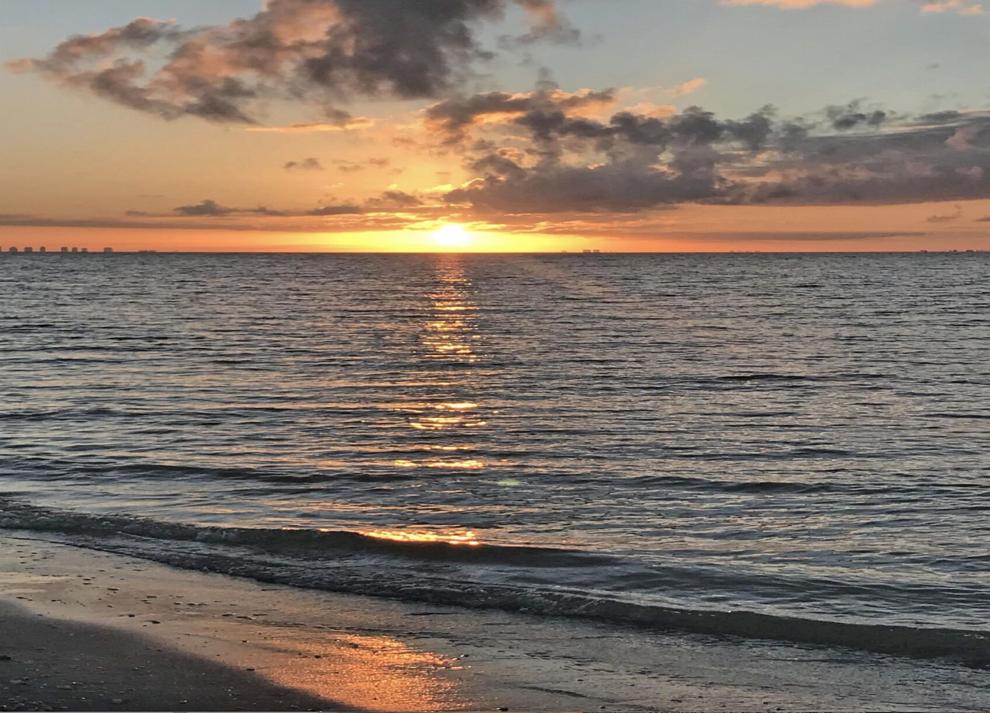 Three weeks in Sanibel and one in Sarasota 
It is no secret that many upstate New Yorkers visit Florida in winter and that some snowbirds spend the entire winter there. In this article I cover the experience of visiting two popular places on the West Coast of Florida: Sanibel and the Sarasota-Bradenton area. 
The Quiet Rhythms of Sanibel
During our first eight days away from Ithaca, my wife Marcia and I visited Manhattan. We then flew Christmas Day to Florida, where were rented for three weeks in Sanibel a one-bedroom comfortable condo (about $2,800 per week with tax) at Ocean's Reach on the Gulf beach with a fine view of the Gulf from our large balcony. We found the administrative staff there accommodating, gracious, and cooperative, and we look forward to returning. While I had been to Sanibel for three much briefer visits over the years going back to the 1970s when Sanibel was a funky, barely developed venue, this was by far my longest visit.
Lacking traffic lights, Sanibel—with its 32 square mile area—is a relaxing slow-paced island connected by a bridge to Captiva, its 1.5 square mile sister island, which we also explored. Most Sanibel activities take place between stunning sunrises, in January at about at 7:15 a.m., and dazzling sunsets in January at a little after 5:45 p.m., both of which we could see over the water from our rental condo or, even better, from our ocean front beach. 
I was up by 6:30 a.m. and was walking on the beach by 6:45 before coming in by 8 a.m. for breakfast. I began my first daily walk of about an hour on the beach in almost complete darkness. Holding a cup of coffee, I shared the beach with quite a number of people collecting seashells, most of whom carried flashlights or wore hats with lights. Attracted by the extraordinary quantity of shells on Sanibel shores, these avid shellers often have special digging equipment and use the shells for decorative purposes. 
At 9 a.m. I was often on the only Ocean's
Reach tennis court, which tennis players share with pickleball players, but of course not at the same time. In the afternoon after lunch, Marcia and I frequently took one of the many nature walks, several times in the "Ding" Darling National Wildlife refuge with its great variety of birds and some alligators. 
Another favorite walk or wildlife sightings is the Bailey Tract.
On Sundays we went to the splendid Farmers Market, where we bought the best breads and vegetables we found and quality fish at a reasonable price. Because there is no real supermarket in Sanibel and we preferred not to leave the island for a supermarket in Fort Myers, we shopped at the expensive island markets—Bailey's General Store and Jerry's Food—which sometimes lack essentials. 
Special pleasures of Sanibel include marvelous bird sightings: roseate spoonbills, pileated woodpeckers, ospreys, pelicans, cormorants, ibises, egrets, anhingas, and my favorites, the heron family: great blue heron, little blue heron, tricolored heron, yellow crowned night-heron). The Darling Preserve offers knowledgeable volunteer docents, but we also found many experienced birders who eagerly share their knowledge of birds. 
A must at the Preserve is the early section of the Indigo Trail where, at the bridge and adjacent lookout, bird and alligator sightings are plentiful. 
During our Sanibel weeks, we also had sightings of dolphins, sharks, manatees, iguanas (an invasive species) and of course alligators) and we enjoyed the varied tropical vegetation.
A highlight of our condo stay was Marcia's great home-cooked seafood, notably red snapper, grouper, and shrimp which we purchased either Timbers Fish Market or at a fish truck at the aforementioned Farmers Market.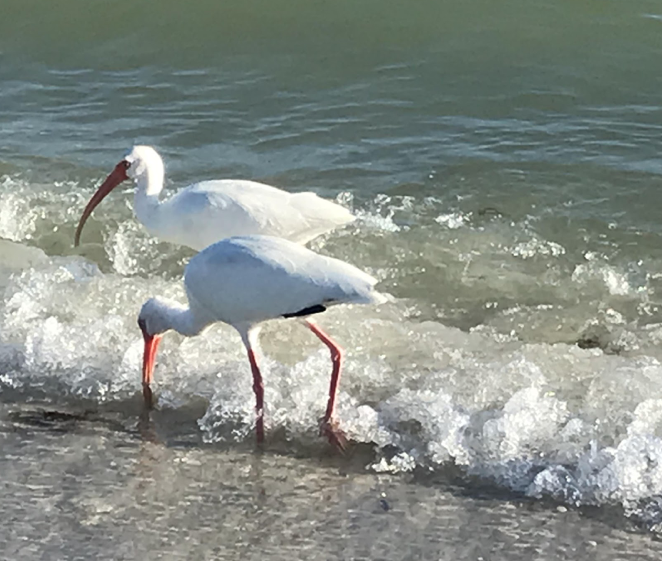 After having our first out-to-dinner served at Timbers by a maskless waitress, we ate outside and asked for masked servers. The scampi at Timbers and key lime pie were excellent, but the bread and French fries were quite awful.
Our best restaurant meal was at Sweet Melissa's where the staff was masked and we shared an excellent fish stew and a decent chocolate cake dessert, the best feature of which were scoops of homemade chocolate and coconut ice cream
Vacationing in Sanibel and meeting strangers from diverse backgrounds and different sections of the USA, we saw once again how individual Americans can overlook their political differences. People were eager to introduce their families and share their experiences of wildlife sightings and of local restaurants.
Faster-Paced Sarasota
We drove in our rental car ($1,200 for four weeks) to Sarasota for the last week of our Florida stay and stayed in East Bradenton in a recently developed area at the home of someone who has been my close friend since college. After leaving his home we stayed at the Hyatt Regency—long a favorite hotel of ours—two miles from Lido Beach and St. Armands Circle. The Hyatt Regency has a $24 per person resort fee for kayaks, dock fishing (I caught a small fish that I threw back), paddleboards, croquet, etc. The pool restaurant is a bit overpriced and serves from a bar where the focus is more on selling pricey drinks than serving food customers.
Nostalgia always informs my visits to the Sarasota-Bradenton area, and my observations are informed by my visiting the area regularly since 1977. My parents lived their last 28 years in Bradenton, which when they moved there was little more than a modest suburb of Sarasota. My grandparents began visiting the St. Armands Circle/Lido Beach neighborhood of Sarasota in the 1930s and my uncle lived on the adjacent Longboat Key.
Among the splendors of Sarasota that I recommend: 1) long walks on the beautiful white sandy beaches—notably Siesta Key, Coquina, and Lido, which are among the most beautiful beaches I have ever seen-- sometimes punctuated by dolphin sightings; 2) a visit to the Ringling Museum complex which, in part because of its new Asian and Modernist wings, has evolved into a major site and also includes wonderful gardens. 
Very much worth visits are the Tampa Electric Manatee Viewing Center in Apollo Beach, the City Island Park on Sarasota Bay, the Mole Marine Laboratory and Aquarium, and the elegant shops on St, Armands Circle. 
Sarasota has more cultural opportunities than Sanibel. Over the years we have attended many wonderful performances. The Van Wezel, which requires proof of vaccination or a recent negative covid test and masking, hosts such events as the musical "Jersey Boys" and an evening with Audra McDonald or a celebration of Aretha Franklin's music.
Our Sarasota restaurant experience over the years has been better than we found in Sanibel, but we know better the Sarasota area better and the available choices. Our best out-to-dinner meal in our four weeks in Florida was Crab and Fin in St. Armands Circle: clam chowder, whole red snapper, and chocolate souffle. The paella at Columbia, also in St. Armands Circle, is always good.
The Covid Component
We have had our three anti-covid shots and wear masks inside except in our home or when actually eating at restaurants or visiting friends. We have been traveling in the USA, although we did cancel our annual winter Caribbean vacation. Pending a flare up of a new COVID variation, we plan to visit Europe twice in 2022. We think that these are good decisions for our age (80), and we don't want to live in fear.
As of Jan. 31, 2022, Florida has the 8th highest rate per 100,000 people of covid infections and the 18th highest death rate. Because of Governor DeSantis' leadership and the state legislature, Florida does not have mask mandates in stores, hotels, or restaurants which makes Florida a different world from New York City. 
In any case, while many Florida restaurants don't ask its staff to wear masks, some do. We often called to see what the policy was before deciding where to eat. When possible, we ate outside, and even then asked the manager to send over a server with a mask; most complied, sometimes after a short discussion.
With reduced flights and cancellations due to COVID and winter weather, flying has become increasingly complicated. We found no direct flights on American Airlines—the only carrier to return to Ithaca--from New York to Sarasota. We encountered delays both coming and going and were aware of similar and greater inconveniences for a great many travelers on other routes.
Florida is not the safest place in terms of COVID exposure. Yet the warmer weather and beautiful beaches during the dead of winter are hard to resist. Spending time outdoors is safer than indoor activities, and social distancing outdoors is often easier.
Daniel R. Schwarz is Frederic J. Whiton Professor of English and Stephen H. Weiss Presidential Fellow at Cornell University. His recent books include "How to Succeed in College and Beyond" and "Endtimes? Crises and Turmoil at the New York Times, 1999-2009." He has been writing travel articles for more than 20 years and has visited more than 100 countries. He can be reached at drs6@cornell.edu