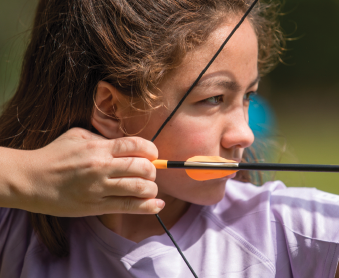 Since its inception, the Boy Scout Law has always included 12 points that are considered the tenets of what a scout should be. The Scout Law states, "A Scout is trustworthy, loyal, helpful, friendly, courteous, kind, obedient, cheerful, thrifty, brave, clean and reverent." However, it never specifies whether a scout has to be a boy or a girl.
Both Boy Scouts and Girl Scouts have seen their membership numbers dwindle nationwide. According to their yearly reports, Boy Scouts of America has seen a decrease of over 75,000 scouts between 2012 and 2017. 
For the Taughannock District, the local Scouting district, they are looking at this issue from all sides. However, there are some misconceptions spreading since the announcement that Boy Scouts will now be accepting girls. Though many interpreted that to mean Boy Scout troops will now be gender-mixed, this is not what will be happening, according to District Commissioner Mike Brown. 
"Existing troops (which are all boys, since that is all there were up until Feb. 1) will remain single-gender Scouts BSA troops for boys," Brown said. "Any girls who join Scouts BSA will be in new single-gender Scouts BSA troops for girls. There won't be any troops which will have both boys and girls, because National BSA policy is that troops in the Scouts BSA program (11-17 year-old youth, formerly called "Boy Scouts") are and will be single-gender for the foreseeable future."
While this is the biggest change coming to the Boy Scouts, this has been a common practice among other parts of scouting. Programs for older scouts, such as Sea Scouts, which is for people ages 14 through 20, Explorer Posts, and Venture Crews have been co-ed for decades. Boys and girls have been together as members of each post ship and crew instead of being in separate groups.
Another misconception that Brown clarified was the name change. While many have been calling the new organization Scouts BSA, that only applies to the 11- through 17-year-old program. The BSA in the new name will continue to stand for Boy Scouts in America. However, the name for the entire Scouting organization will remain Boy Scouts of America.
The new Scouting group began operating on Feb. 1. According to the Franklin Sears, the field director of the Baden-Powell Council, which oversees BSA in Tompkins County and other counties in the area, the program will not be changing. It will both young men and women to tackle the curriculum of Scouting.
"All Scouts BSA troops will run the same scouting program, earn the same merit badges, and be able to achieve the same ranks, including the prestigious Eagle Scout rank," Sears said. "Importantly, Scouts BSA troops will be single gender (all-girl or all-boy) because the BSA recognizes and celebrates that boys and girls develop differently, and there are times that single-gender learning is the most appropriate.'
Sears said nationally, over 77,000 girls and their families had joined Cub Scout troops when they were opened. 
As of yet, it is unknown how this will be affecting the Girl Scouts membership in the years to come. But according to Jaime Alvarez, the communications director for the council, despite the Boy Scouts changing, the Girl Scouts will continue catering to young women.
"The announcement earlier this month regarding Boy Scouts admitting girls was well known and widely reported on previously," Alvarez said. "It does not change the position of our council or our mission to serve girls, and girls only, and to foster their amazing leadership potential. We are moving forward with our innovative programming and with Girl Scout cookie season, and are eager to continue serving the girls of our council—including those in Ithaca and across Tompkins County."