Drive through Trumansburg's downtown and you will notice that on the corner of Main Street and Elm Street there is a new business keeping the old building there alive and vibrant. The ice cream/coffee shop that used to reside at 44 East Main Street has been gone for some time, and a salon has found a home there. La Belle House of Beauty moved in last fall, and months later the owner reports that she is settling in and enjoying being part of the T'burg downtown scene. 
Jill George, who grew up in Cortland, had been working at Julie A. Stone Salon in Ithaca for several years prior to buying the the building and has been professionally cutting and coloring hair since she starting taking classes in high school through BOCES. 
George specializes in balayage, a French coloring technique of free-hand painting highlights onto the hair, creating a soft gradation of lightness toward the ends. On this particular snowy Saturday in January, she was doing a cut and color for Julie Tinkham, of Cortland, a client of 10 years who followed George to the new salon. 
"She's just an amazing colorist, and she's a great time," Tinkham said. "She'll do a great job with kids as well as grownups, and she's just a doll." 
Bolstered with rave reviews like that, George didn't hesitate to strike out on her own last October, and she said business has been good on Main Street. She pounced as soon as she saw that How Sweet It Is closed, she said.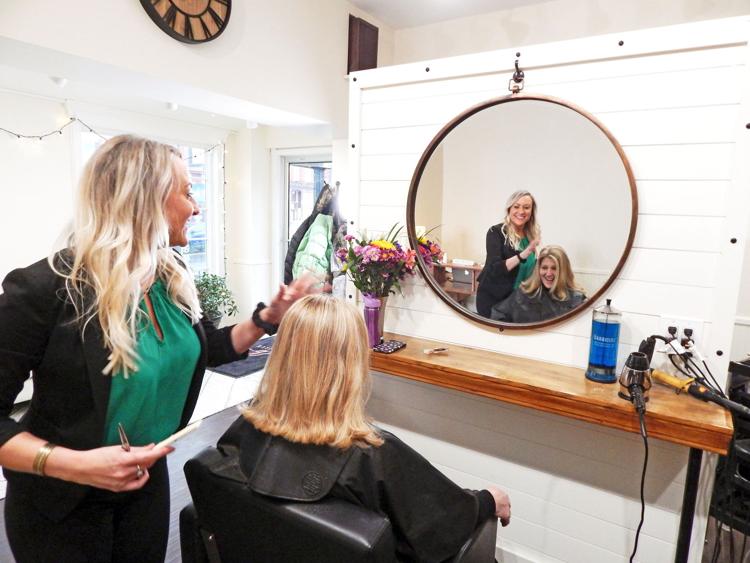 "I saw the ice cream shop went out, and said 'I've got to do it,'" George said. The floor to ceiling windows at the front of the store were just one of many features of the building that made it perfect for a salon, she said. 
"This location is so idyllic," George said. "This building, when you're driving by, catches your eye."
She said her brother-in-law, father and husband were her saving grace when it came to making quick renovations; she and her family finished a complete makeover of the inside of the building in just six weeks. And it wasn't just cosmetic—they knocked down walls in order to make it the perfect space. 
"We touched everything," George said, making a sweeping gesture across the now-pristine salon, which is crisp and clean with neutral colors but also a little rustic, a nod to her husband's farming roots. The back wall is lined with reclaimed wood from a barn on her and husband's farm. 
"I just love the country feel," George said. "Modern country is the look I love." 
George said she has thoroughly enjoyed being in Trumansburg so far. "It reminds me a lot of where I'm from, and being in the village, it's small and everyone is super friendly," she said. "I love how welcoming this town was; everyone was so nice to me. People would just stop in and say congratulations." 
"I love that everyone supports local businesses," she added. "They want to keep things local here." 
Having her own salon has been a lifelong dream. "I always knew I wanted my own salon," George said. That's not an exaggeration. 
"Even when I was a little girl I would spend so much money on makeup and fake hair clip-ins that I would just play with," she said. "My dad would always say to me, 'you're going to be in a salon someday, and you're going to own your own.'"
 George is a big proponent of BOCES programs in high school, based on her own experiences. "My high school counselor tried to talk me about cosmetology, and my school didn't support the BOCES program as much as they should have, because it's amazing," George said. "It is more hands-on. It teaches you skills, just life skills, even. I got so much out of it. It gets you out of the classroom, and I think schools should support those programs more."
It did not take George long to find compatible business partners in her two stylists, Sierra Conroy and Alicia Housworth. Conroy came from Hair Etc in Ithaca, and Housworth worked at Satori Salon in Cayuga Heights. 
For Conroy, coming to La Belle made sense for her family. "I have a one-and-a-half-year-old, and I'm pregnant with my second one now, so to be closer to home and to daycare seems like a really good move for planning for the future," said Conroy, who lives in Ovid. She graduated from the Juan Palos Extreme Beauty Institute in 2012. 
Housworth has a lot of experience—19 years behind the salon chair—and trained with Goodwill Color and attended Bumble and Bumble University for cutting techniques. 
Every member of the team has her own niche; Conroy trained at a barber shop and does men's as well as women's haircuts. George uses a vegan hair line and a plant-based color line. 
The salon also offers wedding packages and makeup, and George hopes to soon open a three-chair, small nail salon area in the now-empty back room as well. She is also welcoming her third and final stylist, Heather Soule, in March. 
La Belle House of Beauty is located at 44 E. Main St., Trumansburg, and is open every day except Monday and Sunday. Visit their website at labellehouseofbeauty.com.