Tuesday, January 21st, 2020
Today in Ithaca!
The Ithaca Common Council will be holding a special meeting at 5:30 p.m. to discuss the findings of a city employee engagement survey. Following this, there will be the regularly City Administration Committee meeting beginning at 6 p.m. The committee will be discussing the issue of having dogs on The Commons and voting on whether to fly a Pan-African flag. Aside from this there will be several finance issues discussed such as an amendment to the City's 2020 Budget for a grant from Chief Dennis Nayor. 
Weather Today
Today

27°

14°

Partly cloudy. Highs in the upper 20s and lows in the mid teens.

| | |
| --- | --- |
| Humidity: | 72% |
| Cloud Coverage: | % |
| Wind: | WNW at 8 mph |
| Chance of Snow: | 0% |
| UV Index: | 1 Low |
| Sunrise: | 07:29:23 AM |
| Sunset: | 05:04:59 PM |

Today

Intervals of clouds and sunshine in the morning with more clouds for later in the day. High 27F. Winds WNW at 5 to 10 mph.

Tonight

Clear to partly cloudy. Low 14F. Winds light and variable.

Tomorrow

Mostly sunny skies. High 37F. Winds S at 5 to 10 mph.
Photo of the Day #IthacaTimesDaily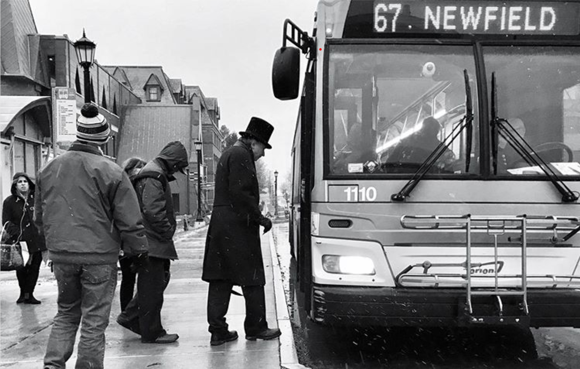 A man in a classic stovepipe hat boards the bus on Cornell University's East Avenue on Thursday, January 16. We can't help but wonder if he tried to pay the bus driver with Monopoly money or entertain passengers by pulling a rabbit out of his hat. Photo taken by Willie Hiatt Got a great Ithaca Photo? Tag it to #ithacatimesdaily on Instagram and we might feature your pic in our next Photo of the Day.
| | |
| --- | --- |
| |  Adding Cutting Edge da Vinci Xi Surgical System to CMC Patient Offerings Read more |
Forward to a friend! -or- Check out our other newsletters and manage your subscriptions HERE. 
Got a news tip? Send feedback or questions to: newsletters@ithacatimes.com
Curious about sponsorship or advertising opportunities for businesses and non-profits? Contact: ads@ithacatimes.com
The Ithaca Times Daily is sent every weekday morning, From the Ithaca Times, Finger Lakes Community Newspapers and Ithaca.com. Follow us:
Facebook | Twitter | Instagram