Saturday, January 18th, 2020
Today in Ithaca!
Martin Luther King Day Family Celebration
Monday, January 20th, 2020 @ 11:00 am
Tompkins County Public Library
Free
Facebook
Twitter
Email
Facebook
Twitter
Email
Print
Save
This celebration of Martin Luther King Jr. will include books, singalongs, puppets, and a craft, as well as a unique drumming experience with special guest Aloja Airewele. Children, their families, and caregivers are invited to celebrate peace, cooperation, justice, and following your dreams.
News
Staff Reports ​ | ​ Updated

New York State Police in Ithaca are searching for Julian Jones. He's wanted for criminal trespassing after failing to appear in Ithaca Town Court fol… Read more
Weather Today
Today

29°

29°

Snow. Highs in the upper 20s with temperatures nearly steady overnight.

| | |
| --- | --- |
| Humidity: | 84% |
| Cloud Coverage: | % |
| Wind: | SSE at 18 mph |
| Chance of Snow: | 0% |
| UV Index: | 0 Low |
| Sunrise: | 07:31:16 AM |
| Sunset: | 05:01:29 PM |

Today

Periods of snow. High 29F. Winds SSE at 15 to 25 mph. Chance of snow 90%. Snow accumulating 1 to 3 inches.

Tonight

Cloudy. Low 29F. Winds SW at 15 to 25 mph. Higher wind gusts possible.

Tomorrow

Cloudy. Snow showers developing in the afternoon. High 34F. Winds WNW at 10 to 20 mph. Chance of snow 50%.
Photo of the Day #IthacaTimesDaily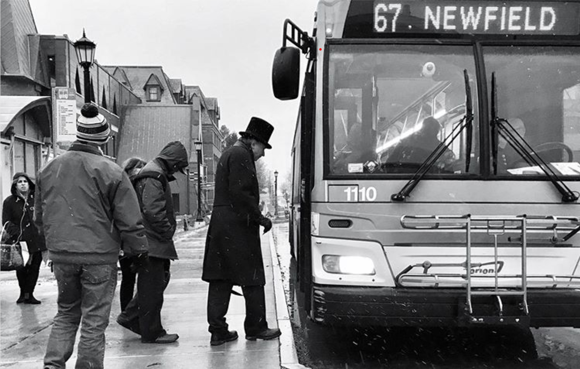 A man in a classic stovepipe hat boards the bus on Cornell University's East Avenue on Thursday, January 16. We can't help but wonder if he tried to pay the bus driver with Monopoly money or entertain passengers by pulling a rabbit out of his hat. Photo taken by Willie Hiatt Got a great Ithaca Photo? Tag it to #ithacatimesdaily on Instagram and we might feature your pic in our next Photo of the Day.
Forward to a friend! -or- Check out our other newsletters and manage your subscriptions HERE. 
Got a news tip? Send feedback or questions to: newsletters@ithacatimes.com
Curious about sponsorship or advertising opportunities for businesses and non-profits? Contact: ads@ithacatimes.com
The Ithaca Times Daily is sent every weekday morning, From the Ithaca Times, Finger Lakes Community Newspapers and Ithaca.com. Follow us:
Facebook | Twitter | Instagram