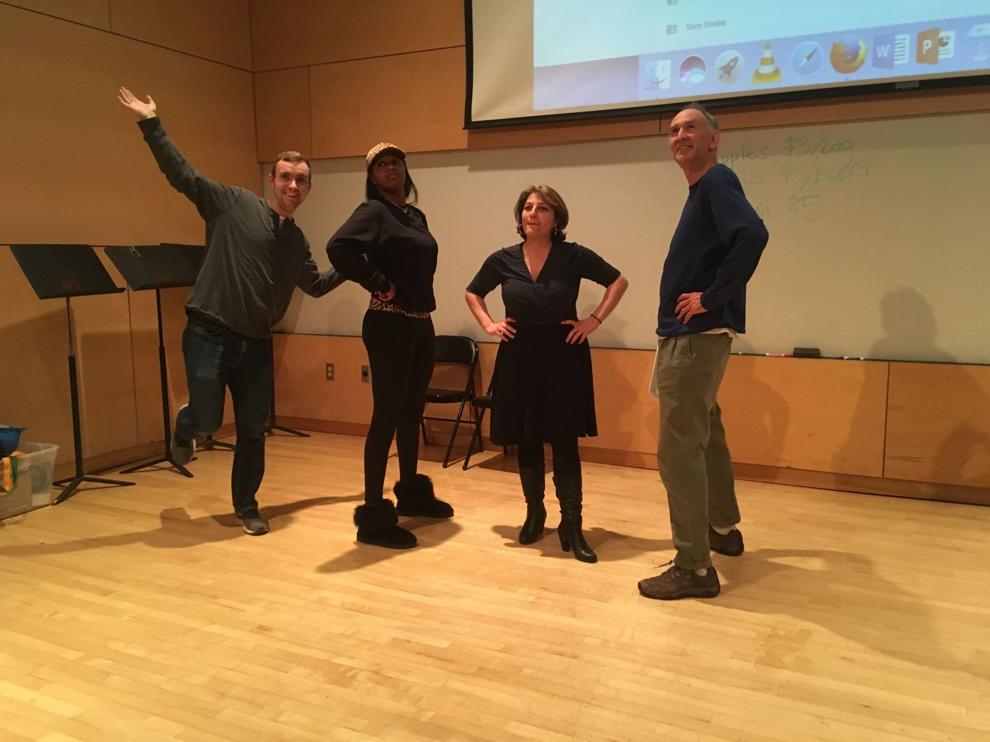 After years of studying chemical engineering, a student returns to the family farm in her hometown in Tompkins County. Statistics and scientific studies appear on a projection behind her, detailing the specifics relating to climate change, providing environmental context for the life she's returning to. Tangible evidence hangs over her head, weighing on her career and her family.
The story of Climates of Change —an upcoming production created in collaboration with Cornell University students, faculty and community members — details the effects of climate change on a local level. Told in a "living newspaper" narrative style, the play combines multimedia elements into the theatrical performance.
Living newspaper, a format popularized in Russian theater during the Bolshevik Revolution, presents factual information on current events in a digestible, entertaining medium. As the protagonist speaks with her family and and re-enters the farm life, context in the form of environmental research on climate change gets projected behind her. Carried by the voice of the narrator and the observations by the characters, audience members both learn about climate change and relate the issue back to their own lives.
The production was put together through a course at Cornell titled "Theatre and Social Change." Not every student involved is experienced in theater, rather, many approached the project with fresh perspectives. After teaching the course for 10 years, associate professor Sara Warner partnered with senior lecturer Godfrey Simmons this fall, and they shifted the class from lectures and theory to practical application: theater in action.
This meant partnering with community members and taking the classroom outside of Cornell's campus. Beginning with "story circles," students in "Theatre and Social Change" sat down for afternoon meals with community members and organizations, such as the Southside Community Center and the History Center in Tompkins County.
Escaping the campus environment helped engage students with direct social change, said Sarah Chalmers, one of the play's co-directors.
"Engagement with the community, bringing students in connection with the community and talking about a global topic really are the best ways to learn," she said. "They're in this theater class learning about science — something we all need to be taking action on and going out in the community and hearing community stories."
In total, the students participated in 10 story circles, gathering information and direct input from community members. Once they finished gathering information, the students and community members spent the semester writing and producing the play, working with little experience and with the group of more seasoned co-directors.
They decided on living newspaper, Chalmers said, to help cut through the saturation of disheartening headlines and fake news. Everything presented is fact, backed with research and community outreach, told with relatable characters and comprehensive information.
"When we tell stories together and we listen to those stories and theatricalize them, we engage a different part of ourselves," Chalmers said. "In way — even though you're just sitting in a seat — your whole body is engaged, and your emotions are engaged. … We're going to relate to [the audience], and we tend to shut down when it comes to climate change."
Climates of Change's ultimate goal revolves around what one person can do to combat climate change. Chalmers said the team accepted that climate change is caused by human hands and is a real issue — not something false or merely a possibility — and now action must be taken.
Once the curtain closes, the discussion and the change begins.
"We leave you with kind of a conundrum at the end of the play. It doesn't end in a simple answer," Chalmers said. " … The play is the question, and we need to delve into it better. It gives you the material with which to have that dialogue." •
Climates of Change will run for five performances beginning 7:30 p.m. Friday, Dec. 1, at Schwartz Center for the Performing Arts, followed by a performance at 2 p.m. Saturday, Dec. 2, at Enfield Grange, and a 7:30 p.m. at the Schwartz Center for the Performing Arts. There will be another show 7:30 p.m. Sunday, Dec. 3, at Community School of Music and Arts, Martha Hamblin Hall, and the final performance will be 1 p.m. Monday, Dec. 4, at Cornell Campus Sustainability Summit.
Follow Christie Citranglo on Twitter @Citranglo