Scab Addict, Limbs Bin mini-tour kick off with Deceiver, What Nerve; Thursday, April 21, 9 p.m.; Tompkins County Workers' Center
The madness comes at you twentyfold. The extreme forms of insanity will change within milliseconds. You'll be swept away into abstraction—a joyful serenity will envelop you—only to be pummeled so deep into the dark earth that you'll be having lunch with Kalki in Shambhala. This is the multiverse that is Limbs Bin: a one-man behemoth of noise, power-violence, grind, electronics, and swirling avant-garde overture. Josh Landes, the man behind the magic, is one prolific artist. Currently based in New York City, he has produced a plethora of varying and mind-pummeling recordings, including classics like For A Car, Summertime Blues EP, Total Anguish, and Every Breath, in a relatively short space of time. Limbs Bin is playing the Worker's Center this Thursday, April 21, and coming back to Ithaca for One Fest in July. I caught up with Landes recently, and we talked about some things.
Ithaca Times: Limbs Bin's sound is infinitely varied. I would assume you start from somewhat of a blank slate for every composition? Or do you have a basic formula and solid system you always use
Josh Landes: Limbs Bin is an ecstatic expression. I build a sound around lyrics that I translate from the emotional ether, taking an idea or a feeling or a moment that I want to explore and armoring it with texture and pulse and distortion. Then it's all about the sold-out shows, press, and merchandising, which is really the core of the experience for me.
IT: There's grind and there's noise in your work, among a lot of other forms. Did either of the two styles initially inspire you more so than the other, when you created Limbs Bin?
JL: It all started with hardcore. The town I grew up in (Pittsfield, Massachusetts) was steeped in classic 80s USHC- Black Flag, Poison Idea, Negative Approach—Japanese hardcore like Bastard, Warhead, and G.I.S.M., and the then-contemporary acts celebrating that sound like Nine Shocks Terror, Devoid Of Faith, and Out Cold. When I started to hear more extreme offshoots of hardcore punk—bands that became the foundations for grind and power violence like Siege, Napalm Death, and particularly Infest—I was locked in to that kind of intense, furious, short expression. The brutal simplicity of Joe Denunzio's vocals in Infest and the sheer force of Mick Harris's blasting in Napalm had a huge impact on me. Infest's No Man's Slave and Napalm Death's The Peel Sessions are still essential musical touchstones. I was also very inspired by a few one-person acts like Atom and His Package and a recording project called Ill Intent my friend Marc Candilore (now of the brilliant Neutral Fixation and many other Western Mass bands) did back in the early 2000s. Very liberating to see people fulfilling singular visions on their own. As my own listening habits and ideas about sound blossomed—like a beautiful, beautiful rose—noise became a vital part of Limbs Bin. It further amplified the heightened emotional state into something more vast and overarching. Videos of Hanatarash and Masonna made punk seem very quaint and limited very quickly. Similarly, discovering noisecore like Sore Throat, Sissy Spacek, or Seven Minutes Of Nausea made even the relative economy of grind seem bloated in comparison. Sidetracked is one of the few bands I know that manages to successfully compress an entire song into seconds while maintaining its distinctiveness, bridging that gap between hardcore and noisecore. In Western Mass, the small underground music scene meant many shows were diversely booked, putting me alongside artists like Noise Nomads, Diagram A, Andy Crespo, and more, so I started exploring noise more and more. Aggressive, martial, and politically charged approaches to noise like the power electronics of Bastard Noise and Whitehouse provided me a bridge between using my voice and using sound. Limbs Bin has always existed between genres and scenes, and I like it like that. It's an endlessly mutable project. It's whatever I need it to be for that recording or that set. To me, it's always a pop band. I write songs and make sounds about very human feelings of loss, yearning, passion, frustration, and desire. It's intended to be relatable. I'm constantly shocked Limbs Bin isn't playing stadiums to oceans of people.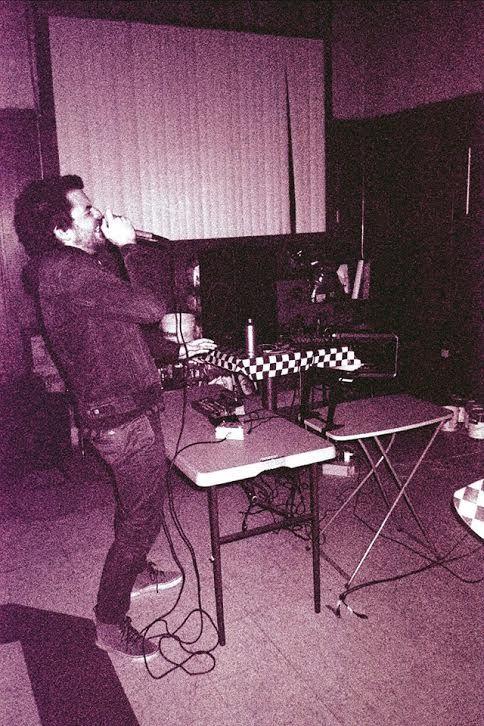 IT: I assume punk as an ideology and philosophy is important to Limbs Bin. Is this an important foundation for your approach; and what does punk mean to you?
JL: I'm more influenced the DIY spirit as expressed by punk than I am by punk itself. The two have become inextricably attached, but becoming self sufficient and making the art and culture exist that you want to exist is not a product of punk. Punk is many things, and for me it was a vehicle for the techniques, attitudes, and values of working on my own and with people in a community to make dreams come true. The studded belt has gone by the wayside, but the desire to book my own shows, put out my own tapes, and meet other people trying to do similar things remains. The world we live in is mediatized to the point that there is precious little space for ourselves and our own thoughts—what punk taught me is that it's possible to create spaces in that world to be free from that, if only for a moment. Noise taught me that that space could also dispense with language entirely, which is even more freeing.
IT: Does humor play an important role in your approach to Limbs Bin? Do you think noise in general demands an open and creative mind; not only when creating it, but also when listening to it?
JL: Joyless dogmatism or an inability to laugh at yourself are so, so boring. Existing just for schtick is just as agonizing a waste of time. Limbs Bin isn't a joke, but it can joke. It's earnest but self-aware: only way to keep it honest. To answer the second part of your question, I think everything demands an open and creative mind. Noise is an experience and a practice like any other, and like any experience or practice, you need to meet it halfway and make an honest effort to listen closely and let it take you somewhere. Noise resonates with me, because life isn't neatly composed into verses and choruses and chords and resolution. It's chaotic, and moves in swells and zig-zags and revelations and dead-ends. When you watch a tree's leaves blow in the wind, each one is connected but moving entirely separately from the others, but it's all one organism. United, but completely at odds with itself. Noise and life have that in common. It is the most compelling reflection of moment-to-moment existence that I have experienced.
IT: Was there any particular inspiration behind Summertime Blues EP? It's so clean and rigid compared to most of your work?
JL: I got into a fight with my then partner, stalked off to the community radio station in Florence, Massachusetts, that I was using as a studio in 2013, and wrote and recorded Summertime Blues in two hours. It was a manic episode cut straight to a digital recorder with no overdubs and no editing. It came out fully formed and I felt no need to revisit it. On that day, I needed to have something finished in my hands to hold on to.
IT: I see you state your instruments as drum machine, distortion pedal, noise box, and yelling. It seems like a pretty stripped-down collection of gear; at least compared to others in the field. What kind of instruments are they, and what kind of programs, equations, and software, to they include? Do you think equipment is important in noise music?
JL: At the beginning, I just had the drum machine—no mic; would yell directly into my laptop speakers to record in my college dorm room. Super ridiculous. I'll never forget finishing vocals on the first demo, back in 2008 when I was a child, and hearing someone outside say, "Man, hardcore kids are so stupid." Since then, I've added elements sparsely, focusing more on changing and refining my approach rather than the equipment. I am not a tech wiz, I have no-to-little musical knowledge, and I am not interested in mastering any instrument. To quote Sore Throat, I find that being "Unhindered By Talent" is an important element of Limbs Bin. I know just enough of what I want from the tools to get exactly that. Equipment is a hinderance and for me a necessary evil to realize my schemes. I can't wrap my head around how actual musicians get around it all. I would much rather not have anything, but I'm not there yet creatively. It would be a dream come true to not have any shit to haul around. Junko from Hijokaidan's recent solo record "The Void" is the peak of extreme music to me—it's just her voice with minimal treatment, completely tearing the soundscape to shreds. As far as the equipment I'm saddled with goes, the drum machine is a Zoom RT323 I found in my childhood music store, which I initially bought to make hip hop beats in high school. The distortion pedal is an Ibanez DS7 that I bought off craigslist in an alleyway. The two oscillators I use are handmade by friends Dan Greenwood and Serge Z. The trinity of my treated vocals, the digital sampler, and the analog synths have become the engine for Limbs Bin since the recordings that became Total Anguish in late 2013, and though from release to release the sound might change, or I change a pedal here or a synth there, it generally all emerges from riffing on that pyramid of sound.
IT: Does environment influence your decision to wear the mask? You sometimes wear it, and sometimes don't.
JL: I've retired the mask for some years now, but it was useful at times to get fully into the performative aspect of Limbs Bin. Plus, read enough Spiderman when you're a kid and worship MF Doom enough when you're in high school and you'll want to wear a mask at some point. Try it out. Could be good for you. Gets you out of your head. Mask therapy.
IT: What do you think is unique and inspiring about the underground noise scene?
JL: Noise encourages people to do daring, absurd, and challenging things. This is a good thing. It's also made me very famous and wealthy, and I think that's good too.
For more Limbs Bin, visit limbsbin.tumblr.com or limbsbin.bandcamp.com. You can contact Josh at followmeintothelasereye@gmail.com, and you can hear him on WFMU with his weekly show, Infinite Distortion, Monday nights a 8PM on wfmu.org. The new Limbs Bin / Piss Junkie split tape is out now on Chaotic Noise Productions. Limbs Bin is on tour with Scab Addict from April 21st to April 24th, and is playing Fat Baby in New York City on May 13th with Syracuse's Bleak. Limbs Bin returns to Ithaca on July 2nd to play One Fest.