By day, Sarah Chaneles is the marketing director of The Cherry Artspace. She wears glasses and flannels and speaks with the jubilant voice of a former alto. But by night, Chaneles takes on another role as the glitter-bearded, illustrious and masculine Kitschy Scofflaw, the latest member of the Ithaca drag scene to take over the town. Chaneles has been enjoying success in the nightlife community, but due to new provisions to combat COVID-19, she has been facing some setbacks.
"I think that not knowing is the hardest part," Chaneles said. "The main thing about events and performing and such is that you need to set a date and plan for that date. And that's something that no one's really able to do right now. So, I'm just trying to wrap my head around the unknown and get comfortable with that."
Kitschy and fellow Ithaca drag performer, Tilia Cordata, will be hosting a virtual drag and burlesque show called Flame Night Fever on May 7 at 8 p.m., part of their strategy to provide content despite the current social gathering limitations. For more information on the event and Kitschy, visit their Instagram page @kitschy.scofflaw.
In the past year, Kitschy has become one of the top billings in the Ithaca community, often performing at bars and clubs in the Commons, while also taking time to participate in daytime activities like Drag Brunch and Drag Story Hour, a new endeavor where drag performers read children's books to local kids. But before Chaneles rose to the top of the scene, she got her start performing at Ithaca College with her participation in shadow casts of Rocky Horror, and from there, Kitschy was slowly born into the world.
"It felt like a fun, natural fit," Chaneles said. "It was a way of being creative and performing but also making a very tiny amount of money and just having fun in this amazing community."
Chaneles, who uses she/they pronouns out of drag, describes Kitschy, her they/them counterpart, as an amalgamation of celebrities and personas like Fran Drescher, Liza Minelli, Elton John and Elvis Presley, but where she gets most of her inspiration is from queerness itself. 
"I just love the campy gay culture that exists that isn't about taking one's self too seriously," Chaneles said. "It's all just about surviving and having fun."
While drag has been popularized on shows like "RuPaul's Drag Race"and "Dragula" as men dressing as women, drag goes beyond that to Chaneles. 
"It's the action of playing with gender and performing whether you're in front of a crowd or by yourself," Chaneles said. "It's all a big performance." 
Chaneles as Kitschy is a "drag king," someone who dresses with a masculine persona, which is different from a "drag queen," who sports a feminine look.
Ithaca is home to a large underground world of drag performers who have "come out" from the underground to run the whole gamut of activities, like Kitschy, from being performers and entertainers, to educators often participating in "drag workshops" for young people and anyone interested in the culture and practice of the art. 
In her work with The Cherry Artspace, Chaneles has helped facilitate the growth of the Ithaca nightlife scene with the recurring event "POP'd at The Cherry," an inclusive pop-up dance club experience hosted by local performers that usually features drag, burlesque and other talents. Chaneles is not only the treasurer and the aesthetic director, but she also performs as Kitschy. 
"It's a place where everyone comes and feels accepted and free to dance all night," Chaneles said. "And that's the spirit of the Ithaca drag scene that I love so much. That's why it's been so hard to not have that in my life lately due to the outbreak. It's heartbreaking."
In the wake of COVID-19, the upcoming POP'd had to be cancelled as well as any appearances scheduled in the future for Kitschy and other local drag performers. But in the midst of this absence, Chaneles has been using this time to brush up on her craft. She spends her days juggling between projects for work and creating new costumes and props. 
"I don't make everything from scratch, but most of what I wear has been found and then revamped in some way," she said. "I'm never just buying something and wearing it off the rack."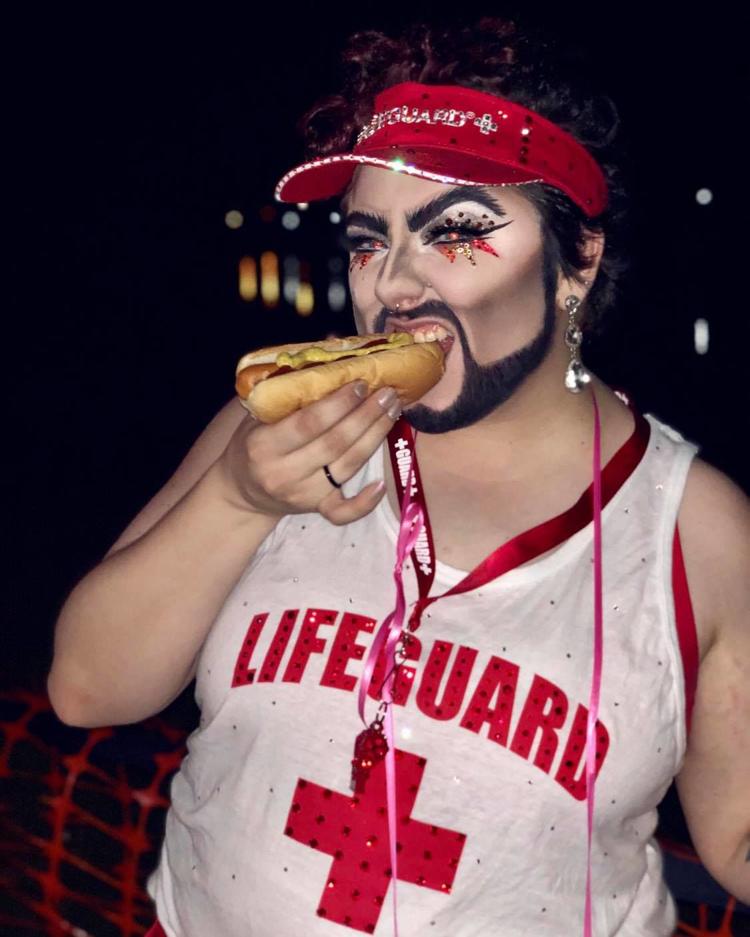 Chaneles spends most of her quarantine days and nights "stoning and sewing" her outfits while listening to podcasts and trying to muster up some sense of community within her drag family. 
"In an ideal world, we would immediately see this as a challenge that we would overcome together, but in reality, we are all humans," Chaneles said. "It's been quite the shock that no one really expected. I think when we prepare for disaster, we're all prepared for someone homophobic to show up with a gun or something, and it's crazy that that scenario feels like a more grounded and realistic one than what we're living in right now."
For Kitschy and the rest of the drag community, they will prevail, she said.
"I think right now, everyone is taking this moment to breathe and think about what's next," Chaneles said. 
Performers like Kistchy have been creating viral content and doing social media performances in which they encourage cash donations like they would normally be receiving during a live performance. 
"It's an important time to think about what $5 means to you. Could you lose it and not think about it at all? If so, then there are people out there who $5 means quite a bit to them," Chaneles said. "There are quite a lot of people who have lost their main source of income, and unfortunately, many of those people are artists."