ITHACA, NY-- For its third musical this summer, the Hangar Theatre has turned from tender young romance to dismal mayhem in its excellent production of "Sweeney Todd: The Demon Barber of Fleet Street." Set in London in the mid-1800s, this twisted tale chronicles injustice and revenge, defined by Todd's macabre message of social dysfunction: "The history of the world, my sweet, is who gets eaten and who gets to eat!"
The story: A ruthless judge exiles a "naïve young barber" to Australia on trumped-up charges so that he may ravish the man's wife; years later, Benjamin Barker returns, bent on vengeance. Calling himself Sweeney Todd, he moves into a flat above Mrs. Lovett's meat pie shop and resumes his old profession –– only now the customers will end up in the pies. In Todd's tortured mind, he's convinced "all people deserve to die: the rich to be punished for their corruption, and the poor to be relieved of their misery."
The perverse and horrific narrative is larger than life, in large part because Stephen Sondheim's music and lyrics and Hugh Wheeler's book are unforgettable. (The show's 1979 debut earned the Tony Award for best musical, book, and score.) Here, Sanaz Ghajar ably directs a cast of 12 on the outdoor stage (set by Diggle) –– just two minimalist platforms, backed by a dirty tile wall, under a huge marquee sign blaring "MEAT." The multiple bulbs glow blue, flashing to red when the action gets gory. Marika Kent's lighting washes a rich purple over dramatic moments, and a flat chute onstage cascades with "blood" –– Mrs. Lovett pouring bucket after bucket down it.
The partners in crime dominating the action are splendidly embodied by two highly credited actors: Nik Walker (seen here previously in "Rent" and "Man of La Mancha") and Donna Lynne Champlin. Walker is perfectly cast: vocally rich, he's also tall and imposing, his very presence electric. What's especially nuanced is how sympathetic he appears at first, then shifting to frightening ferocity once the madness consumes him.
Mrs. Lovett is this dark musical's main comic relief: a slatternly woman not above putting pussycats into her disgusting pies (so it's just a practical move to grinding up the barber's victims; "desperate times call for desperate measures," Todd advises). Champlin has great energy, voice, and comic chops; she wears a flouncy half-dress on her backside (the most amusing of Sarita Fellows' costumes) and is absurdly upbeat in contrast to Todd's grim gloom.
The first act ends on a buoyant music-hall style number, with the duo singing "A Little Priest," a display of Sondheim's brilliant patter wordplay. "Have a little priest." – "Is it really good?" – "Sir, it's too good, at least!Then again, they don't commit sins of the flesh. So it's pretty fresh." – "Awful lot of fat." – "Only where it sat." And their banter continues, as she offers up poets and politicians, sailors and tailors.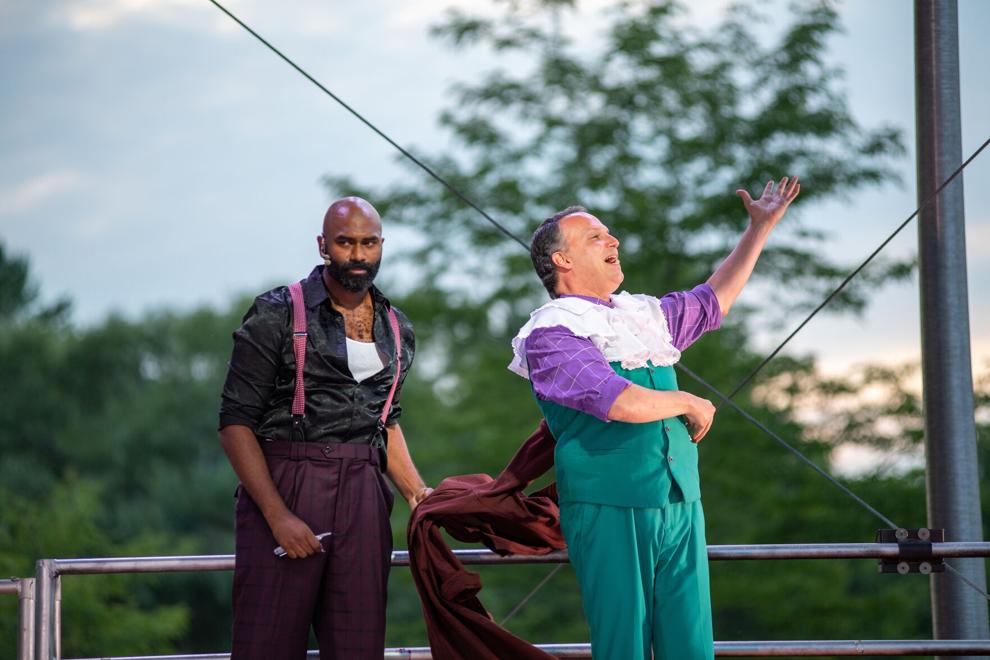 The second act rumbles to the awful conclusion. Anthony, the young sailor who befriended Todd on their voyage home, has found and fallen in love with Todd's daughter, Johanna, the Judge's ward. As the budding lovers, Nathan Karnik and Kyla Stone are expressive and compelling, with fine voices. Aided by a sanctimonious beadle — aka legal pimp (Vincent Davis) — the Judge (Justin Lee Miller) secrets Johanna into a mental asylum until he can marry her. Anthony comes to her rescue, unaware Todd is using her as bait to lure the judge to his barber shop. 
Deception and hypocrisy abound everywhere, and the condemnation of humanity drowns out even the tenderest love songs. Earlier we saw Pirelli (Andrew Arrow), an Irishman passing as Italian, selling his "miracle elixir." His scrub Tobias –– an irrepressible, dynamic Joe Montoya –– touts the cure ("piss!" Todd insists) in a lively number (Ben Hobbs, choreography). But once Todd dispatches Pirelli, Tobias, all unaware, starts working for Mrs. Lovett. The only one here pure of heart, he eventually ends up the mad avenging angel.
Musical director Simone Allen's six-person orchestra, onstage, supports the singers, who come through clearly via Sun Hee Kil's sound system, though the occasional mic is still muted. Intermission could definitely be much shorter (especially as nights grow chill) for this three-hour event. But these are minor concerns –– this outstanding production earned a rousing standing ovation on opening night. With Walker and Champlin leading the fray, supported by a talented cast, this "Sweeney Todd" is one musical you'll be pleasurably haunted by.
"Sweeney Todd: The Demon Barber of Fleet Street," music and lyrics by Stephen Sondheim; book by Hugh Wheeler. Directed by Sanaz Ghajar, at the Hangar Theatre. With Nik Walker and Donna Lynne Champlin. Tuesday-Saturday 7:30 p.m.; Wednesday, Saturday, Sunday matinees at 2:30 p.m. Through August 7. Tickets at 607-273-2787 or https://hangartheatre.easy-ware-ticketing.com/events.
Barbara Adams, a regional arts journalist, teaches writing at Ithaca College.