Blood will have blood.
- Macbeth 
The excellent Ithaca Shakespeare Company (ISC) is going to stage William Shakespeare's Macbeth at the Hangar Theatre this November.
Macbeth, with its supernatural elements and ultra-violence, is a perfect play for the Halloween season.
I was hesitant to write about Macbeth,owing to a fear that I was becoming repetitive.  (I've written numerous times about the sublime ISC.)  
But I finally decided that there is new ground to cover here.  Macbeth, to me, seems to have a terrible resonance with life on Earth here in the 21st century.  I get most of my news from the radio and newspapers and, as I try to pay attention, I am troubled by an unending litany of violence and cruelty and stupidity.
Macbeth, a tragedy set in 11th century Scotland, tells the story of a Scottish general named Macbeth and his wife, Lady Macbeth, as they murder Macbeth's cousin, a king named Duncan, to make themselves king and queen…and then follows their harrowing descent into an orgy of murder in their efforts to hold on to the throne. (We also get to see the human side of them…suffering internally for their actions…eventually leading to Lady Macbeth's madness and suicide.)
I can't help but think of Syrian president Bashar Assad in the current Syrian civil war, gassing and bombing and starving civilians to hold on to power.  In a bizarre coincidence, in the first scene with the famous witches in Macbeth, one of them references Aleppo–once controlled by the Ottoman Empire–the Syrian city where, as I write this civilians are trapped, starving and being bombed.
Staged in today's times, Macbeth seems so familiar.  Assad could be Macbeth.  So could Vladimir Putin, the president of Russia, which is also bombing civilians in Syria.  Or perhaps the king of Saudi Arabia, which is currently bombing civilians in Yemen.  And on and on…
Macbeth could be a story on NPR.
But Macbeth is also a fantastical play.  There are those famous witches, the Weird Sisters, hallucinatory visions, a bloody ghost at a banquet, and an appearance by Hecate, a Greek goddess of the infernal regions.
Thinking about this, it reminds me of something an ex-girlfriend said to me about Kurt Vonnegut's Slaughterhouse-Five.  My girlfriend was a full generation younger than I, and I nudged her to read Vonnegut because he was a touchstone for my generation.  Her comment on Slaughterhouse-Five was brilliant.  She said, "You know why he put the flying saucers and the comical aliens in this?  Because if he didn't…this would be unbearable."  
I think something like this may be at work in Macbeth.
The supernatural elements make the play more palatable.  Without them, it would be a stark story of ambition and violence and human suffering.  They function almost like our dream-life…lending a sort of dark poetry to the work.
I first read Macbeth way back in 1970.  I was seventeen-years-old.
I was a senior at C.W. Baker High School in Baldwinsville, N.Y., a village of 25,000 people on the Seneca River about twenty-five miles north of Syracuse.  I was in the top 10 percent of my class scholastically, and we had an opportunity to take college level courses.  They were taught by regular high school teachers, but in all cases, they were teaching their loves.  An excellent English teacher named Mr. Heidi taught a class in Shakespeare, which I took.
I loved Shakespeare right away.  But, truthfully, I didn't understand Macbeth at seventeen.  The one thing I took away from it is in the famous scene with the drunken porter (the one comic scene in the play) where he is riffing like a comedian on alcohol and sex.  The phrase "it provokes the desire, but it takes away the performance" lodged in my brain for the rest of my life.
Recently, as homework for this piece, I re-read a version of Macbeth with a line-by-line modern English translation.  And, again, I was struck by how resonant it is to our era.
Macbeth deals with human beings at our worst.  And, truthfully one of the things I hoped for in studying it was some insight into my fellow human beings.
I also read the chapter on Macbeth in Shakespeare scholar Harold Bloom's essential book Shakespeare: The Invention of the Human.  Macbeth is the shortest of Shakespeare's tragedies, but Bloom devotes a very long chapter to it.  Bloom can get a bit high-flown for me, but one thing I took away from his chapter is that Macbeth portrays a dark, bleak cosmos.  It is something of a nihilistic work.
I think he is right, but, in re-reading Macbeth, I was struck by how entertaining it is…and how quickly the story moves.  Macbeth is a deeply troubling work…that makes me despair for the human animal…but Shakespeare remains a master storyteller.
***
On Oct. 18, I walked through Ithaca on a Ray Bradbury autumn evening to the Fall Creek Studios, the home of the Ithaca Shakespeare Company at the very end of N. Tioga Street.
The Fall Creek Studios are composed of an elegant reception area with framed photos of ISC past productions and Hollywood royalty like Orson Welles and Judy Garland and Fred Astaire and a comfortable lounge area with a conference table, an oversized couch, a wall of very cool and varied art, a model of the Globe Theatre, and a hanging wall map of Shakespeare's turn-of-the-17th century world.
The studio proper is one big room…like a dance studio with a polished wooden floor, a huge mirror running the length of one wall, and overhead theatrical lights.
The actors were all in 21st century garb:  sneakers and workout pants and T-shirts and hoodies and wife-beaters, although with Elizabethan era leather gloves and steel swords.
I entered to watch the wrenching scene where Macbeth's antagonist Macduff learns that Macbeth's agents have slaughtered his wife and children.  The scene contains what I think is the most heartbreaking line in the play, where Macduff cries, "Did heaven look on…and would not take their part?"  (I think of the children of Aleppo.)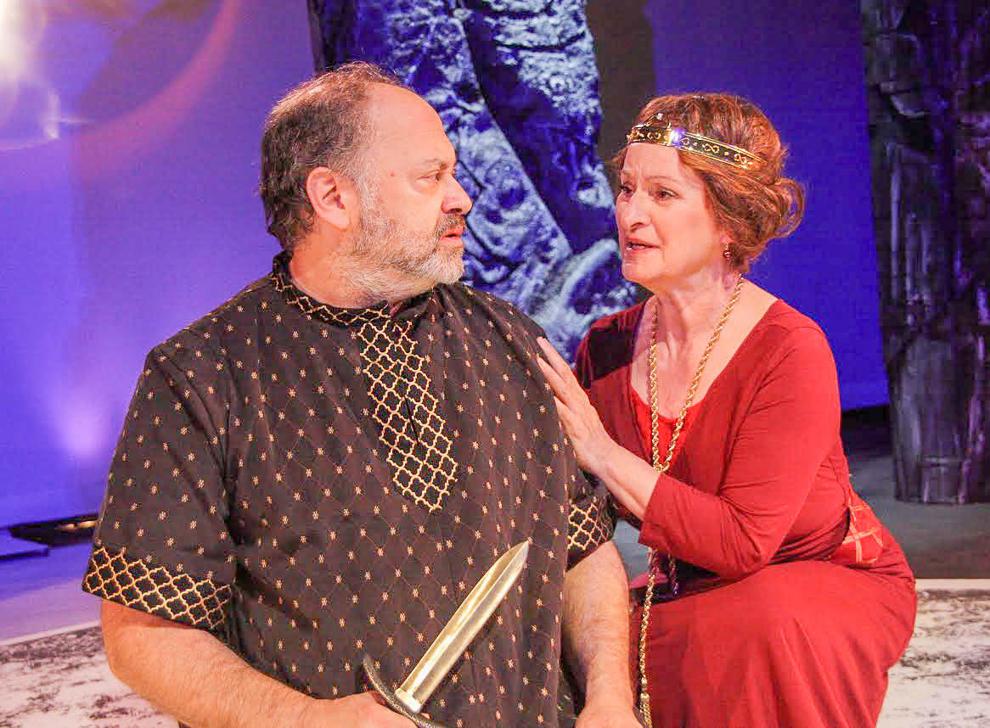 The actors did a superb job with an extraordinarily intense scene…particularly Daniel Wisniewski, a senior at Ithaca College, who plays Macduff.
And it was fascinating watching ISC artistic director Stephen Ponton work with the actors.  This was a relatively early stage in the production, so Ponton was frequently breaking into scenes and working on the human emotion (rather than the stage blocking that must be worked out when the production moves to the much larger space of the Hangar Theatre for the final performances).
And then the entire cast appeared from nowhere…
And I met the actor Michael Donato who is playing "the man who cannot be named".  (That would be Macbeth himself – traditionally, actors consider Macbeth to be an unlucky play, and don't say its name, referring to it as "The Scottish Play".)  Donato is a friendly, outgoing guy and an excellent actor.  (I have seen him perform both Hamlet's ghostly dad and Henry IV.)
Then, the fight director Jacob Lehman guided the cast through a major battle… the small studio packed with people sword fighting, far too close for one ink-stained wretch sitting on a director's chair along the wall.
During a break, Michael Donato told me that this battle was at the beginning of the play.  As written, the scene is a battlefield reportgiven to King Duncan…where we first hear of his general Macbeth cleaving an enemy combatant "from the nave to th' chaps" (i.e. gutting him like a fish from the navel to the jaw).  But, apparently, director Ponton wanted to show the battle.
Then the cast worked on some of the murder scenes:  the scene where King Macbeth's murderous agents kill his erstwhile friend Banquo and the scene where hired killers murder Lady Macduff and her young son.  It was an amazing ballet of violence.
Then Michael Donato sat down with me and we talked at length about Macbeth's character.  Donato mentioned that Macbeth is a kind of everyman.  And we both agreed that that is what makes him so disturbing: the audience's identification with both his ambition and his lack of morality.
And then Donato had to go back to work.  The cast performed the final battle, concluding with the climatic swordfight between Macbeth and Macduff.  Donato and Wisniewski both had swords and shields and performed a very complicated and vigorous swordfight.  It had an emblematic feel…the final battle of two great antagonists.  I thought of Darth Vader and Luke Skywalker battling with lightsabers on the rim of that cavernous pit in The Empire Strikes Back.  
Later, I ran into director Ponton in the lounge and asked, "Why Macbeth?  Why now?"
He said, "It is a good play for Halloween."
And my favorite moment of the evening was stepping out into the reception area to find Donato and Wisniewski wailing away at each other with swords and shields, and the assistant fight director Jennifer Lehman sitting on the front desk looking on.
Donato called out, "You can never do this stuff, enough!"
I visited the Fall Creek Studios again on Oct. 29, and watched a complete run-through of the play.  The entire cast was terrific.
I was particularly impressed with Kristin Sad who plays Lady Macbeth…especially in the emblematic sleepwalking scene.  I chatted with her on break and we both agreed that Lady Macbeth (who is easily the greatest villainess in Western literature) is so compelling because she is not a cardboard character…but rather a fully rendered human being.  (Which ultimately makes her a lot more disturbing.)
The whole play worked beautifully.  Macbeth, the shortest of Shakespeare's tragedies, has a narrative that roars along like a runaway freight train.  My thought at the conclusion was a big "Bravo!"  (And I'm assuming the production will be even tighter by show time at the Hangar.)
And so, Perspicacious Reader, I couldn't recommend this timely and all-too human story highly enough for the All hallows season…
Macbeth: Nov. 4, 5, 11 & 12 at 7:30 p.m., Nov. 6 at 4:00 p.m. at the Hangar Theatre. Tickets available at the Hangar Box Office at hangartheatre.org/events/macbeth.html or by calling (607) 273-ARTS. Visit: ithacashakespeare.org.