Mac 'n' cheese. Chocolate pudding. Bagels and lox. Steaming hot chili. Dal and rice. Crab rangoon. 
Everybody has a different favorite comfort food –– that warmly nostalgic edible solace that always seems to set the world to rights again. And over the many months of the pandemic, plenty of us have spent time conjuring the stuff in our own kitchens.
The musical "Comfort Food" offers such reassurance, and more. Writer/lyricist Rachel Lampert and composer Larry Pressgrove have revisited their 2007 show, originally produced at the Kitchen Theatre, updating, adapting and filming it for a new streaming production. The three-part musical screens this week online, opening Walking on Water (WOW) Productions' fifth season.
Each of the three vignettes features a solo character in their New York City kitchen, seeking security and self-expression through food. And ultimately consolation, as the individuals, at different life stages, are facing unique emotional challenges.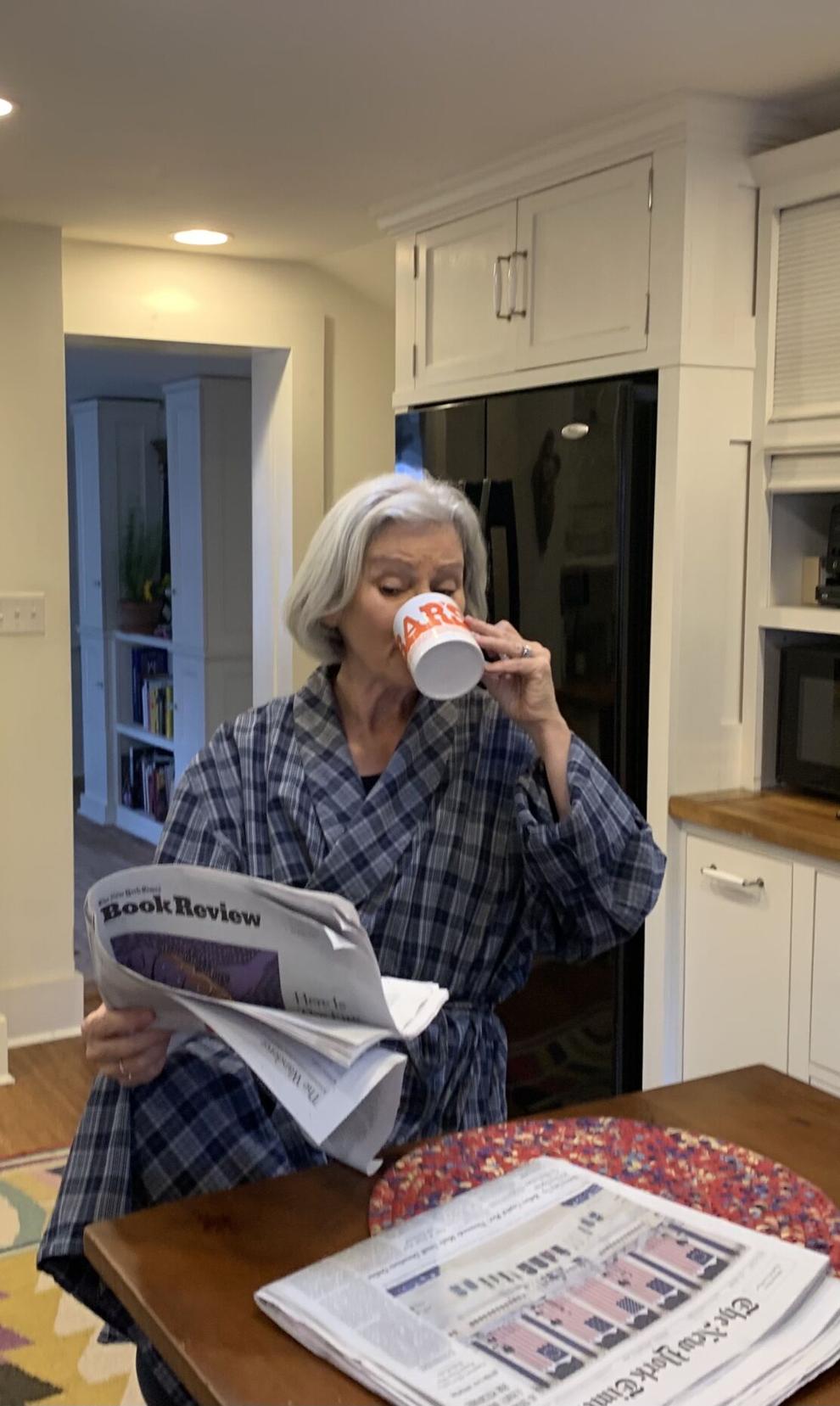 Harriett, the ebullient singing cooking show host (a nod to Rachael Ray), is warming up for her program; the widowed Estelle is preparing specialties for a friend's visit; and Gabe is leaving his boyfriend over irreconcilable food preferences
Their tales are about "love and loss and food," Lampert says. There's no real darkness here, she feels, but all three are "about losing something, having to adjust to it and then needing to move on."
"Harriet's Kitchen," featuring Lampert's longtime Kitchen Theatre colleague Emily Jackson, was filmed and edited by Jackson's husband (and lighting/set designer), Tyler Perry, in their tiny New York kitchen. It required removing some furnishings and even repainting the kitchen (to complement Jackson's flaming hair). 
For both rehearsals and final filming, Lampert directed this segment remotely from a laptop via Zoom.
"I was on a computer looking down at the action from above," she says. "There was no room even for Tyler in the kitchen, so they set up three iphones for filming and started them all remotely."
Seeing the action at a skewed angle was just one of many challenges. Casting was crucial, with the need for safety and distance. 
"We had to look to actors willing to go on this journey in filming that's complicated for them," Lampert says. "Beyond their regular job of memorizing and acting, they had to go the whole nine yards. They became the camera crew; they did their own set. And in all the sequences, the actors did their own lighting. It was a big commitment, which grew even greater as we went along.
"Gabriel's Kitchen" and "Estelle's Kitchen" were both directed remotely by Priscilla Hummel, WOW's founder and producing artistic director. In this situation, filming over time, Hummel says, "You don't have a continuity director. You get it all on tape and then only later realize someone was wearing their glasses –– or the wrong wardrobe."         
Filming mid-pandemic gives a whole new meaning to the refrain, "Let's put on a play." Jahmar Ortiz, as Gabe, had a friend holding a ring light to balance the sunlight of his mother's kitchen, where the filming took place. And Blaise Bryski, the husband of Kristin Sad, who plays Estelle, stepped up to the role of cameraman, with Mike Carroll editing.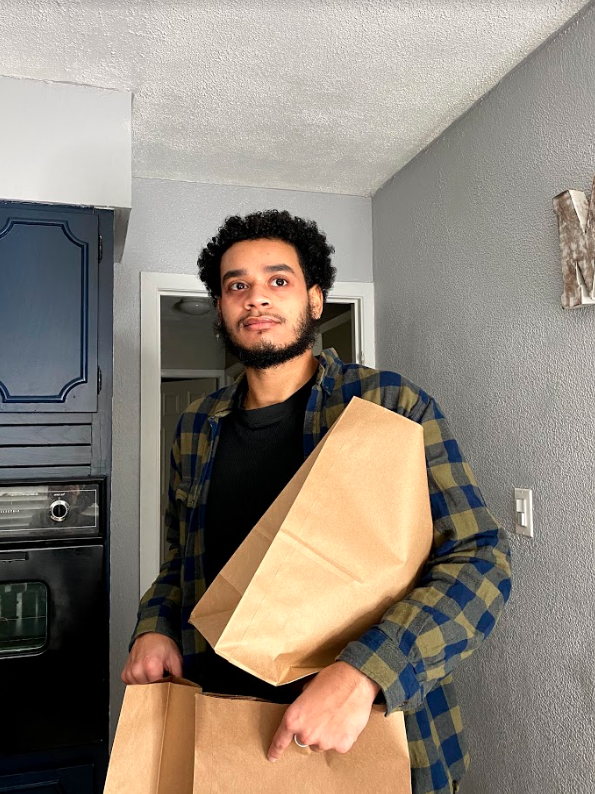 To accompany the performers' singing, composer Larry Pressgrove created individual piano tracks, then Rob Preuss added percussion and guitar. Pressgrove was musical director for Harriet's segment; Benjamin Stevens for Gabe's and Estelle's, with sound mix by Anna Marcus-Hecht.
                                                   ***
Food is a versatile metaphor, as Lampert's former artistic directorship at the Kitchen Theatre illustrated. A fond cook herself who admits to being "slightly obsessed" with food and kitchens, Lampert has celebrated food in previous works, like "Bed No Breakfast" and "The Soup Comes Last" (about her staging of "West Side Story" with students in China). 
Updating "Comfort Food" included acknowledging the COVID crisis (shifting Harriet from the tv studio to her own kitchen); featuring Gabe as gay; and deleting Estelle's visitor from the scene while emphasizing her need to move on after her husband's death. 
"I've had friends lose their spouses," Lampert says, "so Estelle's section is very poignant for me. And the positivity of that character comes through so well in the casting."
Hummel agrees: "Kristin is a Meisner-trained actor, who understands living in the moment under imaginary circumstances. She has no scene partner to feed off of but has a strongly rooted imaginary world. This technique, by using your own experiences, stresses simplicity and honesty."
For all these local theater artists now working virtually, filming has been a distinct and fresh experience. Lampert found herself "spending more time on moment-to-moment concerns. In a stage play the action goes by, and who sees the small stuff? –– one gesture in a long run. On film, all those gestures are there forever."
And the very food itself posed new problems: Estelle, making appetizers, needed to be provided with innumerable props. So Lampert prepared and froze "a lot of food and delivered it to Kristin's house," whereas for Gabriel's high-carb passion, she ordered groceries sent to him via Amazon.
The audience's cravings haven't been neglected, either. 
"We're cooped up; we can't get out to eat," says Hummel. "The next best thing is yummy takeout." So WOW has partnered with four local eateries –– Coltivare, Gola Osteria, Hawi Ethiopian Cuisine, and (in the final week) Moosewood. Each is offering a highly tempting "comfort food" menu that can be ordered via WOW's website –– and for viewers at home, that absolutely beats popcorn.
This new collaboration between the Lampert-Pressgrove creative team and Priscilla Hummel's WOW, dedicated to musical theater, will happily continue –– the artists' "Angle of the Sun," first produced here in 2006, comes to Ithaca's great outdoors this summer.
"Comfort Food" streams on YouTube Feb. 12-21. Tickets and ordering menus at walkingonwaterproductions.org/tickets. The show can be re-watched throughout the run
Barbara Adams, a regional arts journalist, teaches writing at Ithaca College.