Theatre can offer momentary distraction from social problems, but it can also, most powerfully, face those problems head-on. Two plays at Cornell and Ithaca College both address catastrophic man-made events—in quite different styles.
Cornell's "Spill," by Leigh Fondakowski (lead writer of "The Laramie Project"), is an intense docudrama recounting the 2010 Deepwater Horizon oil spill and its aftermath. Based on recorded testimonies, the play commemorates the lives of the 11 men who lost their lives when the well exploded. 
One of 14,000 offshore drilling sites in the Gulf of Mexico, Deepwater Horizon— known by its 126-person crew as "The Well from Hell"—was dangerous not only for its record size and output but particularly for the procedural shortcuts BP's management insisted on taking to speed up the production schedule. 
This dynamic reenactment of a relentlessly compelling script is excellently directed by Caitlin Kane, a doctoral candidate who studies interview-based theatre. She's evoked persuasive performances from an ensemble of undergraduates (plus one Cornell lab technician) who are drawn from majors ranging from engineering to philosophy, mathematics to astrophysics. They're not actors with years of training, but their passionate commitment lends authenticity to these roles. 
The fast-paced script personalizes the dedicated, experienced crew and the men's wives and parents who lived with the daily awareness of risk. It also introduces BP's profit-seeking management, unprepared for such a debacle, spending wildly to preserve the company's image, and their slow response—from the explosion on April 20, it took 87 days to cap the well in an untested maneuver.
In the voices of coastal fishermen and bayou dwellers, we see the devastation of the ecosystem, the wildlife, their economic livelihood. From the survivors and cleanup workers, we learn of exposure to toxins and the nondisclosure agreements those rescued had to sign before being brought ashore.
The 20-story rig was built to hover in the water above its three-mile-deep well, but its entire mass collapsed into the ocean. The firestorm, fueled by methane gas, rose 800 feet into the air; the 11 men were incinerated; five million barrels of oil eventually spewed into the gulf.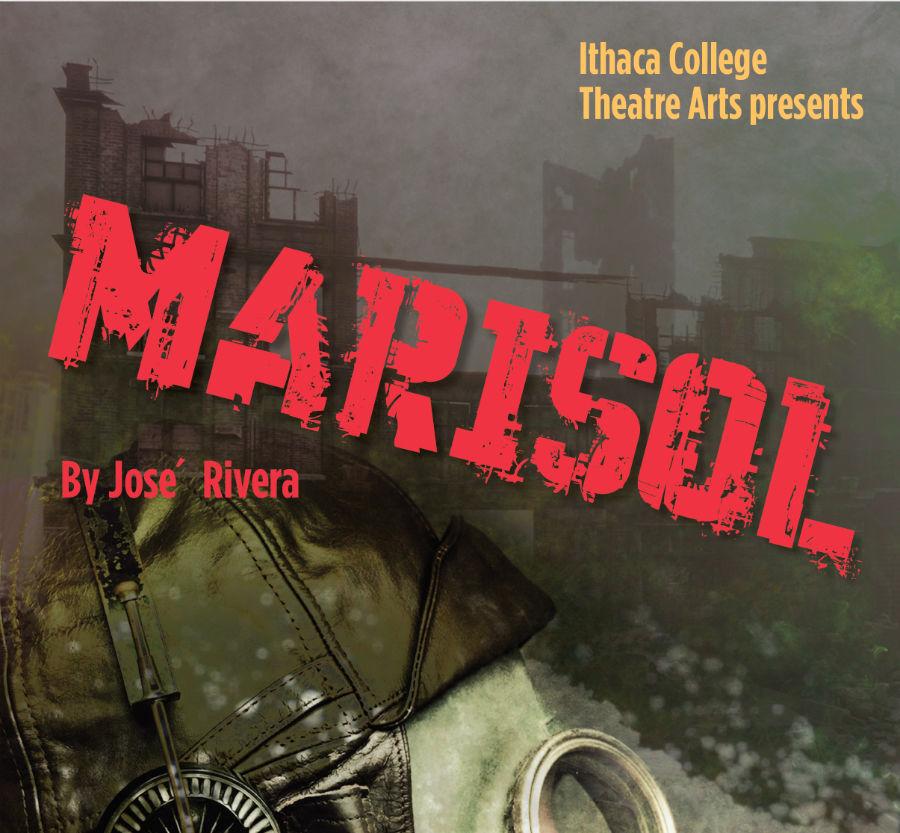 Facts alone can't convey the terror of the event, but Kane's staging and phenomenal design team effectively take us into the maelstrom: Kent Goetz (set), Joey Moro (lighting), Warren Cross (sound), Sarah K. Bernstein (costumes), and Elizabeth Mak (projection). Floor and walls are blue ocean marred by blood-red spills; caution yellow pipe fencing can't assure safety; even the rig's deck and towers spin out of control in a cacophony of sound. The immediacy is overwhelming. ("Spill" continues May 3-4. at Schwartz Center for the Performing Arts)
An impressive set design also distinguished IC's production last weekend, directed by Wendy Dann, of José Rivera's "Marisol"—created by Rodrigo Hernandez Martinez, with dramatic lighting by Shane Hennessy, volatile sound by Ron Ziomek, and projections by Raven Bartlett. A two-story construction houses Brooklyn and Bronx apartments, an office, and the subway; this New York eventually becomes a war zone, buildings razed and streets littered with debris. 
Like "Spill," Rivera's play, written in the late '80s, describes a cataclysmic disaster. But whereas "Spill" shows that attempting to tame the wildest forces of nature is pure hubris, "Marisol" suggests that we're so lost only total destruction can purge and renew us. In this apocalyptic fantasia, guardian angels abandon their charges in order to battle against a senile God who's clearly messed up his creation. 
With the rebel angels in control, "Marisol" turns Milton's "Paradise Lost" into a Black Mass; the only Angels in America have now pushed a collapsing civilization to a maddening extreme. The moon is gone; food has turned to salt; gas masks are required to endure the smoke and DDT; marauding Nazi skinheads torch the homeless.
Yet the middle-class victims of this tragedy seek to join the angels' fight? Rivera's social message is muddled, and the Armageddon metaphor ignores the real systemic human causes of civil failure. Noise and chaos and insanity prevail.
As two friends, Marisol and June, Juliana Andrea Betancur and Katherine Nevils often deliver their lines identically, without modulation. More convincing is Erin Lockett as the Angel (splendidly winged by costumer Nico Gonzalez). As June's disturbed brother Lenny, Josh Wilde does a 180 post-calamity; he's emotionally believable as a pregnant male. Jahmar Ortiz's badly burned man in a wheelchair, looking for his lost skin, is quietly gripping.
The play opens with a strangely ghoulish indigent threatening Marisol on the subway. When, cringing, she tells him "get a job," I first distrusted the script (as if any New Yorker would say that, even in Reagan's America). The curious politics, endless ranting and five possible ending scenes prolonged my confusion. "Marisol" is one long raging jeremiad. Its issues are still relevant —but painful to experience.
Barbara Adams, a regional arts journalist, teaches writing at Ithaca College.