ITHACA, NY -- Necessity spawns invention once again at The Cherry Arts, whose last production was lip-synched live in Stewart Park. The current show is filmed with multiple cameras inside Ithaca's State Theatre and from there streamed to home audiences. Onstage, four actors, each in a bright chartreuse (green screen) COVID-safe cubicle, chronicle one average day that begins on a downbeat.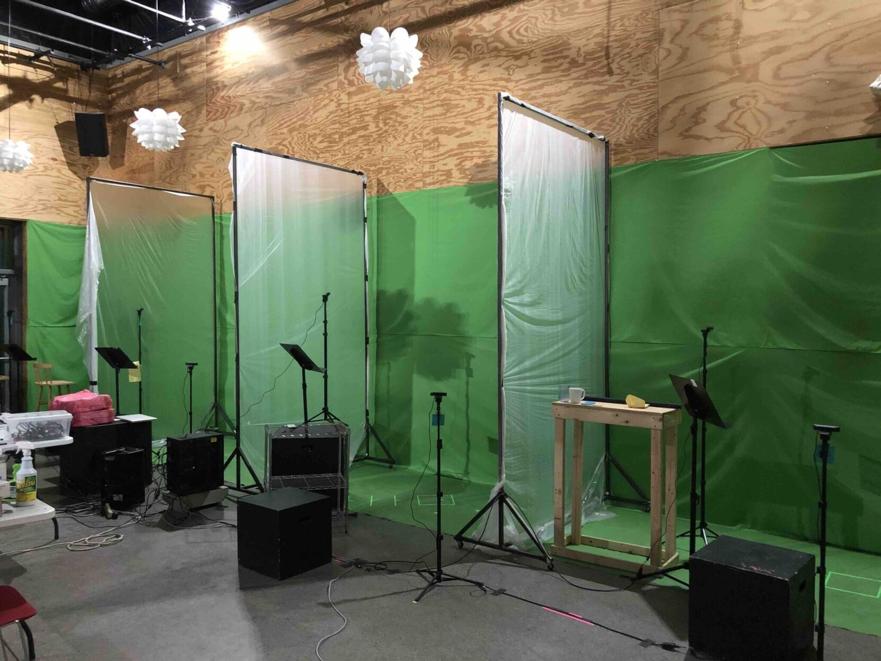 As one character says to another, "You're already convinced that your day will be terrible." For these four stalled, single 20- to 30-somethings, that day plays out as predicted…almost. 
"A Day" is the English-language premiere of Montreal-based playwright Gabrielle Chapdelaine, as translated by Josephine George. This episodic new work, stage directed by Wendy Dann and livestreaming directed by Sam Buggeln, progresses hourly by the clock, starting at a bleary 1 a.m. 
A tousled Debs, played by Erica Steinhagen, can't fall asleep; she's the most dysfunctionally distressed of the four. Karl Gregory's Harris runs a close second –– grouchy, constipated, and miserable, obsessing over his mangled relationship. He's the spiteful guy who buys a half-dozen donuts and devours them all in front of his coworkers.
Ignored and lonely, Sylvie Yntema's Nico is that dedicated but invisible office worker, always helpful, never recognized. As her forced cheerfulness gradually erodes, we see its high cost. Perhaps the most exquisite anguish is felt by Alfonso (Jahmar Ortiz): the positivity of this irrepressible optimist masks deep sadness and disorientation.
A fitness buff, Alfonso burns off his frustrations with pushups (when he's not online binge-shopping); Nico tries comfort food, lovingly tending a pot of minestrone. Harris just drinks and grouses loudly ("Everything sucks!); Debs whines and cringes and accidentally splatters her last cup of ramen all over the floor.
The visual framing of the show underscores the play's themes: everyone is isolated in their screen-box, and when they take turns narrating one another's days, they stare at the other without really seeing. Yet this remoteness is countered by wild color: each cubicle has a bright-patterned wallpaper backdrop for the well-lit, sharp images of the actors. 
The effect is almost sunny. This lively and appealing mise-en-scène is thanks to Noah Elman, video design; David Kossack, photography; Daniel Zimmerman, production design; and Lesley Greene, sound and music.
Many of the scenes are also interspersed with short black-and-white videos, as our four lost souls interact fleetingly with others –– a grocery cashier (Susannah Berryman), a congenial barista (Rafael Lopez), an inattentive coworker (Darcy Rose), and seven more. 
This gives a wider scope to the action, moving each out of their own sad bubble, as well as a visual kick –– actual backgrounds are transformed by sketching, giving the whole a fun, cartoonish feel. 
And though each person is stuck in their own life, the others (as if unseen friends) interact, sometimes offering encouragement. At noon, when Debs finally rises from her bed, the others huzzah: "Your vertical day has begun!" Toward the play's hopeful end, they're even boogieing together, their screens rakishly tilted.
The action is interestingly complicated by the fantasy each person sustains. Harris fixates on his ex; Debs murmurs in French about saving and nurturing an infant. After knighting her imaginary coworkers, Nico takes one's cell phone home and has a long pretend conversation with it. Alonso actually visits his long-ago childhood home, hoping to see his mother at the window.
That several reach out to their mothers reminds us of their youth, their fragility and unformedness at this stage of their life. "A Day" is not a particularly upbeat play during our forced quarantine, especially for those under 40. 
The need for distraction, for alternate realities, is underscored by each person's frequent referencing of films, whose title, director, and date then appear on-screen. The shout-outs proliferate, from Claude Berri's "Germinal" (1993) to Shen Ellis's "Cashback" (2006). French films predominate, and while cinephiles will be thrilled at the litany, the invocations may leave many audience members outside the joke.
More successful than comparing one's life to movie scenes is Nico's escapist gambit, a desperate computer search of linked celebrities, which the other three join in on:
"Jessica Biel and Justin Timberlake, Edward Norton and Drew Barrymore…."
It makes them feel like "part of one big family."
At 4 p.m –– that notorious low point in the day –– Debs disappears. The others worry: "Bad days happen –– she needs to understand that." When she finally shows up again, everyone rejoices, acknowledging, "we're in this together."
"A Day" walks us through quotidian depression but ends on a frail note of hope. The excellent acting and clever, sparkling visuals make the journey memorable.
"A Day" by Gabrielle Chapdelaine and co-directed by Sam Buggeln and Wendy Dann, streams Thursday-Saturday, Nov. 19-21. For tickets, visit thecherry.org/tickets/.
Barbara Adams, a regional arts journalist, teaches writing at Ithaca College.