As the Apple Harvest Festival makes its return for the 37 year in a row, the Downtown Ithaca Alliance and the Center for Vistors and Business are shaking things up by adding some new features to the festival. The festival is a celebration of the rich heritage of New York State's biggest crop, apples. Allison Graffin and Scott Rougeau of the Downtown Ithaca Alliance (DIA) are sure this will be one of the biggest years yet, possibly having more than the 45,000 people who came out for last year's festival. In addition to the bevy of food and farm vendors, craft fairs and performances at the Bernie Milton Pavilion, there will be several popup events going on around town.
"There's a kick-off event happening at Coltivare, not far from the tree," Rougeau said. "That's a ticketed event and will have three speakers presenting at that as well as cider or apple themed pairings throughout the night. Coltivare's put together a pretty nice menu and our speakers are experts in the apple insider field. They've picked out some really nice selections for people so that should be a nice event."
The kick-off event will start at 5:30 on Sept. 26. Tickets are $50 and can be purchased through Eventbrite. One event that will be returning, after taking a year off, is Monks and Makers, to be held at Monks at 11a.m. on Sept. 29 at the Marriott Hotel. This event will consist of several 60-minute sessions in which eventgoers can taste ciders from throughout the region. Monks will provide snacks that pair well with each cider. The sessions are $10 to attend with limited walk-in spots available. The participating cideries include Black Diamond Farm & Cider, Embark Craft Ciderworks, Rootstock Cider Works, Grisamore Cider Works, Lake Drum Brewing, Eve's Cidery, Three Brothers Winery, Blue Toad Hard Cider, New York Cider Company, and Angry Orchard.
One of the newer events this year will be the Farmer's Showcase which will be set up in Press Bay Alley. This event is more educational and will teach people about the work it takes to be a farmer. Some of the vendors will be giving in-depth talks about their process for apple cultivation. There will also be livestock at the showcase and baby goats, from Laughing Goat Farms, will be on the Commons.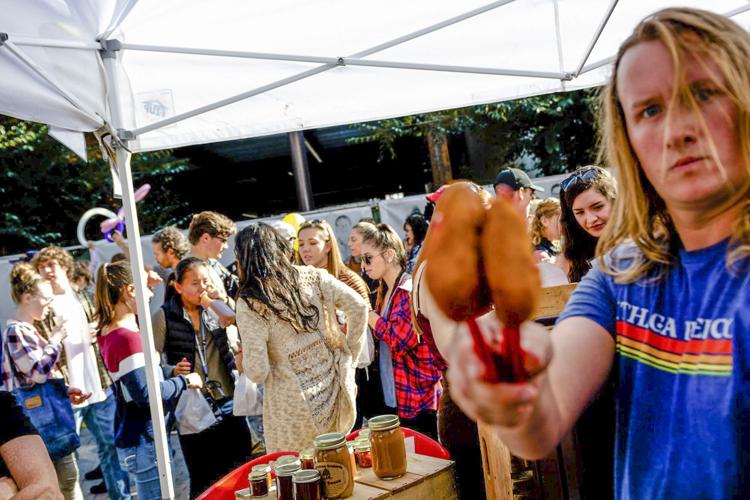 "We are partnering with Conventions and Visitors Bureau (CVB) and Apple Harvest is part of a larger grant," Graffin said. "The idea is to help share the story and the strong, rich agriculture economy that we have in the county and the greater Finger Lakes. With apples being the prime crop in New York State, we are in the prime apple region. The real goal has been to get back to the roots to share with people coming in why this festival and why apples are so important to our region. Then what we can do to teach people about apple growing, the products made from apples, not just the variety but to teach people more about cider and cider making."
In previous years, apple cider donuts have always been a popular treat festivalgoers flock to get. However, with only two or three vendors selling them in past years, lines stretching across the area have been quite a common occurrence. This year, though, there will be five vendors selling apple cider donuts. One fact that Graffin pointed out is that, like snowflakes, no two apple donuts are made the same. Some can be flakier while others have a cakier feel to them.
This year, there will also be a cider trail around Ithaca. Restaurants that are participating will have certain apple cocktails available with some shops offering cider tastings. Passports for the cider trail are available at the DIA's information booth located on The Commons near Center Ithaca. Playland Amusement will be making a return to the festival with plenty of rides and games for people to enjoy. For parents looking to take a break, there will be a family fun zone set up in the atrium of Center Ithaca.
One final addition to the festival is an interactive statue being built by former resident Amy Lewis-Sweetman. The statue will be on display in Bank Alley at a temporary location throughout the festival. After the festival is over, though, the statue will go on permanent display somewhere in the downtown core, though that location has not yet been determined.  For more information, information, visit DIA's website and the Apple Harvest Festival's Facebook page.