ITHACA, NY -- At a rare in-person business meeting recently, several conversations were happening at once. Finally one of the leaders shouted, "Can we have just one conversation instead of five? I'm having enough trouble dissociating lately."
This sense of being pulled in myriad directions, asked to follow multiple dialogues, is the challenge at the heart of The Cherry Arts' latest play, "Trap Door," which opened last weekend. It's an hour-long headphone walking play on local freedom struggles –– from the Underground Railroad to the present –– that starts at the History Center and leads listeners through eight downtown sites. The material was written by a team led by Lyrae Van Clief-Stefanon and directed by Cynthia Henderson.
The corresponding eight audio tracks offer up a miscellany: songs, both solo and choral performances; snatches of poetry and "poetic" speech; quotations from notable activists like Frederick Douglass and Dorothy Cotton; portions of classroom lessons scenes; hints of biography of a man who survived slavery; questions; injunctions to write and reflect; and more. 
Certainly not all dramatic art needs to be narrative –– one can find coherence in a mashup, even a crazy quilt, but here one hungers for a single thread of connection from one moment to the next. When we reach the segment that begins to offer bits of the story of former slave Peter Wheeler, we're both fascinated and grateful, our thirst for coherence momentarily slaked. Likewise with the quotes from memorable activists; these stand on their own.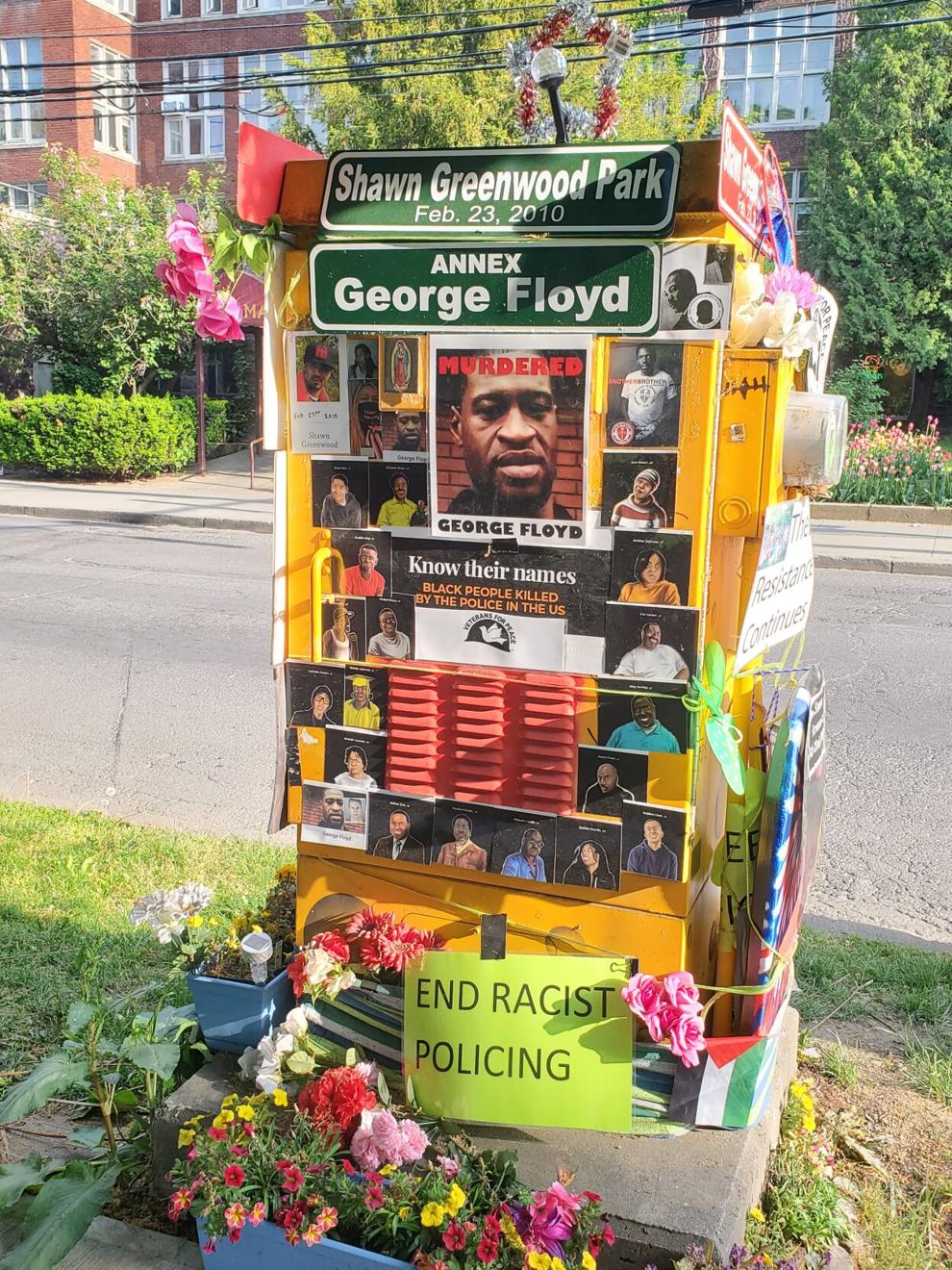 But much else is a jumble, nothing fleshed out, no clear direction (and even the directions, such as the insistence on our stopping to look at a particular street address that's not there, can be confusing). Both of the Cherry's previous headphone plays exploring local history –– "Storm Country" and "The Missing Chapter" –– were narratives featuring a central character. And their stories took the peripatetic audience alongside the canal and through fairly serene natural environments.
"Trap Door," in contrast, led us mostly through busy downtown streets screaming with nonstop traffic (not to mention past a street preacher urging repentance whose sound system drowned out our audio for at least a block). And in 89-degree weather, the conflicting experience began to feel rather like descending into Dante's Inferno.
It was satisfying to view up close the bold Douglass mural under the overpass (though the disabled receive no warning about a steep stairway to arrive there); pleasant to chat with young playgoers resting on the walkway overlooking Six Mile Creek; lovely to peacefully peruse the gardens along Sears Street (despite not understanding why we were at that locale). We studied the George Floyd memorial at the corner of DeWitt Park. A wiry old fellow wearing a Veterans for Peace t-shirt joined us, pausing at the memorial to reverse the "end racist policing" sign to its blank backside. He then informed us "racism – war – wash your mouth," tapped his baseball cap and moved on. (As you can see, I'm following the advice of the program: "Trap Door" challenges audiences to provide their own creativity.")
The cast of eight actors delivers sections of dialogue (sometimes persuasively, sometimes melodramatically), but we often can't discern what character (or context) is being represented. Equally frustrating, "Trap Door" asks us to contemplate the sites of struggles for freedom but enjoins us to bypass visiting actual sites and avoid expecting painful past narratives. We are urged to reflect, but with only disjointed fragments, what are we reflecting on?
At the outset, walkers are given a handy spiralbound guide, with maps and some fine literary excerpts, but there are also empty spaces for workbook-like exercises in which we are to jot down our thoughts and feelings. For anyone not overly fond of participatory theatre, much less dictated self-examination, these instructions may feel cloying. 
Not quite theatre nor entertainment nor education, "Trap Door" may still stimulate your interest in any of the many topics or individuals it touches on. Next stop, sites nine and 10: the public library and the History Center itself.
----
"Trap/Door," by Lyrae Van Clief-Stefanon, directed by Cynthia Henderson. A headphone walking play produced by The Cherry Arts; available Friday, May 28, 4-7 p.m. and Saturday May 29, 2-6 p.m. Reserve tickets in advance at https://ci.ovationtix.com/35407/production/1031752. 
Walks will begin at The History Center located at 110 N. Tioga St. Bring headphones and a fully charged cell phone. A limited supply of MP3 players and headphones will be available for use if needed.
Barbara Adams, a regional arts journalist, teaches writing at Ithaca College