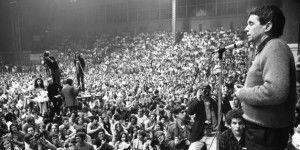 By the time Mary Gilliland began her freshman year at Cornell University in 1969, she had devoted much time, energy and interest delving into her spiritual faith. In 1970, although no longer attending Mass, she loved and respected the ethics, the icons of the Catholic religion. She was pleased that Jack Lewis, the director of Cornell United Religious Works at the time, had invited Father Dan Berrigan to serve as a chaplain and assistant director of the department on campus. 
"I spent time with Father Dan talking about how we could each change the world. We would sit in his office near the Anabel Taylor Hall Coffee House, and sip cappuccino, which he introduced to us in the coffee house he created. We could hear folk musicians playing in the War Memorial Room down the hall...Father Dan's office door was always open." 
Berrigan, an anti-war advocate, was Gilliland's guiding light during such a turbulent time in American history, she said, during the "crisis and crossroads" that was the Vietnam War. He was celebrated at a campus-wide festival at Cornell called the "America is Hard to Find" festival, named after a poet he had written by that name. Of course, there were some complicating circumstances to the festival, which took place on April 17-19, 1970, 50 years ago this month, and was aimed at bringing people together to discuss the peace movement and non-violence during the time of war. 
Having been convicted for his latest anti-war activities in Catonsville, Maryland, by April 17th he was on the lam from the law, refusing to turn himself in to begin a prison sentence. "He recognized a 'higher law,' which moved him to try to halt the War in Vietnam," she said. 
"On April 17, 1970, following an Easter pageant by Bread & Puppet Theater and during a Passover Seder on the stage of Barton Hall, Dan briefly addressed an audience of 10,000 people that included the FBI agents tasked with capturing him," Gilliland remembers.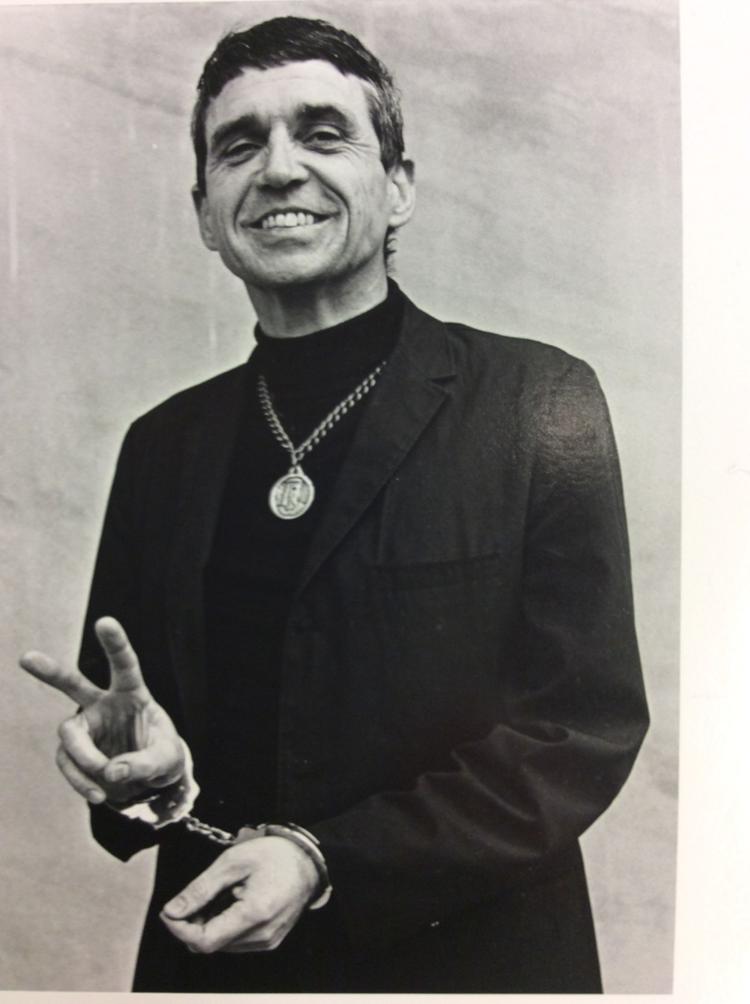 On April 17th Alan Sorvall and John Hostetter (now deceased), friends of Mary's, played the Mass. They composed the music to lyrics by Dan Berrigan. Before the festival Alan and John recorded and released their rock mass to raise money to pay the speakers and performers. At the end of their LP Father Dan is heard reading poetry he wrote about his Catonsville action and the ensuing trial. 
"The rock mass expressed the belief personified by Dan Berrigan, that each of our lives could make a difference," Gilliland said. "That the folk mass, the arts could move people, to facilitate change as we worked for peace and justice [...] The '60s in America spawned a unique generation who felt a spiritual idealism, and for many of us Dan Berrigan was our hero." 
By 1970, the U.S. had bombed Cambodia. The horror at Kent State was exposed over national television. For Mary and many of her friends and young people all over the country, that idealism fueled practical reactions. "We went out in droves in 1970, throughout Tompkins County and the surrounding areas to register people to vote, to increase citizen participation in our government." 
In 2015 Mary, still friends with Alan Sorvall (by then an accomplished classical guitarist and composer), created https://AmericaIsHarderToFind.wordpress.com/ "to house archives of that weekend: the music, the recorded poetry, many first-person accounts from students and colleagues, photographs, memorabilia including a link to the one-hour documentary 'The Holy Outlaw,' and more."
"Alan and I visited Dan February 26, 2015, the year before his death to let him know this project was in the works," Mary delineates on her website others who assisted her in creating this. "We put the website up on November 11, 2016 on Armistice Day [...] Armistice Day celebrated and honors the making of peace after WWI." 
See https://americaishardertofind.wordpress.com/ for photos, music, essays by Father Dan Berrigan and remembrances of Dan Berrigan and the April 17, 1970 America is Hard to Find Festival he inspired. April 17, 2020 will be the 50th anniversary of the America is Hard to Find Festival at Cornell University. Mary invites everyone to celebrate and send a response or rememberance to the website if they have one.