With an array of fall events coming to Ithaca throughout the next few months, there is one that will have neighbors excited in particular, bringing front-porch music to the community. Porchfest 2019 is back and will be taking place from Sept. 22 from 12-6 p.m, boasting 171 performers at 102 locations throughout Fall Creek.
Part of Porchfest's lore is that it started in Ithaca before growing into a nationwide pheonmenon that has caught on in nearly countless places elsewhere. Andy Adelewitz, co-organizer of Porchfest, is looking forward to the festival's return. He spoke about some of the groups people can expect to see this year.
"One group I'm excited about this year is called OA," Adelewitz said. "They're a duo of seventh graders who I saw at Rootstock, a youth music festival that the New Roots Charter School put together on the Commons a few months ago. They were really great singers and songwriters, and I'm glad they're going to do their thing at Porchfest too. We're also excited to have GunPoets back this year, they've been one of the biggest draws at Porchfest for many years but had to take last year off."
This year, Adelewitz will be playing on a porch with a new band called The Love Me Backs. Having performers return year after year really makes the event a crowd favorite with music lovers of any genre, who can see the progression of their preferred acts year over year. In past years, Gunpoets and the Fall Creek Brass Band have become huge attractions in the final time slot. Both groups will once again have a closing Sunday slot, along with many others.
The team behind Porchfest has changed this year. Gretchen Hildreth, who co-founded the festival back in 2007, decided to step back after 12 years of being responsible for this event as it continued to grow in both size and popularity. Ithaca Neighborhood Housing Services (INHS), who sponsors the event, has been taking a more active role in the event planning, according to Adelewitz. In addition to the street closures, one of the bigger challenges is putting together 170 bands into six time slots within a small neighborhood, which has been a mammoth task, Adelewitz said.
Additionally, there's the annual matter of preparing the community for the inherent traffic disruptions that come from Porchfest.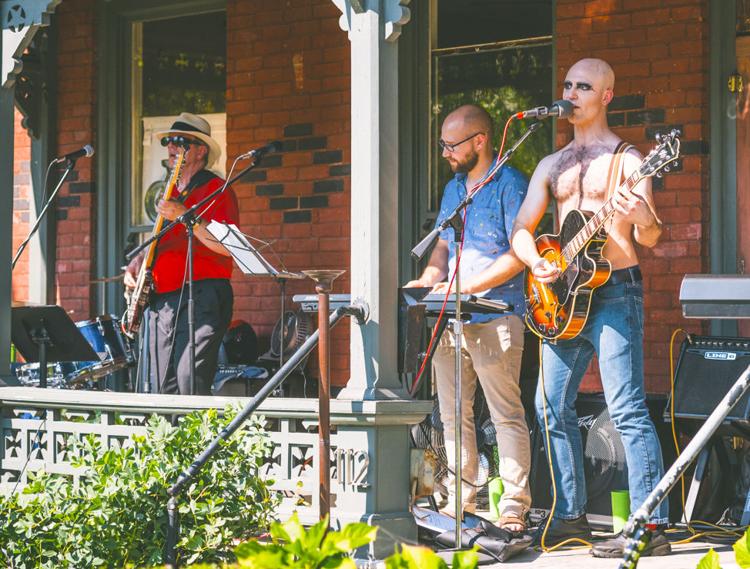 "There has always been a push-and-pull between wanting to be as unobtrusive as possible, and then on the other hand, feeling like it'd be cool to close down the whole neighborhood for Porchfest and really let everyone take over the streets," Adelewitz said. "Safety ultimately drives all the decision-making, though. The city's Special Events Team strongly encouraged us to close more streets this year, as the crowds mixing with car traffic is their biggest concern. But, of course, you do need to enable some traffic to move through, and emergency vehicles if needed, so our compromise was to keep Cayuga Street and a couple other thoroughfares open to traffic, and closed to performers, so you didn't have stationary audiences crowding into those streets."
For anyone looking to know what streets will be closed, they can find that information on Porchfest's website.
Some of the food trucks that will be at this year's festival are the Silo Food Truck with their killer mac and cheese. The Good Truck, another long time favorite of Porchfest, have made the food for the event. They will be set up along Thompson Park, essentially the heart of the festival. There will also be gourmet grilled cheese sandwiches from Eat the Food and pierogies from Casca Deli. This year, for the first time, Luna Inspired Street Food and Dos Amigos will be joining the festival.
The festival does still need volunteers. Anyone who is interested is encouraged to sign up online on Porchfest's website. According to Adelewitz, the volunteers will be primarily stationed at a traffic barricade to ensure residents can get their vehicles out safely through the crowds. They will also be distributing maps/schedule booklets to volunteers so they can be made available to have. Some volunteers will be allowed to roam on bicycles to keep an eye on things as well.
For Adelewitz, one of his favorite parts of the festival is the democratic way it happens.
"We don't curate the lineup—anyone who signs up before the deadline and has a porch to play on is in," he said. "You don't have to prove yourself to anyone, you don't have to buy a ticket or be over 21 or have a huge social media following—you just have to want to play some music, plain and simple. So it's a place where kids get to play, and where a lot of groups might play their only show of the year. That also means it's a popular place for new bands to play their first show ever. Porchfest showcases the full creative depth of our community in a way that no other festival really can."