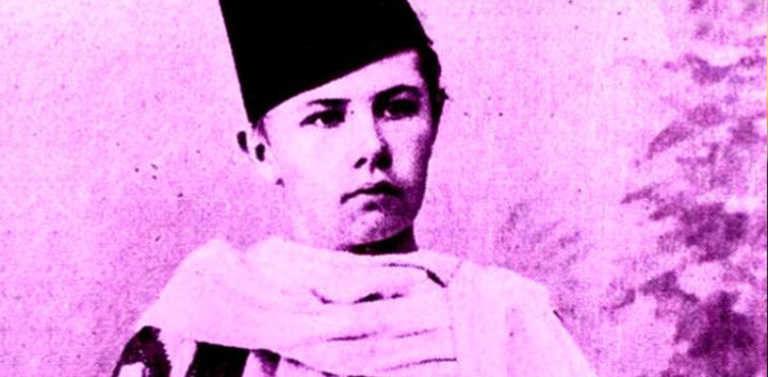 Opera Ithaca admirably gives us not only classics, like its recent Carmen, but also fascinating contemporary works, especially those by women, which reflect other cultures. The company's fourth season closes this week with Song from the Uproar, a 75-minute opera in English. Composer Missy Mazzoli and librettist Royce Vavrek were inspired by a provocative historical figure, the writer-explorer Isabelle Eberhardt.
Born in 1877 into an unconventional Swiss family of Russian descent, Eberhardt early challenged social norms by wearing boy's clothing, finding it more comfortable. Her father, a former Orthodox priest turned atheist, homeschooled her (she knew seven languages, including classical Arabic) and encouraged her nonconformity, as did her mother, who accompanied her, at 20, to Algeria. There they lived apart from the French colonists and as close to the Arab community as possible.
Her mother's presence is not included in the opera, however; Eberhardt's life is far too complex to be captured in any form but an exhaustive biography. This young woman, enthralled with Arabic culture, wrote fiction and journalism, lived marginally, loved liberally, attempted suicide multiple times, consumed quantities of alcohol and drugs, suffered addiction and malarial fevers and possibly syphilis. Her writing resisted French colonialism; perceived as a threat, she was blacklisted in France, survived an assassination attempt, and ultimately took the stand to argue and win a less severe sentence for her attacker. A convert to Islam, Eberhardt was known as Si Mahmoud Saadi; loving men, she nevertheless dressed and passed as a man, eventually marrying an Algerian soldier. More nomad and vagabond than explorer, she died in 1904, impoverished and worn, in a desert flash flood in Aïn Séfra, Algeria. She was 27.
Her convoluted life story resonates with passion, desperation, and a determination to live freely whatever the cost. This is the essence of the opera –– Mazzoli's first, in 2012; she's since created works around other dramatic female protagonists, such as Lot's Wife and Bess of Lars von Trier's Breaking the Waves.
Well suited to the Cherry Artspace, this minimalist production, directed and designed by Joshua Borths, features only a large, low dais, covered with a shimmering cloth that's alternately lit –– and moves –– like sand or sea. Dappled projections on the bare plywood wall above present Eberhardt family photos, camel-traversed desert dunes, sailing ships in harbor, and mesmerizing tiled domes of mosques. There's also an intermittent narrative screened as abrupt factual statements ("a woman ahead of her time"), almost like labels, the only unpoetic aspect of this production. (At one point we're unnecessarily told "drinking does not relieve suffering.")
Unfortunately, the song lyrics are not also projected, perhaps because the language is English, but with the orchestral intensity, this means that often nearly half of Royce Vavrek's lyrics are lost. While the music, acting, and ambience here offer considerable emotion, an operatic production needs to acknowledge the art of language as well.
Mazzoli's arresting, electronic-infused score was aptly hailed by the L.A. Times reviewer as "seductive, meditative, spiritually elusive and subversive." Here conductor Keith Chambers, on percussive piano, heads a small orchestra that sweeps listeners through Eberhardt's diverse moods and psychic states. Insistent, pulsing, the musical phrases never resolve; even at the end there's only a dying fall, not resolution –– echoing this woman's endless unanswered quest. Mazzoli's music is both tumultuous and haunting. (Eager to continue listening, I was delighted to learn the original cast recording is released by New Amsterdam Records.)
Onstage, Kara Cornell portrays Eberhardt, accompanied by a black-garbed ensemble of five –– Joshua Dykes, Christopher Hauser, Josi Petersen, Rachel Silverstein, and Sarah Welden. The choral group represent lovers and witnessing townspeople, inquisitively both searching and spotlighting with their flashlights (a device which becomes overused); they manipulate the sea- and sand-cloth that eventually becomes a shroud.
Cornell wears a black gown she soon trades for trousers; overall, this narrative makes little of Eberhardt's cross-dressing life, rather curiously choosing to emphasize her troubled love of one man. Or so it seems –– much of the performance is suggestive and symbolic here, rather than literal.
But the imprecision of the story doesn't obscure the passion, and Cornell delivers that powerfully, both vocally and physically. At moments she actually looks like the young Eberhardt (from an iconic photo); when dissolution comes, her features seem to fall apart. Matching the music's turbulence –– turmoil punctuated by moments of peacefulness –– Cornell's performance is a striking embodiment of Eberhardt's fiercely free-spirited life. It begins and ends with Cornell splayed, fallen, an unforgettable image of this adventurer's ironic death by drowning in a parched land.
Song from the Uproar by Missey Mazzoli and Royce Vavrek. Opera Ithaca at The Cherry Artspace, 102 Cherry St., Ithaca. May 9 and 10, 7 p.m. Tickets at the door and at operaithaca.org. The company's upcoming fifth season features diverse offerings: Hamlet, A Little Night Music, La Boheme, Liberation and Enchantress, a world premiere.
Barbara Adams, a regional arts journalist, teaches writing at Ithaca College.