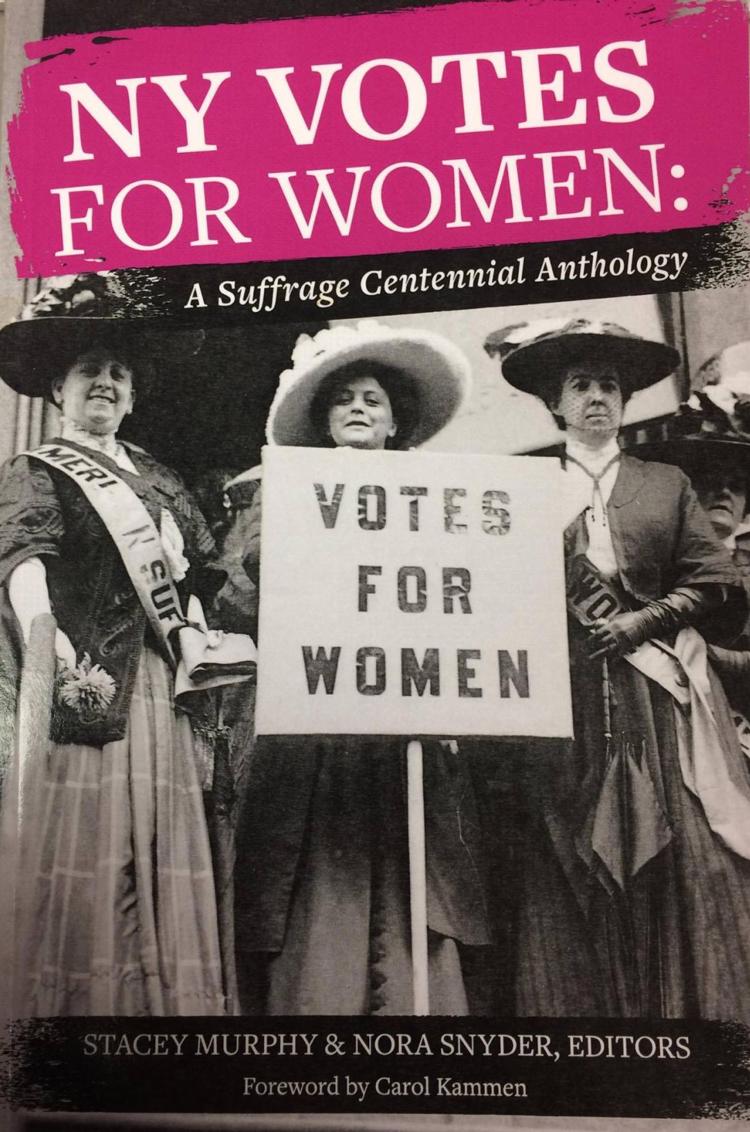 Launch Party for NY Votes for Women: A Suffrage Anthology 6:30 p.m. Thursday, Oct. 26, The History Center in Tompkins County.
NY Votes for Women: A Suffrage Anthology celebrates the centennial of women gaining the right to vote in New York State. The anthology features 21 women writers discussing feminism, the right to vote and their roles in movements for women. Among these pieces are poems, memoirs, essays and photographs throughout history of activists and protests.
Stacey Murphy and Nora Snyder, the editors of the anthology, sent out a call for submissions last year and began putting the collection together near the start of 2017. After hearing state agencies such as Humanities New York back in 2016 encouraging New Yorkers to celebrate the 100th anniversary of women's suffrage, Snyder and Murphy — who have worked together through the writing group Writer's Block Party — put together works capturing the struggles women have faced and continue to face.
And then came the election. And then came trending topics on social media, such as "#RepealTheNineteenth," which began as a response to an election map that detailed a landslide win for Donald Trump should women not vote in the election. And then came the presidential inauguration, followed by the Women's March, a movement that reached across every continent. All of these movements served as inspiration for Snyder and Murphy.
"I was talking to other writers about doing something [for the centennial], and that it seemed like a neat and important idea," Murphy said. "People wanted to do something, and then people thought it should be the anthology, and it sort of started unfolding politically with the 2016 election. It began feeling more and more important, so we decided to go ahead and do it."
While working on the project, Murphy said the process served as a learning experience for many of the writers. Women's suffrage is often glossed over in schools, Murphy said, erasing the complications women and women of color have faced throughout American history, beginning as soon as Abigail Adams' plea to her husband, John Adams, for women to be granted equal rights in a draft of the U.S. Constitution.
With the suffragist movement gaining momentum because of activists such as Susan B. Anthony and Elizabeth Cady Stanton in the 1800s, it still took decades before the national legalization of a woman's right to vote. And even within the movement, there were anti movements: many women who didn't see themselves outside of the home. Women faced backlash from the men in their lives, men of color and even from one another — which only inspired Murphy even more to publish the anthology.
"In looking at things and strong figures in [these authors'] lives — grandmothers maybe — there were other things they could remember and feel that tied into the theme of suffrage," Murphy said. "Others could very clearly see parallels between the women's march in January and the sentiments people were feeling then and all the rights people were concerned about now, things that are very contemporary: history in the making."
Published through Cayuga Lake Books, NY Votes for Women: A Suffrage Anthology contains several local voices, including Lisa Harris, Katharyn Howd Machan, Carol Kammen, Christine Edwards and others. In addition to these writers, there are also international voices such as Liz Thompson, who writes for the Huffington Post and splits her time between Barbados and New York City.
Despite the range of women who submitted, Murphy wished she received more submissions from people of color and even some men. Though the anthology does have a story looking into LGBTQ issues and one through a male perspective, Murphy would have published more diverse voices.
"It just worked out that everybody who submitted a piece was a woman," she said. "We have one African-American voice, and we have several not-born-in-the-USA voices. … But you have to trust that the voices that are in the book are the ones that are meant to be there."
Since the anthology serves as a celebration, Murphy and Snyder will be celebrating with readings, beginning with a launch party 6:30 p.m. Thursday, Oct. 26, at The History Center in Tompkins County. Reading at the party will be Carol Kammen, Gaia Woolf-Nightingall, Lisa Harris, Nora Snyder, Sarah Jefferis and Yvonne Fisher. After Ithaca, the readings will travel Nov. 7 (Election Day) to the Matilda Joslyn Gage Home and Museum, then to the area where it all happened: Nov. 19, a reading will be held at the Women's Rights National Historical Park in Seneca Falls. •