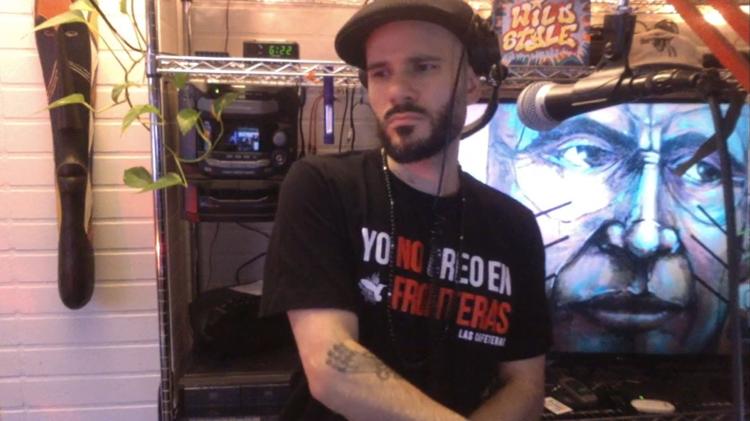 With the goal of raising money for people struggling with food security, over 20 local DJs have joined forces to support a variety of organizations through twice-weekly online parties meant to entertain, raise money and unite. 
Organizer Ben Ortiz, who performs as DJ ha-MEEN, said 25 DJs have agreed to perform in total so far, and that considering the amount of interest he's had from DJs elsewhere in central New York the number could grow. There will be three DJs each Sunday evening from 6 p.m. until midnight, and three DJs each Wednesday evening from 6 p.m. until midnight.
"We'll keep this upuntil things return to some semblance of normal," Ortiz said. "During this time of social distancing, we DJs all suddenly find ourselves out of work. With no other way to perform our craft, nearly every DJ on the planet has taken to live-streaming on the internet (the most famous example these past few weeks has been NYC's DJ D-Nice). This gives us an outlet... but it's obviously not nearly as impactful as moving a room of people through a shared experience together."
The idea was borne out of Ortiz's frustration that he had to postpone this year's Ithaca DJ Festival, which he founded, due to the public gathering rules implemented by the state. The event was slated to be held March 28, in association with the Finger Lakes Thaw Festival. Ortiz has long espoused that the true value of DJing lies in bringing people together, thus despite the postponement he wanted to be able to carry out that mission during a time of crisis for plenty of people. 
So instead of holding one large virtual replacement for the DJ Festival, which was his initial thought, he decided to pivot to an ongoing event with the hopes of rescheduling an in-person DJ Festival later. The title of the events, "Social Persistencing," comes from that mentality: if social distancing is a necessity, this is how to make the most of it, from a DJ's perspective. Ortiz said he's received help organizing from other local music figures DJ Goud, DJ Tuggle, Proper Philty, DJ DarkGreenMarine, DJ Rockmon and DJ J-Sun. 
The shows will be broadcast via popular video streaming platform Twitch, and audiences can tune in by visiting IthacaDJFestival.com to watch or listen. That site is also where people can make donations.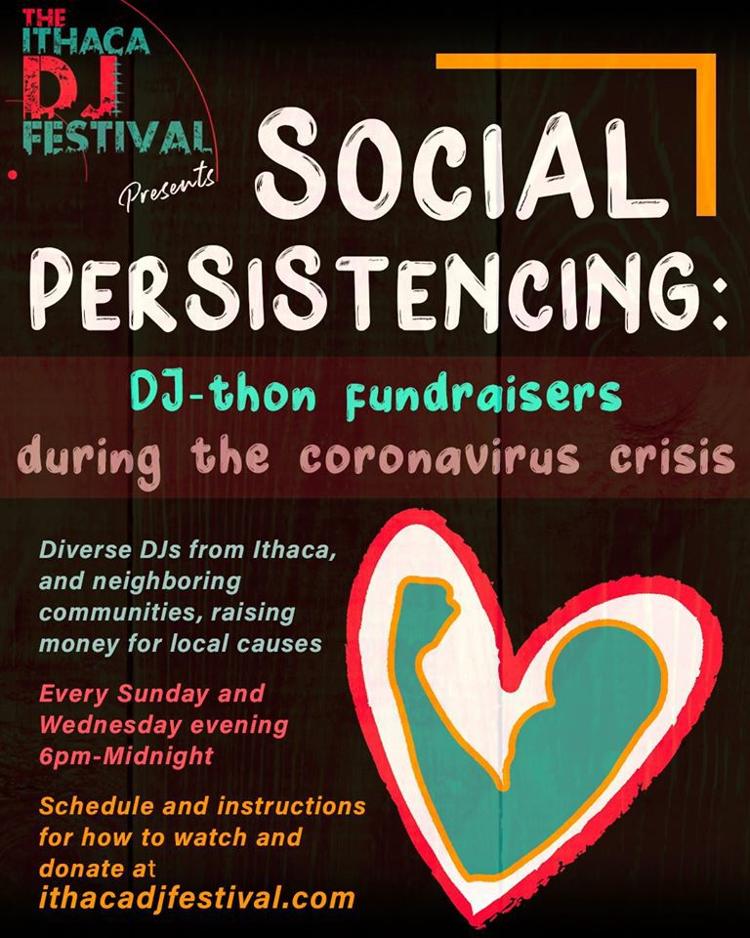 "Our opening week's fundraising goal is to raise $500 for the Collegetown Bagels 'Pay It Forward' meal program for vulnerable members of our community here in Ithaca," Ortiz said. "Our second week will have the goal of raising $500 for the Food Bank of the Southern Tier, which obviously has a much wider geographic impact. The stated mission of this fundraiser series is to raise money for causes all across our region, not just Ithaca/Tompkins County."
The inaugural event was held on Sunday, April 5, from 6 p.m. to midnight. Ortiz said concurrent viewership reached over 250 people at one point during the night, and that he hopes those numbers will climb higher. With higher viewer numbers, he said, the organizers would look to raise their fundraising goals past $500 each week. The first DJ-thon already nearly hit $500 fundraised, Ortiz said, and they hope to double the goal by the end of Wednesday's event. 
"Not that we are hoping to, but I think we can keep this going indefinitely, given the number of DJ's who want to be involved… and more importantly, the amount of people in need out there right now," Ortiz said.