ITHACA, NY -- If you've ever turned on the radio in Ithaca, chances are you've tuned into 91.7 FM, WICB. With around two dozen different shows — including funk, jazz and modern rock — the self-proclaimed "station for innovation" has become pretty prolific throughout the area thanks to its unique blend of new, local and oft obscure music. 
The station has a long tenure in the community, starting back in 1941 with makeshift radio studios being built in the basement of the former Boardman House at 120 East Buffalo St. In 1948, the radio got its FCC license after expanding into 101 West Court Street, the site of the old Tompkins County Public Library. Now with 70 years of broadcasting under the belt, it's safe to say WICB has become a community staple. But it's easy to forget who's behind the mic: Ithaca College students.
WICB is operated by Ithaca College and is currently broadcast from the Roy H. Park School of Communications. It is one of many extracurriculars offered to the students of the college but a particular home for many budding communications majors. The station offers a variety of positions to students, from on-air DJing, to news writing, sportscasting and social media management, regardless of prior experience. 
There is only one non-student involved with running the station, General Manager Jeremey Menard, who has overseen the entire operation since 2017. All other members of the staff, from the station manager to the talent coordinator to the news director and nearly all the on-air DJ's are positions filled by students themselves. 
With a constantly changing lineup of graduating seniors and incoming freshmen it might seem hard to maintain a consistent quality, but WICB has continually been ranked a top 10 college radio in the Princeton Review over the past decade.
"This is a team effort to keep a radio station on the air and going at any given time and with all the students, there's so much energy and enthusiasm and passion," Mernard said. "I think the fact that students show up for a shift from 2 a.m.-4 a.m. or 4 a.m.-6 a.m. tells you all that you need to know."
And Carolyn Langer, WICB's hip-hop, rap and r&b music director, knows better than almost anyone how much power students have at the station. With the help of a fellow student and former station manager, Peter Champelli, she planned and executed an entire rebrand of the station's Weekend Rhythms department (formerly known as City Rhythms).
 "I feel empowered in my position to bring the station wherever I want to," Langer said. "My department could plummet or skyrocket and it's all under my control."
Under Langer's directive, the department chose the latter, expanding their hip-hop programming with additional hours and introducing two new specialty shows: "Weekend Rhythms New and Local" and "Weekend Rhythms Ladies First."  The shows are meant to highlight lesser-known upstate New York artists and uplift female voices in hip-hop, respectively.
"I don't think a lot of radio stations are doing this," Langer said. "It's like this underground, uncovered scene … there's so many undiscovered artists, so much undiscovered music."
Station Manager Connor Hibbard said he believes sourcing local music is what helps set WICB apart from other radio operations.
"Not to bash other stations but you have these top 40 stations that play the same 40-50 songs all the time and it's all huge, nationally signed artists," he said. "What I love about what we do is spotlighting local artists … that otherwise wouldn't have a chance. We are a public service in that way."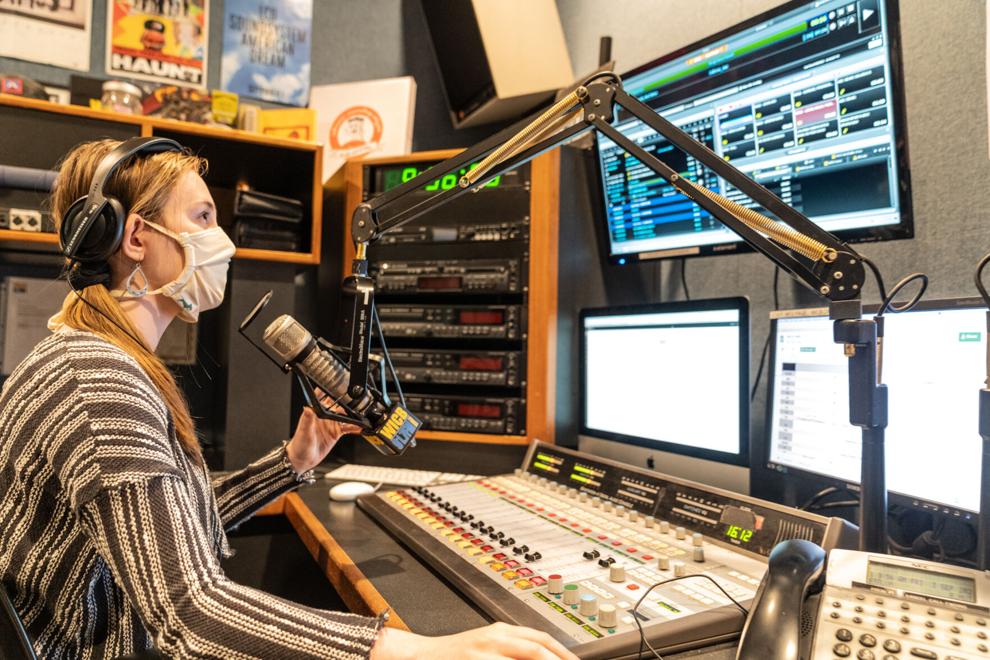 Hibbard added that the local emphasis helps foster a better relationship with the community and local artists.
"It's a symbiotic relationship," he explained. "We get good quality local music and the artists get exposure and the listeners get someone new to add to their collection. It's a win for everybody."
While the student-led factor is certainly a unique aspect, it would be wrong to peg WICB as a mere college radio outlet. The station reaches far beyond the Ithaca campus and even the downtown area, consistently bringing in listeners from all around the country and even internationally on a weekly basis.  
Perhaps no one knows this better than Michael Miller, aka DJ Mike Judah, host of WICB's shows Reggae Explosions. Miller has been with the station for 18 years and has built up a strong following, garnering returning listeners from places like Tijuana, Mexico and South Africa. Back on the home front, he's also won best radio show in Best of Ithaca 2018.
"I love being able to have that reach now," Miller said. "It feels good to know that people look forward to it to uplift their day or catch a good vibe … It makes it all worth it."
Miller fills a unique role in WICB as one of the station's few community DJs — volunteers from the local area who host their own shows once a week. These are the only non-students besides Mernard directly involved with the station, but they represent an important link between the students of IC and the local community.
"It does more for me residually than anything just to feel good and have some sort of purpose in the community to give back." Miller explained.
It's factors like supporting local artists and sourcing community DJs that Mernard says separates WICB from many other stations. All of this is possible, he added, because the radio is non-profit.
"College radio is special ... because you do not have some of the limitations that you would have if money was involved, frankly," he said.  "You don't lose any money, so you can take these chances, you can do these different types of things."
For those who are skeptical about radio's longevity in the age of Spotify and other streaming services, WICB has worked to keep up with the changing times, leaning into podcasts to provide digital companions to some of the current show offerings. The long-running "Best of Broadway" radio show, for instance, now has an accompanying podcast called "Your Wednesday Matinee" where hosts dissect topics related to musical theatre. 
The move proved particularly effective when the radio station was closed due to the pandemic and much of the work turned remote. 
"I just see podcasts as a logical extension of what we do on air," Hibbard said. It's not completely separate from our radio product but it's an extension and it is sort of a way to keep up with the times."
Adaptation aside, Mernard also remains confident in radio's vitality due to its inherently unique features like widespread accessibility.
"It's very easy to tune in to the radio and it doesn't cost you anything like cable TV or streaming service," he said. "You can get all the same access to channels that everyone else can and you don't have to pay anything extra."
Hibbard spoke similarly to the beauty in the unpredictability of radio.
"Sometimes I just turn on the radio because I want to hear a new song and want to learn about it and that's what we do," Hibbard explained. "Maybe going forward it will become a smaller and smaller thing, but I think there will always be people who love it. As long as we continue to bring diverse types of music and really have something for everyone I dont think its going anywhere."
Don't turn that dial, WICB is here to stay.