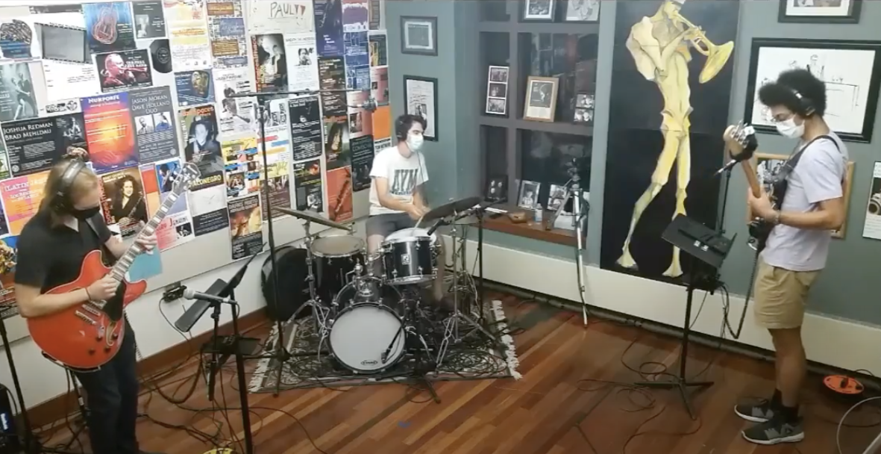 It was inspiring to see when any musical group had recorded individual parts of a performance via Zoom or home recording and then synced the clips together in a video for the viewing pleasure of a waiting audience. At the start of the pandemic, it really said something about the persistence of the human spirit— that during a time that forcibly isolated us from one another, we still managed to connect, and what's more: we managed to create something together.
But there was something missing in all of those prerecorded, multi-tracked and carefully edited music videos—  improvisation— a must-have in jazz. This semester at Cornell, Paul Merrill, a senior lecturer and Cornell University jazz director, who coaches a course titled Jazz Combos, set out to reinstate it into his lessons. 
"Jazz is a social music in more ways than developing in an era of social change, it's also in the way that it celebrates the freedom of communication and celebrates what everyone comes to the table with and has to say— it requires real-time interaction," Merrill said. "So, I was looking for ways to put students together so that they could make music in real-time… [and] figure out a way to perform in a different way given the restrictions and so I came up with the idea to stream content, but I didn't want to stream content that wasn't prerecorded like we did last semester."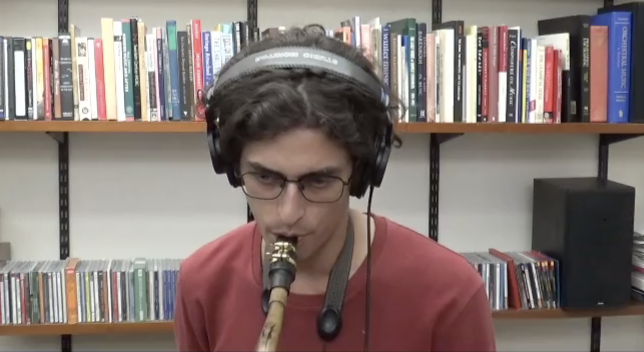 Obviously, making music indoors is more complicated now with social distancing and mask wearing precautions in place.  Many wind performers (singers and wind instrumentalists) won't be able to perform together, and with jazz performers wouldn't be able to respond to what's happening in real-time and take the music to unforeseen places
To make his idea work, Jazz Combos will look different than it has in past years. It will take place across four sections of roughly five players, down from the 18 players who usually meet in one room. Lectures will cap at 75 minutes each week, down from 90–105 minutes of a usual session, and on top of that players will have to adjust to the new technology. 
Each week, a three-person rhythm section will rehearse and perform in the same space, considered the master studio, while the other students join in from their own classrooms/pods. All players will have to be physically present in Lincoln Hall in order for the plan to work. In conjunction with the Electroacoustic Music Center (EMC), CU Jazz will use technologies from Audinate that will expand classroom connectivity over the building's existing infrastructure, states Merrill's packet introducing the course.
The way the technology works is that all of the music will be transmitted to Merrill in the master studio, where he will oversee everything. From there the sounds will be brought together and sent back to the players in each of the other rooms so that pod players will not only hear themselves playing,  but the entire ensemble producing music together, albeit a bit delayed. 
It's the same technology that's essentially used for large concerts, said Merrill, who says he got the idea from Kevin Ernste, who leads the EMC and from Cornell's Performing Media Arts program. In large concert venues, where it's often too loud to hear one's own instrument, this method is the one most often used. It's the reason you see earbuds dangling out of concert performers' ears.
In the packet, Merrill says "near-zero latency," but the real number 11–15 milliseconds. To the untrained and not/performing ear that number is imperceptible, but for musicians, actively playing, it'll make a difference. It's an obstacle his students will have to continue working through, Merrill said.
"I'm a musician too, and I've used the system to play and I can certainly notice [the latency]," Merrill said. "Is it manageable? Yes, and I think it will be a little bit of a problem for the students to get used to. It's a delay, almost like a reverb."
In the practice performance they attempted on Aug. 25, Merrill said, it was a bit of an adjustment for the students playing together again after such a long time, plus it was unsettling to hear their own music only moments after they'd already played it. Essentially, Merrill explained, it's like two musicians playing together, piano and guitar, let's say, across the room of a large concert hall. They can hear the music, but it's more like an echo, just not as soft, when it gets back to them. 
The students will have a Zoom open while they're playing in order to talk through the music, but Merrill said the visual function is too slow to be of use. He said he also hopes that the reliance the players will have on the music, as opposed to looking at one another will also increase their connection to what they're playing. 
"[The new technology] will probably make the playing a little bit delayed," said Merrill. "We don't know if this little bit of latency is going to have some monumental challenge. I don't suspect so, but it won't be the same as playing right next to each other…[and] without the visual element, what it's going to do is make the musicians rely more on their hearing than they do on visual cues."
Both he and his students said that however difficult the adjustment period is, they're excited to be playing with one another again. Some said the new way of playing was hard but welcomed the challenge. Another foul card that the pandemic has handed live performers is the need for HVAC (heating, ventilation and air-conditioning) systems, which are required by the state to be up-to-date and comply with a ventilation standard in order for Cornell to reopen. The process requires at least 30 minutes, which is the reason for shorter class times. Surfaces will also have to be sanitized after each use. 
In the long term, both he and his students hope to be able to perform for audiences, still virtually. During the test run, however, Merrill set up cameras at various points of the individual rooms so that he could record the players as they each played. The result was something that resembled NPR's Tiny Desk from Home.
"Performance this year is going to look different for us. I don't think we're going to be having concerts, per se. And what I mean is a collection of performances all streamed together in a 45-minute set… we're probably going to do shorter performances streamed out more regularly...every couple of weeks, like releasing a streamed single."