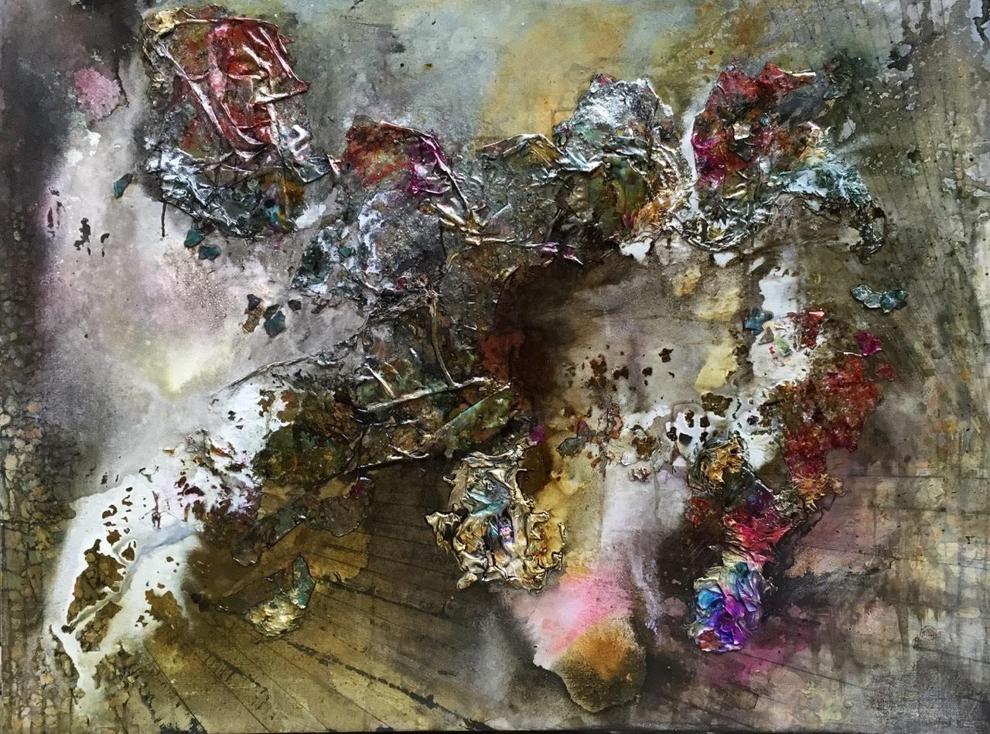 It's usually a bad idea to equate a serious visual artist's artistic style with their personality. Traditional forms such as painting and sculpture tend to be private affairs and a distinctive personal approach is not something easily come by. But in the case of local painters Barbara Mink and Stephan Phillips, the analogy is difficult to resist.
Mink is a Senior Lecturer at Cornell's Johnson Graduate School of Management and has long been a public figure in local politics, journalism, and culture. Her exuberant abstract expressionism continuously evolves, incorporating new techniques and imagery.  
Phillips' austere, tonally nuanced still lifes recall the twentieth century Italian master Giorgio Morandi (1890-1964). Synthesizing traditional and modern approaches to the genre, Morandi composed exquisite little worlds from mundane objects—bottles, vases, and suchlike—their identities often obscured towards abstraction. But Phillips brings his own slant to the Morandian tradition, informed by his history as a narrative painter of religious scenes and quirkiness superficially at odds with the conservative-seeming technique. 
This September at the State of the Art Gallery, "Drawing Space" pairs the two sui generis artists, both cooperative members. (The show runs from Sept. 2 through 27.) 
I spoke with Phillips recently about his work and his trajectory as an artist. Like his paintings, he is soft-spoken and earnest but with a streak of wry humor animating the proceedings. 
Phillips studied at Syracuse University for a few years, where he learned art history. Between 1994 and 1998, he studied at the Cornish College of Art in Seattle, where he earned a BFA. "I wanted volume and space and light," he said of his interest in traditional observational  art. But "the painting teachers there couldn't have taught you if they wanted to." 
He painted Biblical subjects in what he described as a half-abstract, half-traditional approach of his of his own devising—something that made him a misfit among his peers. "I continued to do that after school for a few years," he recalled. "And that just sort of ground to a halt, and I just couldn't go on."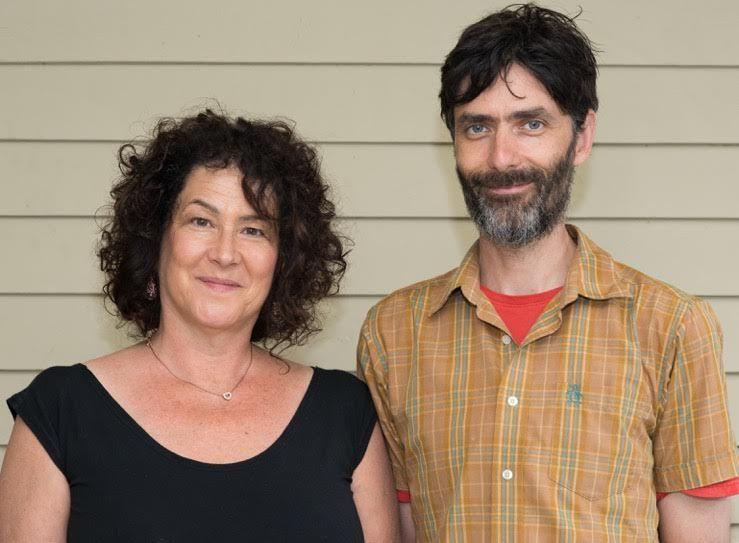 Around 2003, "I made my first still-life painting, which was just a colander full of apples." A distinctly private individual, working from imagination and from the observation of objects represent the two poles of his work—with the latter his forte. "I was never comfortable working from the figure," he admitted. "I didn't want a person in there with me. I wanted to do it by myself."
According to him, his work has become less literal in its depiction. "For me it's all about getting the correct tone and color and drawing all working together—that you believe in the space, that you believe in what you're seeing." He manipulates color to get the atmosphere he wants—for example in his still life of a crumpled U.S. Flag, with its strong but tamped down color. 
Phillips is adamant about the deeply meaningful quality of artifacts and the relationships that they enact. "I liked objects that had some sort of content to them," he recalled. "But I also had to work to dismantle any story that started to creep in. 
Phillips is interested in evoking the quiddity of objects—a sense of inner life beyond everyday use and traditional iconography. As we discussed, he seeks to build a cosmology, one both private and sharable. "My voice is archaic," he writes in a statement. "It does not recognize the gloss and distraction of modern life. It looks to find itself in the being-ness of things and the presence of light."
He is enthusiastic about showing with Mink. "It always looked to me like my painting could have emerged from her paintings somehow," he suggested, pointing out his Palette and Brushes, with it's hints of strong color. 
Although Mink s work is generally more "colorful," she is skilled in incorporating areas of black-and-white and muted color that give her work additional complexity. 
Phillips' work here dates from the last five years, an indication of the pace at which he works. The most striking development from this year is his substitution of his own constructions for found objects. Built of wire and papier-mâché, they bring a renewed sense of strangeness to a handful of pieces here.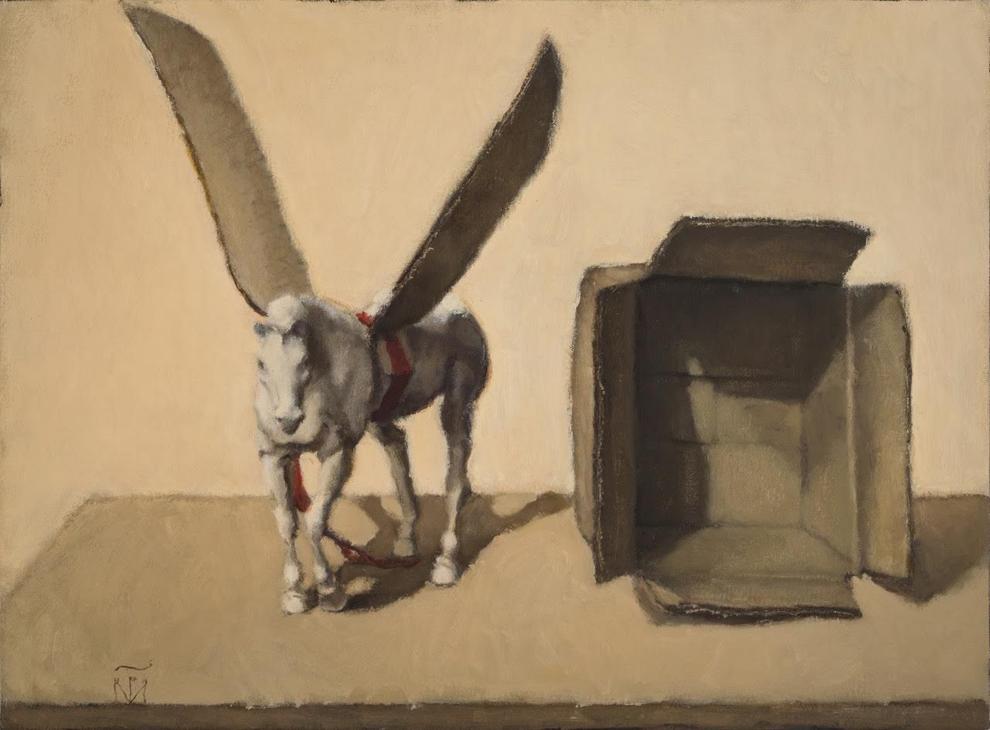 Among these, Relic stands out, both for its exquisite painterly touch and for the oddity of its central subject. The scene is rendered entirely in pale browns and off-white. The background space is a sequence of flatly painted horizontal bands with the grayish band in the center, which reads as a tabletop. On it sits a pale, skull-like thing—elongated and covered in round holes. To the left, it rests on a small fold of cloth. Echoing the fabric is a similarly shaped shadow—cast sharply right, as are most of Phillips's shadows. 
Skulls are something of a cliché in still life, traditionally alluding to mortality in vanitas paintings. Phillips himself has used the image before, and he includes one here in Horse Skull with Open Book. The anatomical fussiness seems bland compared to the otherworldly presence of his handmade "relic." 
Hubris (Glee) and Green Snake center on 
tube like papier-mâché forms. Hubris takes place, again, against flat bands of color—Phillips' default background construction, here as elsewhere suggesting landscape. The sky is black and the ground the color of sand. Pale gray with orange dots and careful shading, a branching coral-like form hovers in the air, casting a dramatic shadow. Indeed gleeful, it uncannily evokes a figure jumping. Phillips' Snake is a hose-like coil occupying a corner filled-out in pale, faintly orange tones—the creature itself decked out in a green that seems positively lurid once you've accustomed your eyes to the artist's austerity. 
Painted from oddly draped constructions, Angel Bestirring Itself and Ministering Angel are less compelling. Painted in a distinct palette of grays (unlike anything else here) the suggestion of the figures seems awkward. 
Also recalling the artist's roots, two paintings incorporate the winged horse of Greek mythology. In Pegasus and Empty Box the animal is a realistic looking white toy modified with two tongue-like flaps. A cardboard box to the right faces us with its darkly shadowed opening, its edges palpably worn. In the Blood is even more striking, centering on rich red Pegasus. He faces to the left, forelegs raised. To the right, he appears to be sinking into the sand, wings casting dark, dramatic shadows.  
In Self Portrait, Phillips' shifts his head and shoulders to the right, breaking the expected symmetry. His dark hair is shaggy and his countenance forlorn. The usual brown and beige tones are punctuated by unexpected bursts of cyan—around his collar and more mutedly in his eyes. 
I've written extensively about Mink's work before, but it never gets old. While Phillips seems to progress through subtle shifts and refinements, Mink is an experimenter, continuously bringing in new techniques and motifs. Every major show of her work features something unexpected. (And she shows often, at the SOAG and elsewhere.)
In her most recent paintings, Mink has made extensive use of wrinkled "skins," thin translucent pieces of acrylic paint, which she collages to her canvas like pieces of foil. The technique derives from the Canastota, New York painter Susan Roth, who had an important four-decade retrospective at the Everson Museum in Syracuse this summer. 
"Drawing Space" features several mostly smaller pieces in which the skins define the work. The way Mink uses them recalls Roth's in that they combine translucency with a feeling of weightiness. Like Roth, she obscures clearness with further layers of material—although Mink is primarily using ink here, rather than paint. And although this is not new for her, the juxtaposition of thick material with thin washes also echoes Roth. 
Kimono is a particularly rich example, with skins colored gold and turquoise jagged against a splotchy thinly colored backdrop.
Mink has expressed a desire to combine her work with skins with the geometric, often perspectival drawing that she has used as an element in the past few years.A larger, landscape format piece, Past is Present, suggests that she might pull off such an improbable combination. The background is thinly painted, shadowy browns and blacks. Drawn lines fan out from the left in a suggestion of depth. A curtain of skins in lurid metallic colors hangs up front. White ink brings these disparate zones together: here cloudy and amorphous, there running in opaque milky trickles. 
Mink is also showing three large, landscape-format pieces from last year. It's indicative how rapidly she evolves that these already feel like old news—which is not to say that they're bad paintings, though I prefer the newer work here. Erasures I, II, and V combine ghostly abstract drips and fogs with precisely drawn lines depicting fantastic Middle Eastern architecture in a manner that echoes Giorgio Di Chirico (1888-1978)—another Italian modernist with an eye on classical tradition. 
Mink's work has, for all its sophistication and depth, a certain crowd-pleasing easygoingness—filled with a color and liveliness that I believe appeals even to people unversed in the history of painting. Phillips', by contrast, is not so ingratiating. He seems to offer less: less color, less movement, less action. He takes things we might think we know and makes a world that is personal and strange but which feels deeply real. It's a place that is both nostalgic and timeless. It's quite unlike anything else in local art. 
This will be Phillips' final exhibit at the SOAG as he is planning on leaving the gallery. He intends to keep showing locally every couple years, more often than in the past. 
 "Drawing Space" is a perfect title for this most memorable of two person shows. Both artists are like architects working with color, tone, lines, and shape to build environments that defy the familiar. So many contemporary artists, by contrast, seem more concerned with their false facades—with easily legible messages and effects that don't provide space to dwell.