Local actors and artists are set to debut a new parody Broadway musical Albany Bound: The Musical at the new Ithaca drive-in movie theatre on Saturday, Aug. 1. The performance will serve as a fundraiser for Lesley Danks Burke's campaign for state senate. 
Albany Bound: The Musical is a one-night only event and a movie written in total by Rachel Lampert, co-directed/edited by Lesley Greene. The musical stars Christian Henry, Jahmar Ortiz and includes a musical cast featuring Ellen Jackson, Erin Hilgartner, Natasha Bratkovski, Benno Ressa Stephen Nunley, Eric Brooks, Travis Knapp, and more.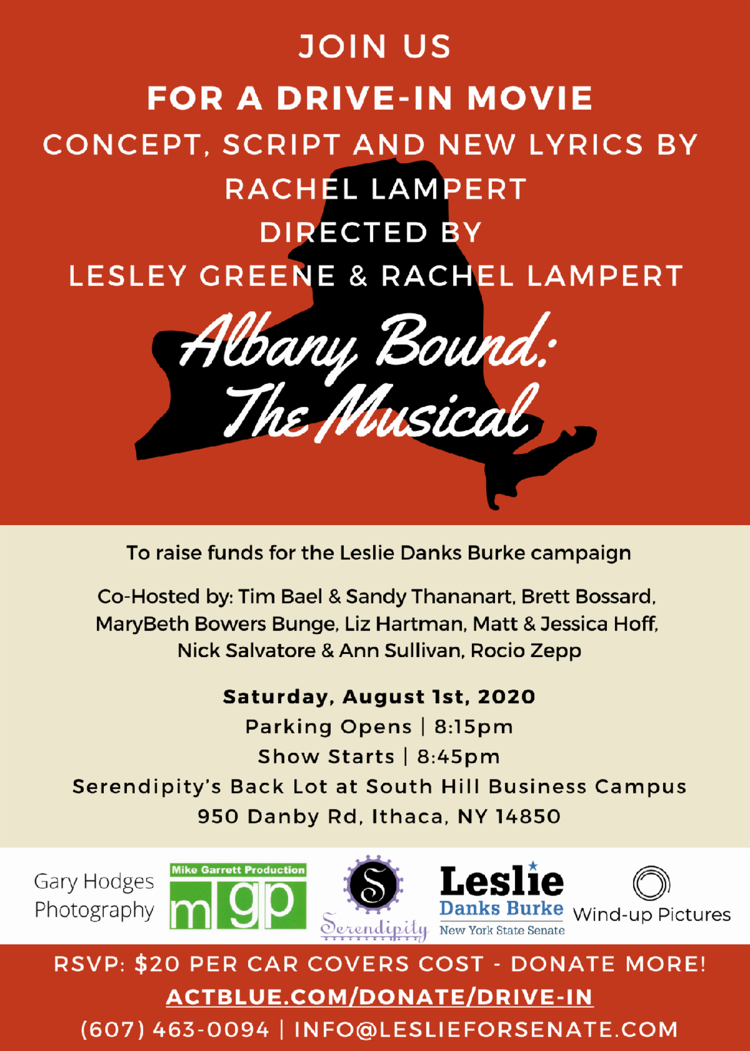 "In an uncertain time like this, we could all use some levity, and what better way to bring some joy than a drive-in movie musical? I hope this movie brings awareness to Leslie's hard work, determination, and true leadership for our community," said Rachel Lampert. "I'm excited to share our work on this musical with our community and support Leslie's campaign for State Senate in the process."
Danks Burke is competing for the 58th state senate seat. Earlier this month she received support from Sen. Chuck Schumer, New York State Laborer's Union, New York State United Teachers, as well other Ithaca local support; and she has continued to furnish her campaign with grassroots contributions. 
The drive-in movie will be held on Saturday evening at Serendipity's Backlot at the South Hill Business Campus in Ithaca. For more information and to purchase tickets  visit this page. Parking opens at 8:15 p.m.; show starts at 8:45 p.m.