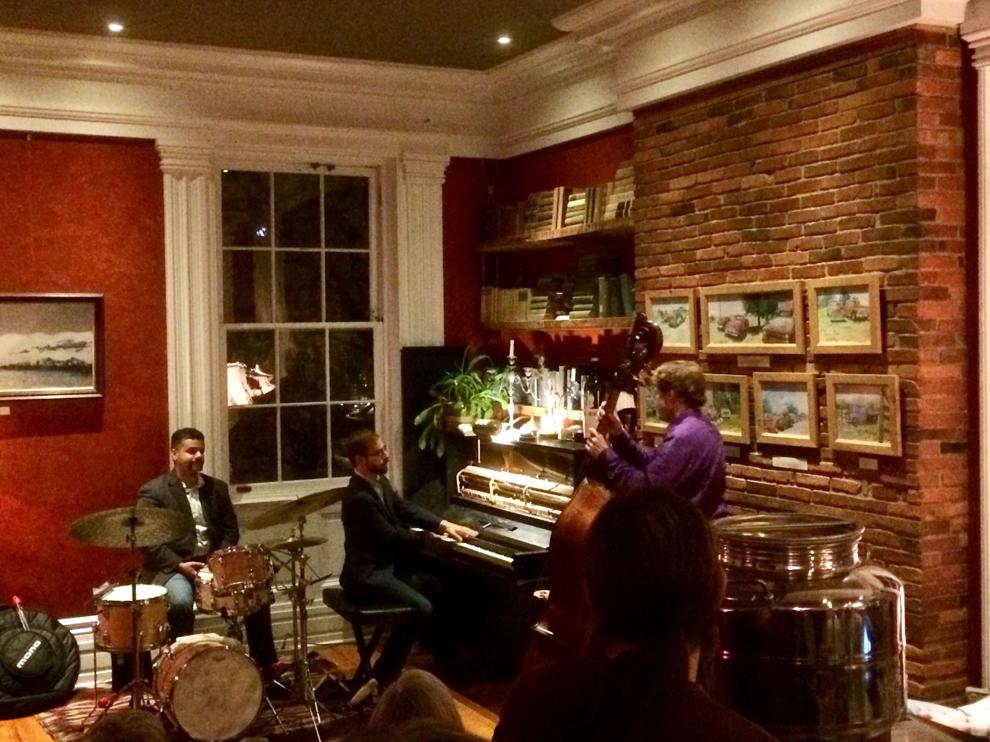 Spring has finally arrived and, along with warmer days and the beauty of blossoming trees and flowers, classical music lovers can enjoy the special treat of our outstanding international chamber music festival Mayfest, now in its 11th season.
Sponsored by Cornell's Department of Music and directed by faculty pianists Xak Bjerken and Miri Yampolsky, the festival this year brings back the acclaimed Chiaroscuro Quartet, four young London-based musicians who routinely perform on period instruments, that is, with gut strings and historical bows. They are joined by local keyboard artists, including the co-directors, the local jazz trio i3o, and a community-wide group of young performers, ranging from high school students to candidates for doctoral degrees at Cornell.
The festival begins on May 18 and, unlike previous years with as many as seven concerts, this season will have just five programs, closing on May 22. Three evening concerts are in Barnes Hall, the one on Sunday afternoon has the beautiful setting of Cornell's Laboratory of Ornithology, while the jazz concert on May 21 is at the popular loft space at the Carriage House Café on Stewart Avenue. Free parking will be available at all three venues. Evening concerts begin at 8 p.m., while Sunday afternoon's is at 3 p.m.
Because the Chiaroscuro Quartet plays a central role in this year's festival, they have selected a good portion of the repertory for these concerts, giving us the chance to hear quartets written for period instruments by the leading composers of the 18th-century Viennese classical music period—Mozart, Schubert, Haydn, and Beethoven. They also play a quartet by Fanny Mendelssohn. And, in keeping with Mayfest tradition, there will be contemporary compositions, including a brand new premiere.
When I spoke last week with the husband-and-wife team who founded Mayfest in 2008 and have organized it every year since then, they were very excited and happy to be welcoming back this special quartet. When these young musicians first came to Ithaca in 2012, everyone who heard them realized that they were just fabulous. And the Mozart concert they played, along with our own Malcolm Bilson, was one of the truly special Mayfest concerts. Since then they have been in great demand all over Europe, concertizing in the major cities there, and have made a successful tour of Japan. Strange to say, Ithaca is only place they have performed in the U.S. Up to now their schedule had not allowed them to return here, but last spring, Miri said, they got in touch and asked about Mayfest plans for this year. They were free to come, and we will be the beneficiaries. Not only will they play as a quartet, but all four will perform in other chamber works.
Formed in 2005, the Chiaroscuro Quartet comprises first violinist Alina Ibragimova, a native of Russia, who also has an established career as soloist with the important orchestras in the UK and Europe, where she receives, rave reviews. She is joined by Spanish violinist Pablo Hernán Benedí, Swedish violist and orchestra player Emilie Hörnlund, and French cellist and baroque specialist Claire Thirion. For some mysterious reason they have not played anywhere else in the US. But, naturally, they are right at home in Ithaca, as Cornell has been a major center for teaching and practice on period instruments for many years.
The local artists who are performing with them include, of course, both Yampolsky and Bjerken, along with Cornell musicologist and collaborative pianist on both modern and historical instruments Roger Moseley, a native of England, and pianist Dmitri Novgorodsky, who was born in Ukraine, has performed widely in the US and Europe, and joined the Ithaca College faculty in 2015.
Opening Mayfest is a surprise treat this year, the first free concert. It will feature a mixture of students, plus Miri. Both co-directors wanted to present a program featuring the wider community, and especially younger performers. "There's lots of talent here." The music remains basically a secret, but it does include vocal and standard chamber works, plus jazz. Grad and undergrad students from Cornell plus students from Ithaca High School are performing.
Program II opens with the Chiaroscuro Quartet's first violinist Ibragimova, playing with Bjerken in the familiar Brahms Violin Sonata No. 1 in G major, Op. 78. It has the name "Regenlied"  because of its thematic connection with two "Rain Songs" from Brahms's Op. 59. It also has links with other Mayfest offerings. Then pianist Novgorodsky joins Bjerken in a virtually unknown work, Sonata for Piano 4-Hands (2014) by American composer Stephen Hartke, who is chair of composition at Oberlin College. He was here in Ithaca in April at Ensemble X's final concert, where Bjerken played the premiere of a Hartke concerto composed for him. This sonata in three movements, and Xak calls it "where Stravinsky meets jazz, with lots of colorful counterpoint and fun dance rhythms." The two pianists will be recording it next month. The second half introduces the Chiaroscuro Quartet, who will open with excerpts from The Art of Fugue, BWV 1080, a large unfinished work by J. S. Bach, designed to consider and illustrate the multiple ways of a setting a simple fugue subject. Various arrangements, which have included changes in the order of examples given as well as in instrumentation, have been made over the years. Then comes another unusual work, the String Quartet in E-flat major by a composer we almost never hear, Fanny Mendelssohn. Had she not been the older sister of the brilliant Felix, we might not know of her at all. She was, however, an accomplished pianist and composer, yet, like many women of her day, was discouraged from undertaking a musical career. She did write some lovely songs and chamber music, somewhat in the style of her brother. How fortunate we are to hear her composition.
The special setting for Program III, is the Cornell Laboratory of Ornithology, where the performance has the backdrop of a huge glass window, with birds flying by. Hearing Ibragimova playing a Bach unaccompanied suite there last time was an unforgettable experience. The Mozart String Quartet No. 15, in D minor, K. 421, opens the concert. This quartet is the second of the six dedicated to the principal creator of the genre, Haydn, whom Mozart admired enormously and from whom he learned a great deal. Much of this work, written in the dark key of D minor (as were the great piano concerto K. 466, the fate music in the opera "Don Giovanni," and the Requiem interrupted by Mozart's death), conveys a sense of sorrow and disquietude. The Chiaroscuro Quartet won the most prestigious CD award in 2015 for their performance of this special piece. Then comes the Piano Trio No. 2 in C minor by Felix Mendelssohn. Miri told me that she had heard Roger Moseley play it at a Cornell Midday Music concert, and, finding it wonderful, asked him to perform at Mayfest. Joined by Benedí and Thirion from the quartet, he will play on a 1835 Joseph Simon 6 ½-octave fortepiano. The program closes with the Schubert String Quartet No. 13 in A minor, D. 804. It is called "Rosamunde" because of  numerous references to incidental music that the composer wrote for a stage play of the same name. And despite the quick tempo and cheerfulness of the last movement, this late quartet conveys a sense of deep emotion and sadness.
The jazz trio i3o (pronounced "13 degrees") is made up of IC music professors—Nicholas Walker, double bass; Greg Evans, drums; and Nick Weiser, piano. They play in schools, retirement centers, and many other community places. They all believe, according to Walker, that "music elevates the human condition." They will do Program IV in the loft at the Carriage House Café. "This is a favorite place for our audiences," Xak and Miri tell me, and a "great space." Indeed people come and relax, have a drink and some snacks, and, Xak adds, the "drummer is unbelievable." They have no announced agenda, and there will be some surprises.
To close the festival the Chiaroscuro Quartet will perform two classic quartets, and three members will join with Yampolsky in a Brahms grand finale. Joseph Haydn's String Quartet No. 63 in B flat Major, Op. 76, No. 4, is the fourth of six quartets, the last complete set, and one of the most renowned, from this master. It has the nickname of "Sunrise," due to the rising theme over sustained chords at the beginning, and provides is a great example of the highest level of instrumental writing for this genre. After performing only late quartets by the masters, the Chiaroscuro Quartet now turns to the earliest set by Beethoven, to play the second of six—the String Quartet in G major, Op. 18, no. 2, composed probably in 1799. This entire quartet has been considered as partly an homage, partly a quick-witted critic of Haydn, with whom Beethoven always did not get along too well. The slow movement, with its interpolated Allegro presents a beautiful but ironic mirror of a similarly structured finale of Haydn's Op. 54, no. 2.
A world premiere in this festival is a work for 2 pianos called "Little Darknesses" by the other woman composer, Elizabeth Ogonek, who, like Hartke, is on the music faculty at Oberlin. The work has been written for the Yampolsky-Bjerken team. Ogonek is unable to attend this performance as she will be in Chicago the night before for the premiere of her composition commissioned by the Chicago Symphony Orchestra and conducted by Esa-Pekka Salonen. With a Fromm commission grant, she will be composing a concerto for Xak. The festival closes with a favorite piece, the Brahms Piano Quartet No. 3 in C minor, Op. 60, where Yampolsky is joined by Ibragimova, Hörnlund, and Thirion. With the "best slow movement ever written," she calls it a powerful piece that ends the festival on a positive C-major chord. Both Xak and Miri point to this quartet's strong thematic links with the "Regenlied" violin sonata of Program II, the Mendelssohn trio of Program III, and the songs in the very first program. What a strong ending that really ties everything together !
Come to the concerts, listen to this marvelous music, and enjoy discovering the links. For more information and tickets, go to www.mayfest-cornell.org.