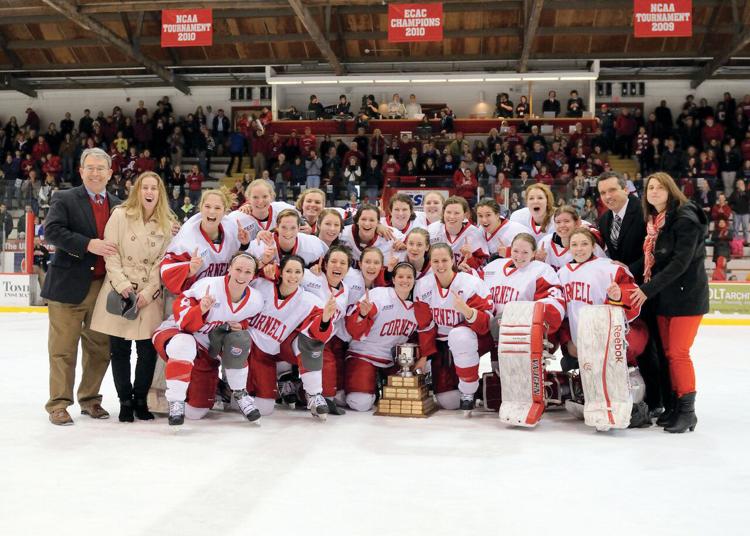 "All that stood in the way was Harvard." 
It's a phrase written word-for-word only once in Forever Faithful: Celebrating the Greatest Moments of Cornell Hockey, but it could have been written plenty more as author Jim Roberts recounts a small handful of the most memorable Cornell hockey games throughout the years.
Harvard held the advantage in Cornell's early years, reigning victorious by scores of 18-0 and 13-0 in 1958-59. As Roberts writes, the tables were turned, live chickens were literally tied up and Lynah Rink, with all the fish thrown on the ice throughout the years, became a seaman's wharf as the two Ivy League institutions began to rival each other in men's hockey. 
There was the 2-1 Cornell win in February 1962 — "the first real experience of Lynah Faithful," according to goaltender Laing Kennedy '63. Then the wins in March 1990 that sent the Big Red to the ECAC semifinals; really all the highlighted games in the 1990s were Harvard. 
Roberts and classmate Arthur Mintz, the voice of Lynah since 1987, paint these rival games and others with nostalgia in Forever Faithful, the 280-page hardcover published last month by Three Hills, an imprint of Cornell University Press ($24.95). Ken Dryden wrote the foreword and while the book briefly touches on the rink, the fans and the rivalries – don't forget Boston University – it focuses mainly on the memorable games.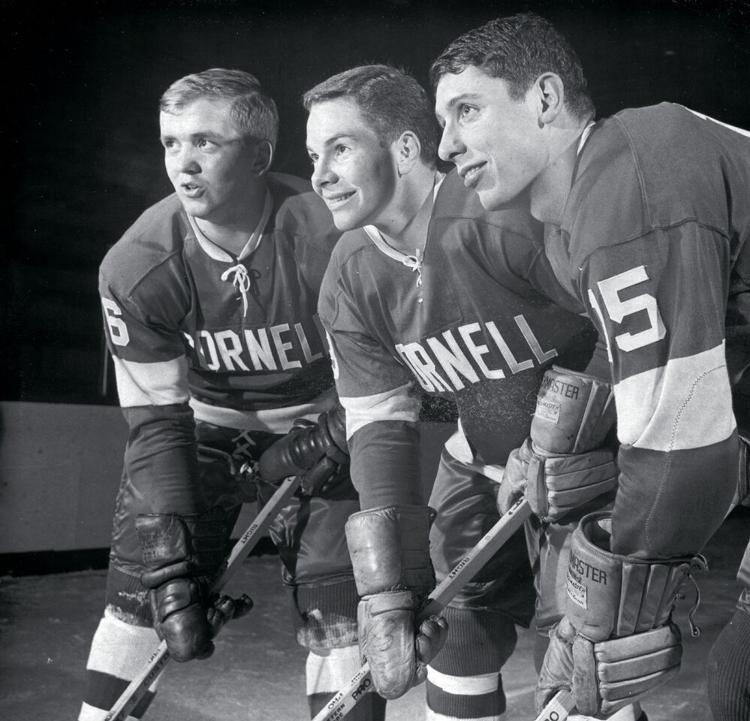 A 1971 Cornell alumnus who never saw the Big Red lose at home in Lynah – the team had a 63-game home win streak that started in 1967 – Roberts researched newspaper accounts and interviewed more than 50 coaches and players for the book. The living room–table special celebrates 24 individual men's and women's games wrapped up with season accounts, though Roberts doesn't waste any pages to tell readers the memory banks weren't emptied for the writing of this novel. 
"[These games] were selected to provide an overview of different aspects of the Cornell program's history," he writes in the prologue, "but they are not the complete story, which is far too deep and rich for a single volume. You probably have vivid memories of other games. I hope you do." 
The men's team, founded in 1900, receives top billing with a look back at its start – it played all three of its first-season games in Philadelphia – to milestones such as playing and practicing on Beebe Lake and holding a heated rivalry against Boston University. There's history on the start of Red Hot Hockey at Madison Square Gardens and the longest game in Lynah history …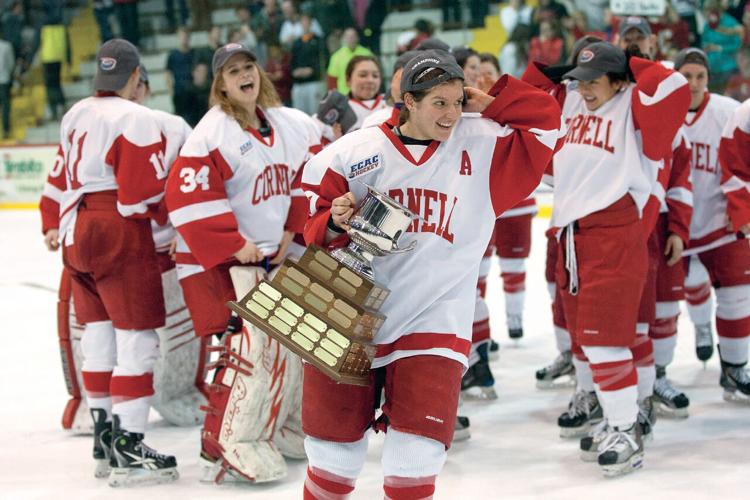 … which the women's team broke in less than 24 hours when it defeated Boston University 8-7 with 10 seconds remaining in the third overtime period of an NCAA quarterfinal March 10, 2012. 
The women's team came along in 1971 thanks to the determination of Regina Baker, a recent Lansing High School graduate who recruited Lansing teacher Gail Murphy to help the summer before her freshman year at Cornell. As the culture was in the early 1970s, "Cornell's athletics administration was reluctant at first – hockey was too dangerous for women, some believed," Roberts wrote. 
The team borrowed equipment and paid $40 an hour to use Lynah, playing its first games in 1971-72. It was a tough early go in the days before Title IX, but it was Cornell that won the first ever Ivy League women's ice hockey championship in 1976 with a 3-2 victory over Brown University, where Roberts picks up the women's greatest games timeline. 
They won the first six, concluding with a shared title with Brown in 1981 when the teams played to a 4-4 three-overtime tie but then were not allowed to continue.
"We were disgusted because they wouldn't let us finish the game," Diane Dillon '83 told Roberts. "As an athlete, I felt cheated. There was some thought, I guess, that women couldn't handle it. It was ridiculous. It gives you an idea of where women's sports were at the time. They would never do anything like that today." 
The book then fittingly closes with a beaming group of women posing on the ice next to the 2013 ECAC championship trophy, Cornell's third ECAC tournament title in four years. 
Forever Faithful is full of photos, some filling rows of pages to tell the story and others dating back to 1907 on Beebe Lake. There's championship smiles, celebration pics, game action and an appearance by men's head coach and alumnus Mike Shafer's son, John, when he was an infant celebrating the 1997 ECAC championship. His No. 1 motion with his finger says it all.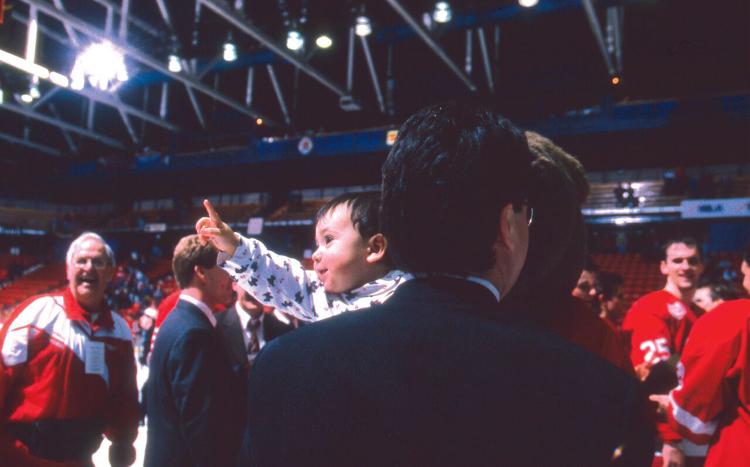 The full-page photos alone make it a good coffee table book for company, whether they're a Faithful fanatic or not. It's an easy read on Cornell hockey history by looking at some of what Roberts and company feel are the top-notch moments. 
It's also chock full of quotes, memories and game recaps that show what Lynah and Cornell hockey means to the university, the alumni and the town. Former Cornell player Brad Chartrand, in a look back at a November 1995 win over Harvard in which he had a hat trick, might have been the most notable to say so. The center played five years in the NHL.
"Two moments stand out to me – and number one was scoring that hat trick against Harvard," Chartrand told Roberts. "The other was scoring the game-winning goal [for the Los Angeles Kings] against Patrick Roy in game 6 of the Stanley Cup playoffs. But I rank the Harvard hat trick above that, because I'm still good friends with the players on that team and it meant so much to the program. It really was the top moment in my hockey career."
As it was for many, whether their career ends in Lynah or continues to professional three-star lights. That goes for the women's team as well. Though the pages devoted to them are limited — and to be fair, the women's team is less than half as old as the men's — they get their fair due in the 2010s as the team started to take off behind names such as Brianne Jenner and Laura Fortino. The book closes with their accomplishments in the 2013 season, in which Cornell defeated Colgate in a best-of-three quarterfinals by scores of 3-2 and 5-4. 
"Somehow," Roberts writes, "they had managed to win both games while leading for only one second." 
They defeated none other than Harvard, 2-1, at Lynah for the ECAC championship and NCAA Tournament berth. 
The downside to Forever Faithful is the stories unable to be told. Compiling a book of this type means there has to be a cutoff, and for Roberts it was the end of the 2013 season. Yet Cornell hockey isn't in a lull. As of Nov. 27, 2017, the men's team (9-1-0) is ranked No. 5 in the nation and the women's team (7-3-1) is ranked No. 7. There have already been numerous games on each side that are worthy of inclusion and would make incredible reads. 
Give it some time and we may have a Part II to add to our coffee tables since the faith does last forever. And even then will Harvard likely still be standing in the way. •
Wonder what year the men's team was first ranked No. 1 in the nation? Or the year the women and men won ECAC titles in the same year? (Well, you might remember that one; it was fairly recent.) How about what teams played the first game at Lynah? (It wasn't Cornell.) 
We can't give it all away. Forever Faithful is available at cornellpress.cornell.edu.