Um… "Cats." First of all, I never liked "Cats," even after sneaking into the Winter Garden Theatre in 1981 after a matinee to look at the set. Until now, I'd seen one low-rent regional production that didn't change my mind. But Tom Hooper's colossally wrong-headed, overwrought and overthought film has mined new territories of "What were they thinking?" My sympathies to a talented cast. Everyone should have a hairball like this on their resume, and Ian McKellen has now made a dopier film than "The Shadow." Twenty minutes in, I was mewling for mercy. By the end, to quote comedian Brian Posehn, I wanted to set my eyeballs on fire and bury them.
James Corden really doubled down this year, not only appearing in "Cats" but "Trolls World Tour." I had a Troll doll as a kid, and just between us, I always wanted to find whoever gifted me that creepy little thing and give him a piece of my 10-year-old mind. This hyper bit of musical fluff didn't make me any more of a fan of unfamiliar music genres, and made me like songs like "Barracuda" and "Crazy Train" a lot less. (You know how much kids love Ozzy Osbourne.)
Floria Sigismondi's "The Turning" has the stupidest non-ending I think I have ever seen, not just in the horror genre but in any genre. It's the umpteenth needless remake of Henry James' "The Turning of the Screw," but I was down for the idea: a young governess (Mackenzie Davis) is hired to move to a spooky estate and look after two strange orphan kids. The movie is little more than a delivery system for hack jump scares and enigmatic weird behavior from the children, played by Brooklynn Prince and Finn Wolfhard ("It" and "Stranger Things"). Then the movie literally shoots itself in the foot in its final 60 seconds. What a cheap little cheat "The Turning" turned out to be.
When he's waxing rhapsodic about the MCU on his podcast "Fatman Beyond," Kevin Smith always talks about good fan service. Too bad that "Jay and Silent Bob Reboot" is such lazy, aimless fan service. It takes cheek to remake "Jay and Silent Bob Strike Back" with updated gags about evolving comic book culture, satiric shots at intellectual property and cameos galore. Ben Affleck even has one good scene that hearkens back to the actual beating heart of Smith's "Chasing Amy" but it's still a feeble echo of better work.  
 Is the whole "Scooby Doo" thing worth much beyond kitsch and the rosy glow of nostalgia? "Scoob!" shoves the Scooby group into a Hanna-Barbera "shared universe," not because it's a good idea but because everyone else is doing it. It starts out as "Scooby Doo Babies," and we see a greatest hits montage of series moments that then turns into a space adventure for no really good reason. "Scoob!" is aimed more at parents and animation fanboys than kids. (You know how much kids love Tinder and Simon Cowell gags.)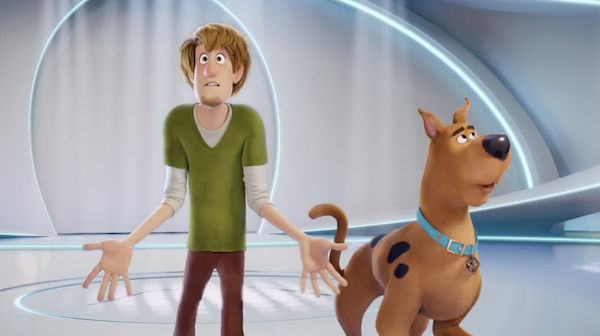 "Impractical Jokers: The Movie" barely counts as a "movie."  The "Impractical Jokers" crew, four improv "comics" – Joseph Gatto, James Murray, Brian Quinn and Salvatore Vulcano – punk unsuspecting people with R-rated variations on "gags" that "Candid Camera" pulled 70 years ago. One guy with a microphone and earpiece works the crowd while three of them watch via monitors and egg the action on. It's that whole macho Jersey thing that I always found mean-spirited. The "story" - a road trip to Florida – involves an opening "prologue" with the Jokers as younger versions of their obnoxious selves crashing a Paula Abdul concert circa 1990. All "scripted" scenes with "humorous dialogue" and "plot" are beyond dire.
There are lots of great films about Al Capone, but Josh Trank's "Capone," starring Tom Hardy ("Dunkirk") in the title role, ain't one of them. It's a character study with no character, and very little happens.  Sporting fine suits and a scarily realistic horseshoe-shaped scar on his face, Hardy is all dressed up with nowhere to go. It's all much muttering about nothing. Over and over again, Trank sets up stories and characters that never go anywhere. There's a lot of interest in Capone's financing, but it all ends in a shrug. Matt Dillon plays a composite character based on Capone's partners in crime who shows up to visit, but may in fact be a ghost. Why? Who cares?
Literally and figuratively, Matteo Borgardt's "You Never Had It: An Evening with Bukowski" is the runt of this year's documentary crop. You'd be better off reading any of writer and poet Charles Bukowski's 60+ books than watch him smoke, drink and deflect about his work. Culled from a long 1981 interview shot on Betamax tape, the piece drags at less than an hour, and reveals little about the art of writing, and not much more about the art of smoking and drinking.