I was not familiar with British travel writer Bruce Chatwin prior to seeing Werner Herzog's new documentary "Nomad: In the Footsteps of Bruce Chatwin" (Music Box Films, 2020, 89 min.), now playing at Cinemapolis' "virtual cinema". One thing that Herzog's film is not is an A-Z cradle to grave bio-doc that might play on A&E. Herzog has called his film an "erratic quest", and that's just what it feels like.
As much as the film is about Chatwin's eccentric career, "Nomad" is really about the impression that Chatwin made on Herzog. The film was commissioned to mark the 30th anniversary of Chatwin's death in 1989, and he and Herzog were close friends who were attracted to exotic, inhospitable places, wild characters and big ideas about the nature of the universe. His book "In Patagonia" established him as a travel writer, but Chatwin saw himself as a storyteller, and also wrote fiction.
And so Herzog's offbeat yet fascinating "Nomad" examines aspects of Chatwin's life and career as a blind man might examine parts of an elephant: the filmmaker travels to the Australian Outback, Patagonia and the Black Mountains in Wales, and also sits down for interviews with Chatwin's widow, Elizabeth Chatwin and biographer Nicholas Shakespeare. The interviews are really more like conversations, and Herzog has as many memories to share as his subjects. In one of the film's most touching moments, Herzog shows off the rucksack that Chatwin left him, and that Herzog still carries with him on his many trips and travels.
It's refreshing to see a film in this style that admits its subject is too complex to be reduced to a standard biography. Instead, we get a few chapters, a few moments from, as they say, a much larger work.
***
Cornell Cinema is back for the semester with its own slate of "virtual cinema".  Jesse Moss and Amanda McBaine's documentary "Boys State" (Apple-A24-Concordia Studio-Mile End Films, 2020, 107 min.) is fascinating and infuriating in equal measure. Documentaries about contests of one kind or another have a built in watchability factor as we root for our favorites and hiss after the rest. "Boys State" follows one week in the lives of a thousand teenage boys attending Boys/Girls State in Texas, meeting to build a representative government from scratch, all the way up to election night.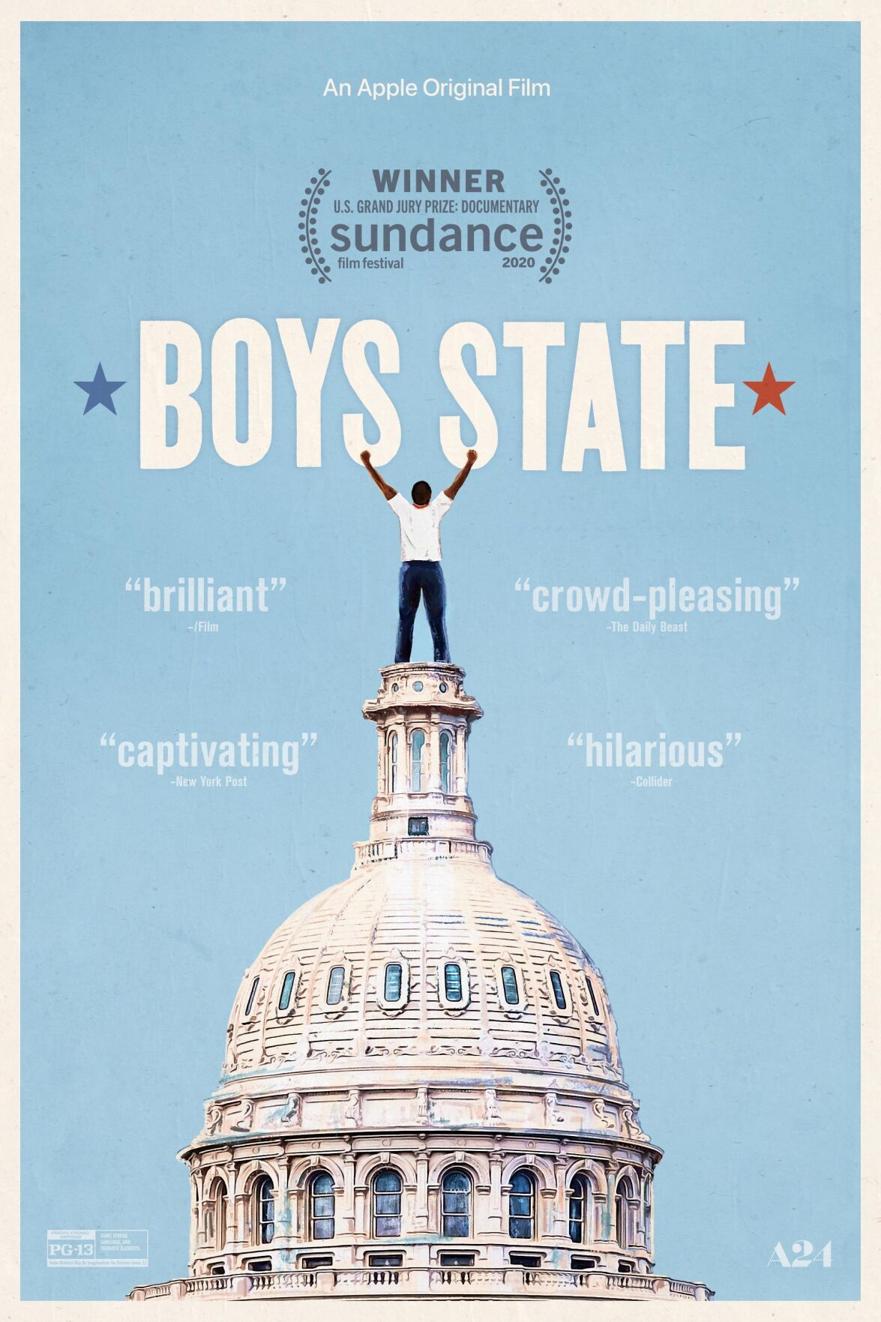 So "Boys State" is fascinating in that its shows young men embrace the electoral process and take it for a test drive. Not surprisingly, your own political bent will influence your opinion of these kids, both the ones who seem like they're doing it for the right reasons and those who see the whole thing as a game to be rigged. One kid admits that he'll be lying, even though he doesn't think politicians should lie. And even though these are largely white Texas conservative kids, some of them seem pretty hip and well-educated.
But where are the girls here, people? Why are we listening to a roomful of largely white males holding court on the pros and cons of abortion? (Personally, I'm sick of white males calling the shots on women's' right to health care, just so my bias is clear.) And why are Texans so infatuated with guns, with the endless violence and school shootings and church massacres? Maybe Moss and McBaine are working on a companion doc called "Girls State". Let's hope...
To reserve a free "ticket" to watch "Boys State", go to https://cinema.cornell.edu/boys-state before noon on Tuesday, Sept 15 and follow the link there.