I used to be a film critic, but now I'm just a guy who goes to the movies sometimes. If you saw a great movie that's not listed here, I didn't see it.
Quentin Tarantino's Once Upon A Time…In Hollywood was marketed as Q.T.'s take on the Manson murders, but it's really a loving, almost fetishistic tribute to the profession of acting, show business history and the bromance between a struggling, neurotic actor (Leonardo DiCaprio) and his Zen master stunt double (Brad Pitt – just give this guy the Oscar, already.)
Eddie Murphy could legit win an Oscar, too. Craig Brewer's Dolemite Is My Name is the true story of dirty comic-turned-unlikely movie star Rudy Ray Moore. The less you know about Moore, the more this foul-mouthed "let's put on a show" epic will surprise you and make you laugh; it's Murphy's best performance since Bowfinger (1999).
Martin Scorsese's The Irishman, a three-hour-plus crime epic in the mold of Mean Streets, Goodfellas and Casino, utilizes CG de-aging tech to track Robert De Niro, Joe Pesci and Al Pacino across many decades of mobster life. Pacino plays Jimmy Hoffa so effectively that The Irishman becomes his film – fitting, given that Pacino and Scorsese have never made a film together before.
Scorsese is free to disagree, but comic book movies are cinema, and the MCU films have fired my imagination like no other franchise I can think of. Joe and Anthony Russo's Avengers Endgame is a three-hour culmination of the best fan service imaginable, bringing this unprecedented series of linked comic book films to a touching, poetic and satisfying conclusion. 
Jon Watt's Spider-Man Far From Home balances a fun high school field trip abroad with Spiderman's showdown with the powerful and seductive villain Mysterio (Jake Gyllenhaal). The filmmakers have a lot of fun blowing up the house at the end of the film. Can't wait to see where Tom Holland as Peter Parker goes from here. Horror filmmaker David F. Sandberg makes a sweet movie about friendship and making your own family in DC's Shazam. Goofy but grounded, the film features a great Mutt and Jeff comedy team in Zachary Levi, the newly transformed Billy Batson, and his pal played by Jack Dylan Grazer.
In Danny Boyle's Yesterday, a struggling singer-songwriter (Himesh Patel) gets hit by a bus and wakes up in a world where the Beatles never happened. (I wish everyone thought I wrote "Yesterday"). Featuring 19 Beatles songs, this is a joyous celebration of the impact of the Fab Four. The combination of Kate McKinnon's comic supporting performance and the Google sequences alone are worth the price of admission.
What's that you say? A feel-good family comedy about Nazis? Huh. Trust me, folks: Taika Waititi's JoJo Rabbit is the riskiest, most out-there piece of film I've seen in many a season. Kudos to Waititi for even attempting this, and the less you know going in, the more JoJo Rabbit will rock you.
I'll admit that I went into Mike Flanagan's Doctor Sleep with very low expectations. How would Flanagan tie Stephen King's sequel to Stanley Kubrick's 1980 version of The Shining, a movie that King has always hated? Well, not only has Flanagan made a sequel that actually improves on King's somewhat spotty novel, but by casting actors that resemble Kubrick's cast and rebuilding sets rather than poaching shots from Kubrick, the result is a much better film than I could have hoped for. Oh, and it's really scary.
***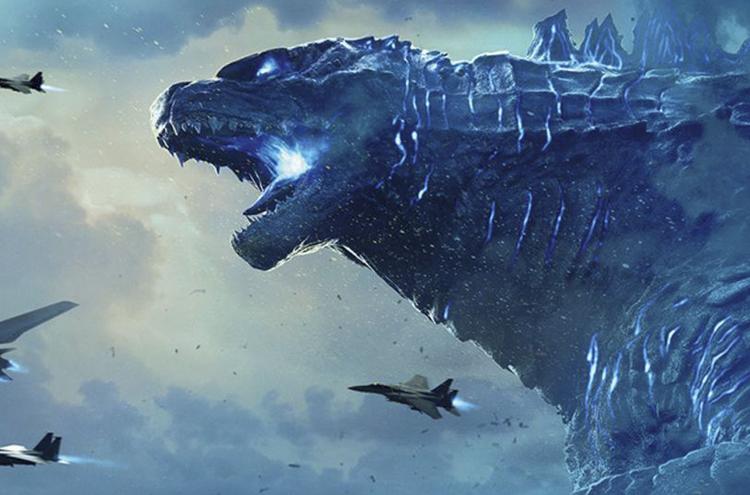 I have yet to see a decent American Godzilla movie, and Godzilla, King of the Monsters is a textbook example of why they suck so much: Godzilla and his mutant monster pals show up and wreck stuff. Cut to a bunch of overqualified movie stars watching the carnage on computer screens. I like Godzilla, I just don't need the overqualified movie stars. 
I think of the original Men In Black as one of the greatest comedies, but F. Gary Gray's Men In Black International is just not funny. I like Tessa Thompson but Chris Hemsworth, a natural comic, gives a vague and unfocused performance in the midst of all the overproduced globe-trotting FX sequences. X-Men Dark Phoenix ends its near-20-year franchise with a shrug and an unnecessary retelling of the Jean Grey-Dark Phoenix storyline with a recast bunch of X-Men Babies.