ACTION
In Ilya Naishuller's "Nobody," Bob Odenkirk fails to protect his family during a home invasion. As he pursues the burglars and ends up killing a Russian Mafia thug, this anonymous schlemiel morphs into John Wick, giving "Nobody" a black comic edge that wouldn't work with Liam Neeson. Odenkirk wrote for "SNL" and co-created "Mr. Show"; he got cast in "Breaking Bad" and "Better Call Saul" and became a dramatic actor in films like "The Post" and "Little Women." Now he's the midwest Jason Statham.
Joe Carnahan's "Copshop" is pulpy, classic "Spam in a Can" action, with various police officers and criminals involved in a siege inside a Nevada police station. In a cool cast led by newcomer Alexis Louder, Gerard Butler and Frank Grillo, Toby Huss ("42") steals the movie as a cackling, crooning assassin. "Copshop" earns comparisons to "Die Hard,"
ANIMATION
"Demon Slayer - Kimetsu no Yaiba the Movie: Mugen Train" is one of the boldest, craziest blasts of kinetic energy I've ever seen. Five demon slayers board a Harry Potter-esque train in order to combat any attacks, and the helpfully color-coded slayers end up being put to sleep and imprisoned in their own dreams. I especially liked the way that each character's emotional state is reflected in different animation styles; each slayer has six to eight different ways of being perceived.
You think you've seen it before: a dysfunctional family battles an army of robots. But "The Mitchells vs. the Machines" is as funny, well-structured and surprising as the best Pixar movies. Katie Mitchell is a classic misfit who can't wait to escape her suffocating family and go to film school. Her dad cancels her plane ticket and decides to take her across the country on one last family road trip. They stop at a dinosaur-themed rest stop when the robots attack. The way the plot unfolds is half of the fun.
Two minutes into Philip Gelatt and Morgan Galen King's completely bugnuts "The Spine of Night," an epic fantasy battle royale fought over the influences and power of a strange blue plant, you know this is a love letter to the adult animation of "Heavy Metal" (1981), Ralph Bakshi's rotoscope style in "Wizards" (1977) and "The Lord of the Rings" (1978), and bizarre sci-fi curios like "Zardoz" (1974). Not for children and not safe for work, it's pretty well wall-to-wall beheadings, eviscerations and male and female nudity. Gelatt and King serve up what they love with no apologies or half measures.
COMEDY
We need a new adjective to describe Adam McKay's "Don't Look Up." "Pitch black" is inadequate for McKay's polarizing comedy. Leonardo DiCaprio and Jennifer Lawrence play low-level astronomers who are tasked with telling the world about an impending "planet-killer" meteor. The world ignores the problem and gets back to tweeting. The phenomenal cast includes scene-stealers Cate Blanchett as 2021's version of Faye Dunaway in "Network," Mark Rylance and Jonah Hill. Meryl Streep's venal, shallow POTUS is her revenge on Trump for dissing her on Twitter.
Shawn Levy's "Free Guy" was my favorite summer film. A riff on "The Truman Show" centered on the gaming world, Ryan Reynolds plays a background bank teller in a massive 360-degree video game who realizes that he's in charge of his own destiny. Movies like this never get credit for ensuring that their screenplays are creative, hilarious, logical and surprising. "Free Guy" is bursting with comedy, cool ideas and a great cast that includes Jodie Comer, Joe Keery, Lil Rel Howery, Utkarsh Ambudkar and the always hilarious Taika Waititi.
The framework for Wes Anderson's "The French Dispatch" is simple: we're seeing the layout of the last issue of the title magazine, and the individual stories — a cycling tour, a mad work of art, a kidnapping — are played out for us. The narrative welcomes stylistic flourishes like black and white cinematography and animation. "The French Dispatch" has the most ridiculously stacked cast of all time: Bill Murray, Tilda Swinton, Benicio del Toro, Jeffery Wright, Owen Wilson and Frances McDormand, and the day players are A-list stars like Elisabeth Moss, Edward Norton and Willem Dafoe.
"Mandibles!" is weirdo fun from French filmmaker Quentin Dupieux ("Rubber") — Abbott and Costello for the croissant crowd. Grégoire Ludig and David Marsai get an offer to transport a suitcase by car for a pile of cash. When they carjack a vehicle to make the trip, they discover a fly in the trunk that's as big as a pit bull. Everything is shot and presented in a minimalist, realistic fashion. It all feels convincing and genuine, which makes the absurdity pop.
COMIC BOOK
Destin Cretton's "Shang-Chi and the Legend of the Ten Rings" is packed with cool stuff: an atmospheric fairy tale prologue depicting a stunningly beautiful courtship battle, reminiscent of "Crouching Tiger, Hidden Dragon" and grand spectacle and fantasy in its action sequences. The movie finds fresh ways to stage the usual comic book tropes like training sequences, establishing a cool costume and the like. There's a fight scene set on a bus that is the best thing of its genre since 1994's "Speed." "Shang Chi" feels like pretty woke entertainment, supporting its mix of fresh faces and veterans with a good sense of humor. Ben Kingsley's hambone actor Trevor Slattery from "Iron Man 3" has a "Planet of the Apes" speech that's the funniest moment of 2021.
Jon Watts' "Spider-Man: No Way Home" is off the chain. When I wasn't laughing, I had a big goofy grin on my face for most of the time. The whole world now knows that Peter Parker (Tom Holland) is ol' Web-Head, so he asks Dr. Strange (Benedict Cumberbatch) to cast a spell to make the world forget him. But something goes wrong and many of Spidey's past foes come tumbling into New York City from the endless multiverse. Thanks to a great script by "Community" vets Chris McKenna and Erik Sommers and series director Watts, "Spider-Man: No Way Home" is perfect comic-book entertainment.
James Gunn's "The Suicide Squad" has the same premise as David Ayers' 2016 film, but oh what a difference the journey makes depending on your tour guide. Gunn, the man who made you believe that a racoon could cry in "Guardians of the Galaxy Vol. 2" concocts a riotous grindhouse mash-up of "The Dirty Dozen," "Alien," "Escape From New York" and Japanese monster movies. The cast includes Margot Robbie, Gunn stock players Michael Rooker and Nathan Fillion, John Cena and various other oddball DC characters played by Flula Borg, SNL's Pete Davidson and David Dastmalchian, a real scene stealer as the Polka Dot Man. "The Suicide Squad" is the kaiju movie that Paul Verhoeven never made.
DOCUMENTARY
"Get Back," Peter Jackson's nine-hour Disney+ documentary on the making of The Beatles' "Let It Be" made me reconsider the legend that defined this fractious endeavor. Yes, there's a lot of frustration and bad band vibes to be seen, but most of the time, John, Paul, George and Ringo are seen as the talented pros they were. Jackson finds new gifts as a pop detective, and you just won't believe all the Beatles songs in the vault that you've never heard before.
Edgar Wright's infectious cackle rings throughout his first documentary, "The Sparks Brothers." I thought Sparks was a one-hit wonder New Wave band that played with Jane Wiedlin on a tune called "Cool Places," but Wright's doc reveals that brothers Russell and Ron Mael have been playing for five decades, never giving up or compromising despite label resistance and paltry record sales. If you're a Sparks novice, you'll hear loads of amazing songs, and testimony from pop culture mavens like Beck, Todd Rundgren and Patton Oswalt.
DRAMA
Shot entirely on soundstages in black-and-white, Joel Coen's "The Tragedy of Macbeth" feels like a spiritual successor to Shakespeare adaptations like Akira Kurosawa's "Throne of Blood" and Orson Welles' "Othello" and "Chimes at Midnight." Boasting avian imagery to illustrate man's lust for power, Coen's adaptation is theatrical in the best way, allowing Denzel Washington, Frances McDormand and a stellar cast enough room to reach for the rafters.
Boasting another astonishing performance from Oscar Isaac in the title role, Paul Schrader's "The Card Counter" is a solid comeback for the writer-filmmaker who made classics like "Taxi Driver," "Raging Bull" and "Light Sleeper." Reminiscent of Paul Thomas Anderson's "Hard Eight," this is a tight, enigmatic story about career gambler Isaac, Tye Sheridan as his protégé, and Tiffany Haddish as Isaac's bank roll and wannabe lover.
At a critical point in Franz Kranz's "Mass," we hear a choir rehearsing a hymn called "Blessed Be the Ties That Bind." This reference to Thornton Wilder's "Our Town" cannot be coincidental. Two couples (Reed Birney and Ann Dowd and Jason Isaacs and Martha Plimpton) meet in a church utility room to discuss the aftermath of a personal tragedy that has wrecked their lives. The less you know about Kranz's intimate four-hander, the more "Mass" will seize your emotions.
Frances McDormand shows no vanity in Chloe Zhao's Oscar-winning "Nomadland," playing a homeless woman eking out a new life living in a van. Zhao has a real flavor for outdoor cinematography that's both beautiful and hand-held and intimate; she paints a humane epic about a whole stratum of American society that's been downsized and economically marginalized. Many of the supporting actors are playing themselves, adding real authenticity to the film.
EPISODIC
Gnomish, grouchy Fran Lebowitz and master filmmaker Martin Scorsese join forces for the seven-episode series "Pretend It's A City" on Netflix. It's all Lebowitz: her strong opinions on, among many other things, bears, cancel culture, books, iPhones and computers, the 1948 Dean Stockwell movie "The Boy With Green Hair," the stupidity of the concept of "the guilty pleasure," smoking and eating ice cream for breakfast. I can't think of a better, more acerbic NYC tour guide than Lebowitz. Scorsese interviews her in a series of closed sets and a live audience. She also sits for live sessions with Spike Lee, Olivia Wilde, Alec Baldwin and author Toni Morrison.
"Feud: Bette and Joan" was released in 2017, but I don't care. Ryan Murphy's eight-episode miniseries spotlights the toxic relationship between Bette Davis (Susan Sarandon) and Joan Crawford (Jessica Lange) while filming "Whatever Happened to Baby Jane?" in 1962, and the fallout and wreckage that trailed after both leading ladies for the rest of their lives. As much misery was heaped on by others, they did plenty of damage to themselves. Certainly Murphy and co-creators Jaffe Cohen and Michael Zam believe that director Robert Aldrich (Alfred Molina), studio head Jack Warner (Stanley Tucci) and gossip columnist Hedda Hopper (Judy Davis) created the feud and exacerbated it to publicize the movie.
HORROR
Nia DaCosta's new "Candyman", co-written with producer Jordan Peele ("Get Out," "Us"), pushes the series into a smart new direction while tying itself to Bernard Rose's 1992 original. It stands on its own, but the more you know about the series, the more you'll appreciate it. Yahya Abdul-Mateen II plays a successful painter looking for the next creative spark, finds Virginia Madsen's research and her micro-cassette recorder, and stumbles down the rabbit hole of the "Candyman." Meanwhile, people connected with him and "Say His Name," his latest exhibit, start turning up viciously murdered. There's a particularly effective kill sequence involving five female students in a high school bathroom, and one inspired by "Rear Window" looking across at an apartment.
In Edgar Wright's first out-and-out horror movie "Last Night in Soho," Thomasin McKenzie plays a '60s-obsessed girl who goes to London to study fashion design and finds herself time-tripping back to 1966 Soho. She's somehow linked to an aspiring performer (Anya Taylor-Joy) and McKenzie becomes convinced that something horrible happened way back when… This is full-blooded, darkly romantic stuff that draws from Italian Giallo and Hammer horror in the best ways, and it's somehow ultimately anti-nostalgic — don't dwell on the past — while still being nostalgic.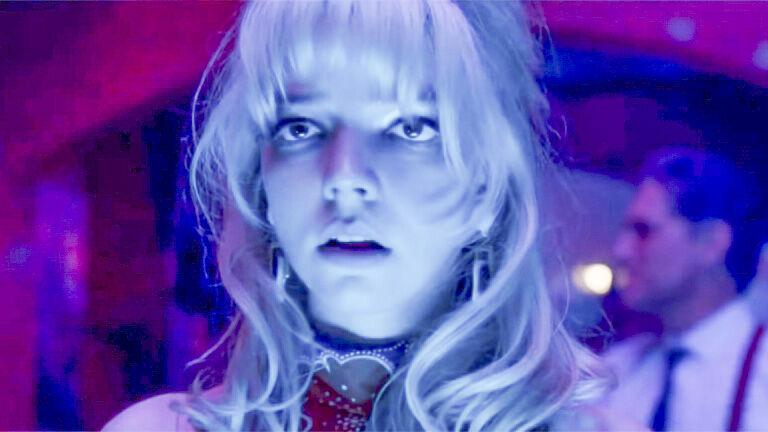 MUSICAL
Steven Spielberg's "West Side Story" is a perfect recreation of New York City in the middle of the 20th century. His first-ever musical is no carbon copy of Robert Wise's 1961 Best Picture; screenwriter Tony Kushner ("Angels in America") brought in executive producer Rita Moreno, beefed up her role as the kids' only maternal figure, addressed transgender issues that would never have occurred to Wise's creative team, and best of all, they didn't translate the Sharks gang's Spanish into English for the cheap seats. Believe me, you know what the characters are saying.
Set in the summer in Manhattan's Washington Heights over the course of a week and a lingering blackout, Jon M. Chu's colorful, jubilant and very well-represented film version of Quiara Alegria Hudes and Lin-Manuel Miranda's "In the Heights" is muy caliente. Chu ("Crazy Rich Asians") is the ideal filmmaker for this kind of ensemble work and encourages a cinematic approach to the material that couldn't have been done on the stage. There's a thrilling "Spider-Man"-inspired sequence where actors sing and dance all over a building and its fire escapes, defying gravity. It's too big and ebullient for anyone's iPhone.
QUEST
"Pig" is not a complex narrative. Nicolas Cage sets out to find out who stole his truffle pig. Cage, who's had a typically busy and prolific year, finds ways to behave without dialogue — a tactic he took to extremes in this year's "Willy's Wonderland." Cage is an onion being peeled layer by painful layer, revealing who he was and how he became who he is.
David Lowry's "The Green Knight" is as atmospheric and beautifully made as "Monty Python and the Holy Grail" and John Boorman's "Excalibur." Adapted from the 14th century poem "Sir Gawain and the Green Knight," here is a misty, moody quest film that questions the very nature of heroism. "The Green Knight" feels like a lost Terry Gilliam film made between "Jabberwocky" (1981) and "Time Bandits" (1981), or perhaps a follow-up to "The Fisher King" (1991).