I've seen dozens of effective and affecting war films over the years, but the fact that Sam Mendes stages "1917" as one continuous shot (actually two shots) puts into the foreground the sense of exhaustion that soldiers in combat must experience. Two anonymous whey-faced kids are tasked with getting a message across enemy lines that will have a critical impact on an imminent campaign. The cinematography, choreography and performances are perfectly sustained from start to finish.
Spike Lee's "Da 5 Bloods" sends four black Vietnam veterans back in country to retrieve a stash of gold and the remains of their de facto leader, played in flashback by the late Chadwick Boseman. Delroy Lindo is a standout as perhaps the most damaged member of the crew. Boasting magnificent location footage and 16mm film stock for the flashbacks, Lee's epic is a film fanatic's fond tribute to movies like "Apocalypse Now."
Chadwick Boseman gives his final performance in Netflix's outstanding adaptation of August Wilson's 1984 play "Ma Rainey's Black Bottom." Set in a Chicago recording studio circa 1927, the story concerns a recording session with blues legend Ma Rainey (a fiery and unrepentant Viola Davis) and her sidemen, including Boseman, and the soulful sweet Glynn Turman. The subtext is all about the exploitation of the Black artist by white record producers (Jeremy Shamos, seen playing Einstein in "Picasso at the Lapin Agile" at the Hangar); Davis, Boseman and Turman are all deserving of awards for their stunning work over the course of 94 minutes.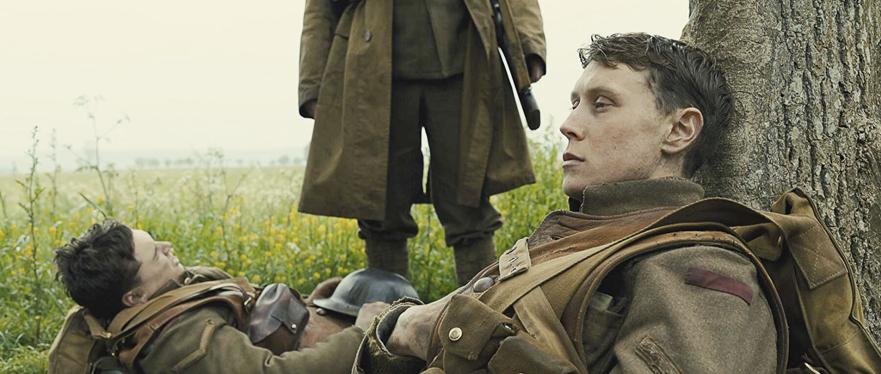 With its Hollywood black-and-white look, David Fincher's "Mank" would make a perfect double bill with Tim Burton's 1994 classic "Ed Wood." "Mank" is a Hollywood period piece written by Fincher's late father Jack Fincher; it follows the creation of the Orson Welles classic "Citizen Kane" through the eyes of its primary screenwriter, Herman J. Mankiewicz (Gary Oldman). It is fascinating, easily one of the best films of 2020.
I'd seen the trailer for "The Way Back" so many times before it that I was derisively referring to it as "Not Hoosiers." But Ben Affleck is very good in the film, playing a self-loathing alcoholic tasked with going back to his Catholic high school where he was a star basketball player to coach the new kids. Affleck taps into an anger that I haven't really seen since his extended cameo in "Boiler Room," and Brad Inglesby's screenplay is very smart about where in the story we discover the reason that Affleck's character began drinking.
Tom Hanks plays Fred Rogers in "A Beautiful Day in the Neighborhood," but the beloved PBS icon is really a supporting character in this movie. Actually, he's more like the Wizard of Oz. Based on a famous 1998 profile in Esquire, the film is about a cynical writer (Matthew Rhys) coming to terms with his family after being assigned to profile Rogers. The combination of Hanks' performance, the letter-perfect recreation of the sets and puppets, and Rogers' utter lack of guile left this Mr. Rogers fan weeping at least four times. Director Marielle Heller stages all the establishing shots of NYC and Pittsburgh as delightful and elaborate Rogers-style miniatures.
"Bill and Ted Face the Music" is the perfect movie for what's ailing us in 2020. It won't get the credit for being as smart and clever as it is, but for long-time fans, it really pays off comedically and emotionally. How many times does a movie franchise drop two well-received entries within a couple of years, take a 29-year hiatus and come back with a movie that really hits the sweet spot? I can't think of any others. Can you?
In Pixar's emotionally rich, hilarious and exciting "Onward," two elf brothers (Tom Holland and Chris Pratt) are given a magic wand left to them by their late father. The boys try to resurrect their dead dad but only succeed in bringing back the lower half of his body, leading to a madcap road trip/quest to track down what they need to finish the spell. Behold! Forsooth! "Onward" ranks up with the very best films that the studio has produced.
Sometimes I like to wait for a TV show to end before I binge-watch the whole thing, and I thought that Raphael Bob-Waksberg's "Bojack Horseman" (six seasons on Netflix) would provide some laughs. I was not prepared for the emotional depth and surprising darkness that came to represent a show about a has-been showbiz celebrity who happens to be half- man half-horse. There were days when I needed to take a break, when I couldn't bear the weight of what was happening to Bojack and all the people and animal folk in his destructive orbit. (Like Tarantino's "Once Upon a Time…in Hollywood," this show really understands how fortune and fame can warp actors badly.) Characters set up as one-note gags are fleshed out and made more complex. One episode takes place almost entirely underwater, and another was all Will Arnett as Bojack doing a real-time eulogy at his mother's funeral.
One of the many bittersweet pleasures that Céline Sciamma's "Portrait of a Lady On Fire" offers is the sight of Valeria Golino back on a screen. All the best love stories are sad in some way; set in France in the late 18th century, Sciamma's wind-swept and erotically charged love story is about a forbidden affair between an aristocrat (Adéle Haenel) and the artist (Noémie Merlant) commissioned to paint her portrait. Sciamma's way of shooting and editing the painting being created is reminiscent of Martin Scorsese's "Life Lessons'' from the anthology film "New York Stories."
Another incredibly strange film from Quentin Dupieux: in "Deerskin" we meet Jean Dujardin ("The Artist") driving somewhere. He stops off at a rest stop gas station, stuffs his jacket into the toilet and kicks it with his foot. It turns out he's driving to meet someone to blow all his money on a fringed deerskin jacket. The seller throws in a digital camcorder. The guy takes a room in a small village hotel, where he meets the local bartender (Adèle Haenel of "Portrait of a Lady on Fire"). He tells her he's a filmmaker, she tells him she's an amateur film editor, and they begin collaborating on his latest "project". And then the deerskin jacket starts talking to him…
"Sleeping with The Enemy" meets "The Twilight Zone" in Leigh Whannell's fiendish "The Invisible Man."  Elisabeth Moss ("Mad Men") stars as a woman who finally musters the courage to flee her controlling boyfriend (Oliver Jackson-Cohen). She learns that her boyfriend killed himself and left her his entire estate, provided that she doesn't commit any crimes. Strange things begin happening, and Moss can't help feeling that she's not alone, that someone is watching her…
Bloody, over-the-top and disreputable, "VFW" is classic "Spam in a Can" horror-action: a local drug lord causes the death of a drugged-out waif, her sister steals all the dope from his safe and takes shelter in a VFW hall across the street, where a band of beyond-grizzled war vets are getting seriously wasted themselves. In a flash, they're surrounded by hordes of punks demanding their stash back. This love letter to George A. Romero zombie flicks and early John Carpenter stuff like "Assault on Precinct 13" features a fantastic cast of great action guys and character faces: Stephen Lang, William Sadler, Fred Williamson, Martin Kove and the ever-creepy David Patrick Kelly.
A very clever and brutally funny variation on Richard Connell's 1924 story "The Most Dangerous Game," Craig Zobel's "The Hunt" tweaks P.C. liberals and NPR listeners that would turn out to be the kinds of people who would stalk and kill humans for their own righteous reasons. It really bothered me that most people who saw it dismissed it; it's better than that. I have a real fondness for movies like "The Hunt" where anyone can die at any time, and the film's political satire elevates it above the expected grisly, bloody thriller.
In three hour-long episodes, Simon Frederick's "Black Hollywood: They've Gotta Have Us" interviews dozens of people over the course of the series, including cultural critic Nelson George, and actors ranging from trailblazers like Harry Belafonte and Diahann Carroll to today's stars like David Oyelowo and John Boyega. The funniest and most revealing interview may be Robert Townsend, who paid for "Hollywood Shuffle" with credit cards, chose locations so that they wouldn't be seen by the cops, and edited the film in a porno post-production facility.
Creem Magazine was lowbrow and funny and it taught me to laugh at pretentious rock n' roll, so Scott Crawford's "Creem: America's Only Rock N' Roll Magazine" feels long overdue. You'll learn all about the first generation of rock scribes, legends like Lester Bangs, Dave Marsh and Patti Smith. Musicians (Alice Cooper, Michael Stipe), rock writers (Cameron Crowe) and fans (Jeff Daniels) wax rhapsodic about why Creem was so damn cool.