"Space Jam: A New Legacy" should be titled "Look at All The Intellectual Property Warner Bros. Owns: The Movie," because I don't think the studio knows what "legacy" means. Whether it's "Rick and Morty," Hanna-Barbera or the Looney Tunes gang, no one at the WB has a clue why any of them matter or why they're cool. They're just corporate assets for sale here, used to prop up a dumb movie where LeBron James has to play basketball to save his family from cyber-doom or something. The "climactic" game is so dull that I was reduced to crowd-spotting The Iron Giant, Penelope Pitstop and her car, The Jetsons, King Kong and even a gang of Droogs from "A Clockwork Orange." (You know – for kids!)
What a comedown for a certain cartoon cat and mouse team — no, not Itchy and Scratchy, "Tom and Jerry." It pains me to see the duo's fall from grace, from their MGM glory days to this tone-deaf calamity. After so many reboots and series over the decades, T&J are reduced to guest stars in a painfully unfunny hotel farce with Chloe Grace Moretz, Michael Peña, Rob Delaney and Colin Jost, generating not a single laugh.
Despite a diverse cast, a cool Pink Floyd cue and an Oscar-winning director, a movie called "Eternals" should not feel like it lasts for an eternity.
Every George Clooney joint sounds great on paper but comes out didactic and preachy. His pandemic snooze, "The Midnight Sky," is as hard to take as the real thing. Clooney was off to a great start as a filmmaker with "Confessions of a Dangerous Mind" and "Good Night and Good Luck," but who knew that he'd turn out to be the Stanley Kramer of his day?
Robert DeNiro's been phoning it in for decades now, but the kiddie cynicism of Tim Hill's "The War With Grandpa" is alarming. You can barely hear the sub- "Home Alone" hijinks over the sound of the money truck backing up to DeNiro's house. He's not the only one slumming it here: Christopher Walken, Cheech Marin, Uma Thurman, Rob Riggle and Jane Seymour make their mortgage payments with this tiresome family comedy.
Martha Coolidge's "Valley Girl" (1983) was a perfect teen rom-com and L.A. time capsule, and Nicolas Cage's first leading role. Rachel Lee Goldenberg's "Valley Girl" reboot comes shrink-wrapped for your '80s nostalgia and is a terrible example of the jukebox musical. You'll hear some of the worst wannabe "Glee" interpretations of new wave hits that the original film could never have afforded, sung by a callow, vocally challenged cast.
Adapted from Ruben Östlund's 2014 film "Force Majeure," Jim Rash and Nat Faxon's "Downhill" is aptly titled. Will Farrell and Julia Louis-Dreyfus play parents with two boys on an Austrian skiing vacation. During an avalanche, Farrell abandons his family to save himself and then has to live with the fallout from his cowardice. Here's an infuriating example of a sketch's worth of inspiration stretched out to feature length. The movie is a waste of time, talent and effort.
2021's "Capone" award for most misbegotten bio-pic goes to Michael Almereyda's "Tesla." Almereyda's a talented art house guy — I really like "Cymbeline" (2014) and "Experimenter" (2015) — but it's anyone's guess what he thinks about Nikola Tesla (Ethan Hawke), or why Tesla would make a compelling subject for a film. But if you've always wanted to see Ethan Hawke sing "Everybody Wants To Rule the World," "Tesla" is for you.
Much like the "Terminator" and "Men In Black" franchises, "The Matrix Resurrections" lazily stirs around the elements and remakes the original, the only "Matrix" that matters. I've enjoyed most of the "Fast and Furious" flicks, but Justin Lin's "F9" is too long, too convoluted and just too much. Did anyone tell the filmmakers that "Snake Eyes" is a "G.I. Joe" spinoff? It's dour, sour and boring. Matthew Vaughn's "The King's Man" doesn't even feel like a "Kingsman" movie until its last half-hour; wasn't the whole point of the series to make fun, bonkers spy movies? "No Time to Die" caps off a run of ever-grimmer spy pictures that have lost the entertainment value of the James Bond franchise. Now that Daniel Craig is done playing 007, the series seems to be done, too.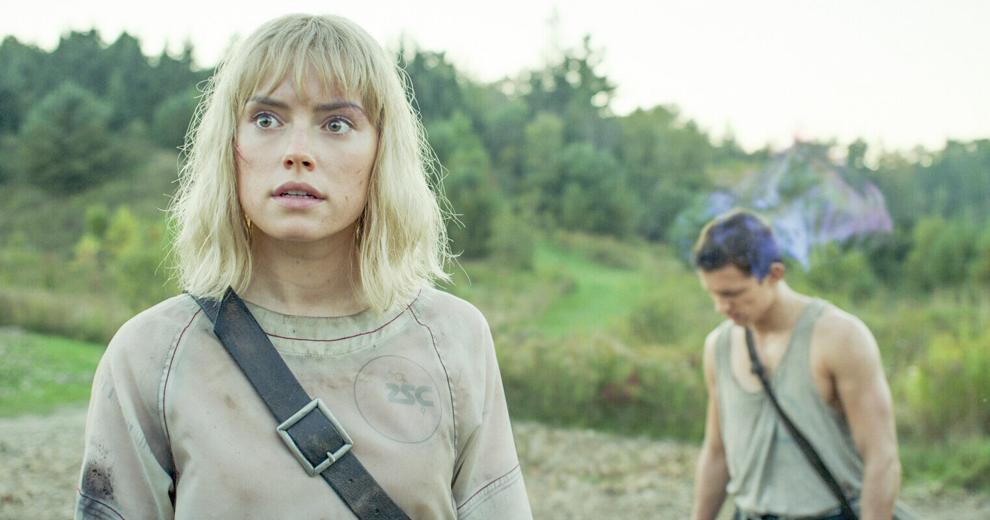 In Lisa Joy's dopey, drippy sci-fi noir pastiche "Reminiscence," people in the future can hire private investigators to monitor sessions where treasured memories are relived again and again. (Um, why?) I hate movies that set up, say, global flooding and it all turns out to be literal window dressing, with no impact on the narrative. If such technology is ever invented, I doubt Hugh Jackman or Rebecca Ferguson will spend any time re-visiting "Reminiscence."
A woman crash-lands on a planet inhabited by men, and everyone's thoughts are audible…ay yi yi. Doug Liman's "Chaos Walking" is an overgrown, overblown mess that suffers from what SNL producer Lorne Michaels called "premise overload." Up-and-comers Tom Holland and Daisy Ridley can chalk this up as the worst movie on their resumes.