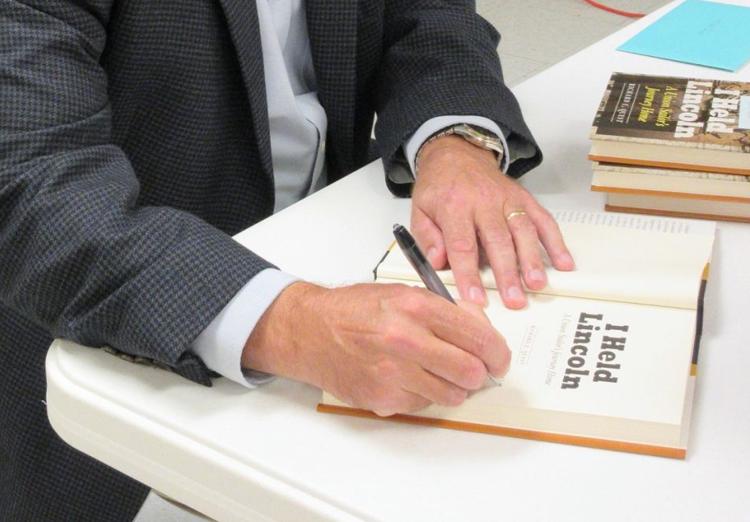 Depending on when you knew him, Richard Quest was a history teacher, soccer coach, local historian, college professor and now, a book author. On Wednesday, Sept. 26, he captivated friends, former students, and local residents with a tale of Civil War heroism and adventure. Quest's new book, I Held Lincoln, A Union Sailor's Journey Home (Potomac Books, 2018) relates the capture – and escape from Confederate POW prison – of Lieutenant Benjamin Loring. 
Inspiration for writing Loring's story came from blood on a coat, says Quest. Loring's coat. Back in 1994, Quest heard a story from Tioga County historian, Emma Sedore, that the blood was Abraham Lincoln's. That Loring had been present in Ford Theater when Lincoln was shot. Quest wanted to know more. Who was this Loring? So he began researching, reading Loring's journals and letters, and writing.
Quest's book is riveting; his talk kept the audience on the edge of their seats. That's because Quest has a penchant for storytelling – for making local history relevant and turning historical events into adventures that capture your imagination. 
Benjamin Loring made a good living in California. It was the 1860s and gold miners needed supplies. Loring and his brother were "packers", hauling tools, food, and materials into the Sierras and hauling out money in their pockets. But when the Civil War began, Loring knew he needed to serve his country. Having served on ships before, he hitched a ride on a mail coach to Washington D.C. and enlisted in the U.S. Navy. May of 1864 found him aboard the "tin clad" vessel, USS Wave, upriver from New Orleans and fighting a losing battle. Battered into submission by Confederate artillery, and dead in the water, Loring surrenders and he and his men are taken prisoner.
Loring and his sailors are marched to Camp Groce where they suffer under poor conditions and abuse from their guards. Loring plans an escape, and Quest skillfully weaves a tale about the reconnaissance, and bribes needed to put this plot into action. Outside prison walls, Loring sees how enslaved people are treated and is reminded of what he was fighting for. But after ten days on the run, within ten miles of Union lines, Loring and his buddy are recaptured.
Sent back to Camp Groce, Loring finds conditions have worsened. It's the fourth year of the war and southern resources are running low. The camp's overcrowded conditions contribute to ill health and death of many prisoners. Loring vows to escape again. But now it is November, and cold weather has come. Still, he makes another break for freedom. 
"The amazing thing," says Quest, clicking to a slide of Loring's journal entry for this time period, "is that Loring tells us where they go. We know exactly where he went because he drew a map." Escaping from Camp Groce wasn't an easy task. Their first obstacle is to navigate through the scrublands surrounding camp, and it's 350 miles to New Orleans. That's about 25 days of walking from Hempstead, Texas.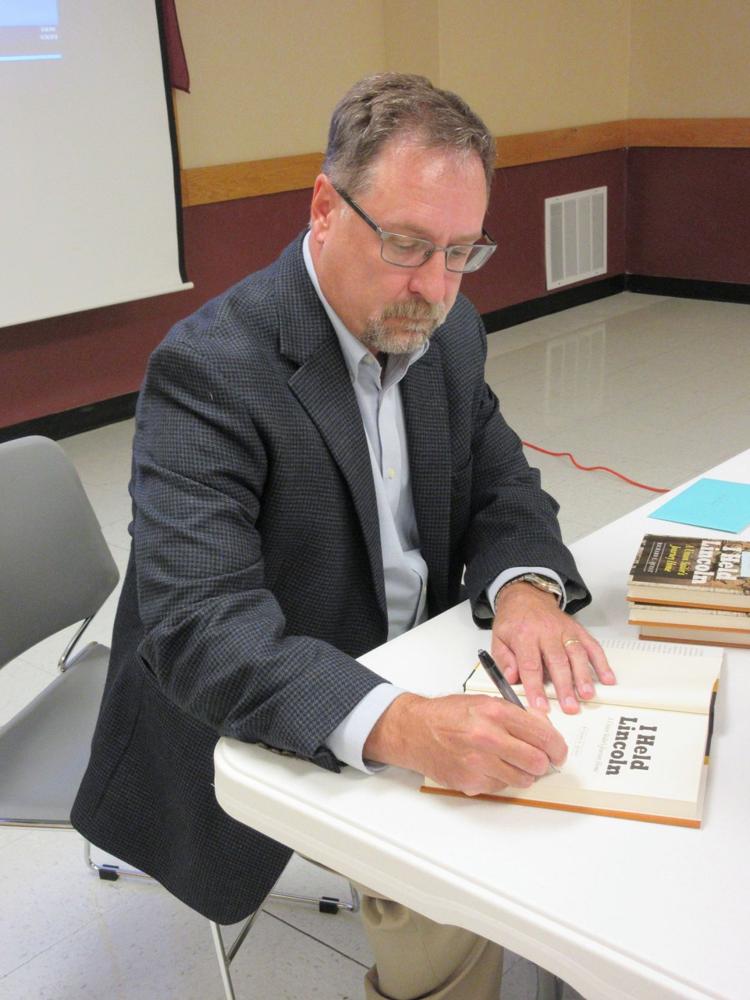 As he described Loring's journey, Quest showed slides of what the area looks like now. Yes – historical research takes fieldwork! One place Loring mentioned was Niblets Bluff on the Sabine River. "Now there's a 'Do Not Feed the Alligators' sign," Quest said.
Loring and his companion are starving, and can barely walk by the time they near Union lines. Eight miles from freedom – and all they have to do is cross a river. But, Quest pauses… "all that is left are pilings. The bridge has been burnt." So they walk back to where they saw telegraph lines and manage to knock down a pole which they can use to cross from piling to piling. When they get to the next bridge they find it has been burned as well. Not only that, the weather has turned and icy rain pelts them. 
Finally, they reach a Union ship. "Now Loring realizes he has to convince the Naval officers coming towards them that they are on the same side," Quest says. It would be a shame to get shot after having walked so far….
During the early months of 1865, Loring is recovering and serving at the Navy Yard in Washington.  The war has come to an end and Loring wants to celebrate with a night on the town. So he heads to Ford's theater because he hears that Lincoln and Grant will be watching the performance that night. Midway through the show, Lincoln and his wife show up. 
"The Grant's don't, because Mrs. Grant and Mrs. Lincoln don't get along well," says Quest. And then – chaos! Lincoln is shot, and Loring runs to his box to render aid. This is where the blood comes from, Quest notes, referring to Loring's coat on display at the Owego museum. At least it looks like blood…
So in 1999 to 2000, Quest teamed up with Candor science teacher Jonathan Zisk to see if they could do some forensic investigation on Loring's coat. First, they obtained luminol, a chemical used to detect presence of blood. "We went into the darkroom and spritzed the jacket," Quest said. "It showed luminescent splatters where it was reacting with the iron in the blood's hemoglobin." Then they took a sample to a geneticist and got results. 
"Nine months later," Quest said. "We could have had a baby." The results were … inconclusive. So, the historians know it is indeed blood, and Loring has documented in his journals that he was there with Lincoln in Ford's theater. Quest would like other historians to provide blood samples for comparison, but has had no luck yet. Meanwhile, he's got another project to get working on.
You can find out more about Richard Quest and I Held Lincoln at his website richardequest.com.