Last month, Aileen Easterbrook celebrated her debut picture book, W is for Waterfall, an alphabet of the Finger Lakes. Part travel guide, the recently released book comes at the right time: summer is upon us and it's time to plan some family trips!
Aileen was inspired to write about the Finger Lakes years ago, while traveling around the region with her family. No matter where they stopped, whether museum or wetland, Aileen would collect notes and ask people questions. She wanted to learn more.
"We live in such a fascinating area," Aileen says. "The Finger Lakes region is cradle to invention, women's rights, and the underground railroad." During one trip to Tyrone and surrounding towns she discovered just how big a role the area played in aviation history.  
"One time we traveled to Seneca Falls to view landmarks of the women's movement," Aileen remembers. Even with her extensive research, she learned new things about the suffragettes as well as that part of the Finger Lakes. "More recently," she adds, referring to Ithaca, "this area has become a leader in conservation and environmental issues."
The lakes, forests, and hills provide a backdrop of natural beauty for the region. So when Aileen began searching for an illustrator, she looked for a local artist who could capture the scenic views in a way that would draw young readers into the book. She contacted Candor illustrator, Johanna van der Sterre, who has illustrated a number of picture books and children's magazines. Johanna's folk art-influenced style incorporates the kind of detail that Aileen was looking for.
From previous picture book experience, Johanna has a good feel for basic layout and illustration dimensions for picture books. Her input was vital to the design of the book, and because this book is being indie-published by the author, Johanna had to compose the pages carefully. Early on, she studied the publication specifications and guidelines from the company that would print the final book. She also decided that she would combine her watercolor paintings with digital technology that would allow her to capture details of landscape, activities, and historical locations throughout the seasons. 
Just like writers, illustrators do research, too. For Johanna, this meant setting out on day trips with her camera. Sometimes she traveled alone, other times she joined Aileen for a road trip. Not only did these jaunts generate reference photos for Johanna's work, but they also provided additional insights and information for Aileen.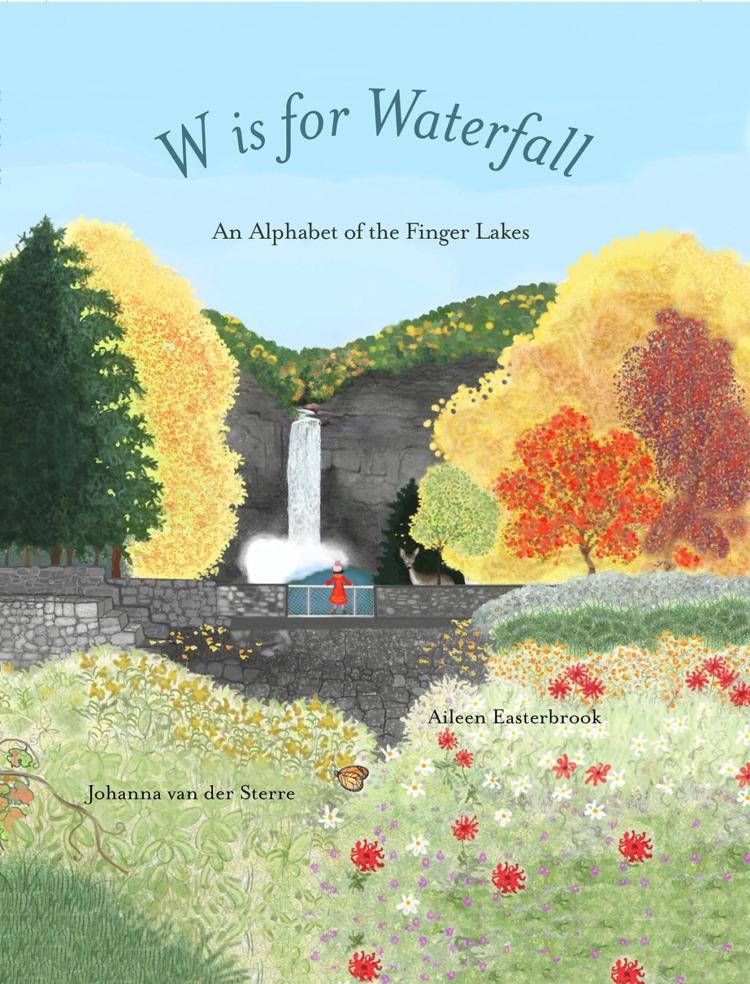 From the beginning, Aileen knew she wanted to share her Finger Lakes discoveries with children. But how? She began brainstorming different structures for a children's book. An alphabet book seemed like a good way to explore the richness and diversity of the region, but Aileen knew she wanted something beyond the typical ABC's. As a children's educator, she had a good understanding of how a concept book might be used in school and at home as a read-aloud. She wanted easy-to-read text for younger readers, so each spread opens with a couplet. For example, "G is for grapes and gliders that soar / hand blown glass and so much more…"
But Aileen also wanted to create a book that could serve multiple reading levels, so she added a layer of more detailed text for older readers. At the bottom of each page she includes another 150 to 165 words that provide more details about the places portrayed in the illustrations. Plus, you discover interesting tidbits about the plants, birds, insects, and other animals living in the region. Next time you explore a waterfall, keep your eyes peeled for the elusive gray petaltail dragonfly, a native of our area.
To help young explorers out a bit, Aileen sprinkled features located on Ithaca's Discovery Trail throughout the pages, and placed a handy reference map of the lakes right at the front of the book "I wanted to include scenes that children might already be familiar with, such as local parks, waterfalls," she says. "Hopefully they will find things they want to explore." 
Aileen is grateful for help she received from writing colleagues and school librarians. As her book evolved, she realized that it could fit in with New York State's curriculum guidelines for fourth grade. To make the book more user-friendly for students and teachers, Aileen added an index of people, places, and things found in the Finger Lakes. Back matter also includes a page of resources for further reading.
The website (wisforwaterfall.com) is up and, says Aileen, will become a regional resource for events, points of interest, and a reference page where people can learn more about the history, festivals, and places featured in the book. There's also a quick-link to the Facebook page.