ITHACA, NY -- Adopting a dog was not on Susan Engelmore's radar when she volunteered at the SPCA of Tompkins County in the summer of 2016. She had just lost her husband, her daughter was overseas in London, and her father was starting a fight with dementia in Pennsylvania. Her heart was in a thousand different places and she wasn't sure she was ready for the commitment. 
"Milo's Gift," a picture book written by Engelmore, narrates the adventures of a dog lost in the wilderness who eventually found his forever home. The events of the story mimic Engelmore's experience adopting Milo.
"It was always a life goal of mine to write a children's book," Engelmore said. "I wanted to write something that would resonate with children, but I never had a story to tell. I hadn't thought to write about Milo until the pandemic, even though I always found inspiration in his strength. Milo's story radiates resilience, a theme that's imperative for young ears."
Engelmore published "Milo's Gift" through Gatekeeper Press in May 2021. She's grateful for how quickly the book got published and for all that the company did for her. They handled the illustrations and the distribution — all she had to do was write the book and send it forward.
Engelmore's a native Ithacan, but has been staying on Long Island.
"I'm anxious to return to Ithaca, and I want to use 'Milo's Gift' to reintroduce myself to the community," Engelmore said. "My book is currently available online, but I'd love to see it in stores. I reached out to Buffalo Books and was pleased to get an email acknowledgment back that they were interested. In a few weeks, it should be placed in their local authors section. I'm truly honored."
In order to appreciate "Milo's Gift" on a deeper level, it's important to Engelmore that readers know his backstory. Because it's a children's book, "Milo's Gift" could only scrape at the surface of his transformation, but Engelmore wants his remarkable success to be shared.
Engelmore said that Milo was discovered wandering around Ithaca in the summer of 2016. Maddie's Shelter Program at Cornell took him in, immediately attending to his evident health issues. He was nearly bald, fighting sarcoptic mange, and got diagnosed with a heart murmur. 
"I give Dr. Elizabeth Berliner from Maddie's Shelter Program much credit," Engelmore said. "Most shelters would have passed him up, considering the state of his health. Instead, Dr. Berliner put in the resources necessary to offer him a second chance at life. I'll never be able to thank her enough."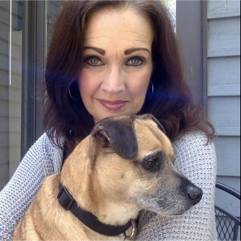 After a few months, when Milo had regained the equivalent of 80% of his strength, he was sent to the SPCA of Tompkins County where he was formally named Gandalf. This is where he crossed paths with Engelmore, as she had been doing some volunteer work there.
"It was love at first sight," Engelmore said. "I was told that he was at least 10 years old and that he had a lot of medical issues, but I knew right away that he was my doggy soul mate. It didn't take long for me to commit to adopting him."
The day that Engelmore went in for the adoption, she was devastated to find Gandalf's room empty. After speaking with the staff at the SPCA, they reassured her that Gandalf was there, but that he was working. Engelmore was thrilled to learn that Gandalf had a special job at the shelter, helping new dogs settle into the space. 
Engelmore filled out the paperwork that day and settled on giving Gandalf his forever home. She knew that his name didn't suit him because he lacked long white facial hair. She did a little digging and eventually settled on Milo.
He may have stolen Engelmore's heart, but Milo's health problems made caring for him difficult. 
"He had a dermatologist, a cardiologist, a regular practicing vet, he had them all," Engelmore said. "He developed osteo-arthritis within the first year I had him, and he limped for the rest of his life. CBD oil, surprisingly, was the only thing that gave him long-lasting relief. He was a big commitment for me and for all his doctors, but I'd do it all over again."
According to Engelmore, the effect Milo had on others made the challenges worth it. Milo brought her father great comfort as he battled dementia. Even when he couldn't remember Engelmore's face or name, he never neglected to ask about Milo.
"Milo radiated a happiness that will never be matched," Englemore said. "If Milo had been in better health, I would have gotten him involved with pet therapy. The wonders he did for my dad left me speechless. In Milo's presence, my dad would become more cognizant. It was amazing. If only Milo could've brought similar comfort to others in need."
On Nov. 15, 2021, Engelmore laid Milo to rest after giving him the best life possible. Despite the pain, she's thankful for the five-and-a-half years she got to share with him.  
She says that entering the vet that day was the hardest thing she's ever done. Everyone was wearing masks and she couldn't be comforted in the way she needed. 
"Someone told me one time that the universe will rise up for you when you need it, and I just shook it off," Engelmore said. "That is, until I was walking out to my car after saying goodbye to Milo. I was hysterical. All of a sudden, a young woman walked up to me and she told me not to drive until my moment of grief had passed. She was a stranger, yet she was telling me that people will support me through this time. I'll never forget her kindness."
"Milo's Gift," initially written to share Milo's story with children, now memorializes him in a heartwarming way. The book brings Engelmore peace, knowing that Milo's alive on the page and serves as a character of inspiration for young minds. 
"I may have rescued Milo, but he rescued me right back," Engelmore said. "He taught me one of life's best lessons. If you have the time, the money, and the love to give, taking a chance on a senior dog is a gift. The time you have with them may be short, and their loss may destroy you, but their impact will last a lifetime. Plus, you live with the reassurance that you gave them something no one else would. A second chance."
"Milo's Gift" can be found on many online retailers, including Amazon. Be on the lookout for its debut at Buffalo Street Books in the near future.